The Wilson Pro Staff is one of the iconic racquet lines in the game of tennis. But this Wilson Pro Staff X Review is about the evolution.
Wilson Pro Staff X Review
The Wilson Pro Staff X is taking the Pro Staff into modern territory with a larger head size for easier playability and more forgiveness. If you are curious about the Wilson Pro Staff 97 V14 review, click the link.
The Pro Staff line has always been about precision. But can you develop precision into a larger frame? Yes, in a way. There will always be a compromise when you want to add forgiveness and power to a racquet mold, but in the best cases, the brands can balance it.
I think Wilson manages to balance the heritage of the Pro Staff and the demands of larger head sizes well into the Pro Staff. The feel is more refined than the Wilson Pro Staff Six One 100, I reviewed some time back.
If you prefer watching over reading, head over to my YouTube channel to watch the video review of the Pro Staff X.
And if you want to buy the Pro Staff X, please do so using our links and you send a small commission to help Tennisnerd keep going. The Pro Staff X at Tennis Warehouse, Tennis Warehouse Europe or Tennis Only.
Specifications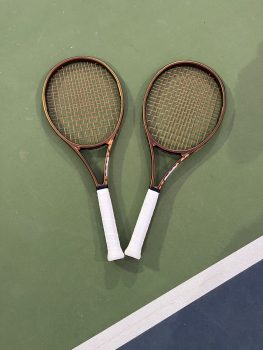 Head Size: 100 in / 645.16 cm
Length: 27in / 68.58cm
Strung Weight:11.7oz / 332g
Balance: 12.59in / 31.98cm / 7 pts HL
Swingweight: 322
Stiffness: 66
Beam Width: 21.5mm / 21.5mm / 21.5mm
Composition: Graphite
Power Level: Low-Medium
Stroke Style: Medium-Full
Swing Speed: Medium-Fast
Racquet Colors: Rust
Grip Type: Wilson Pro Performance
String Pattern:
16 Mains / 19 Crosses
Mains skip: 7T,9T,7H,9H
One Piece
No Shared Holes
Tech
This is the technology excerpt (sales text):
Technologies include Paradigm Bending, a layup technology that optimises the flex between hoop and shaft to deliver that classic Pro Staff feel. This racquet also has FORTYFIVE technology, which strategically aligns the graphite fibers at a 45 degree angle to increase lateral bending through impact. The payoff is increased dwell time and pocketing for greater command over the ball.  Additional features include String Mapping, which combines denser spacing in the center for control with wider spacing at the margins for greater off-center comfort.
There is no magic involved here, just new names for things that have been in tennis racquets for many years. When it comes to racquets, it is all about how the layup and mold makes it play on the court.
How does it play?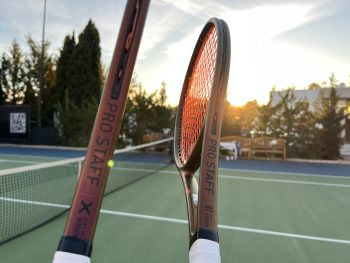 I tried this racquet with various different string setups and it was one of those racquets that remind me how important the strings are. It played somewhat unpredictably with Luxilon Alu Power 1.30 at 51 lbs (23 kg), but when I went for Luxilon 4G at 53 lbs (24 kg), something clicked. The racquet offered a better sound, better control and overall a more solid performance.
My review copy had a strung swing weight with both setups around 330 SW, which is exactly in my wheelhouse. If it was lower than that, I would probably have customized it a bit for better plow-through. But with the specs it came at, I didn't need to.
I loved the Pro Staff X the most on serve and at the net. It felt solid and offered enough power to hurt your opponent on the first stroke. Similar in a way to a Gravity Pro. From the back of the court it also balanced power and control well.
It does not have the precision of the Pro Staff 97, nor does it pretend to. Some balls will fly a bit more with a 100 sq inch racquet with a 16×19 pattern than if you use a smaller head size, even if the beam and stiffness are the same. If there was one thing I'd change with this frame for it to work better for my game, it would be a slightly denser string pattern. 18×20 would have been perfect in my opinion. You get some good spin potential with the 16×19, but sometimes I felt the racquet grabbed the ball and shot it further than I had imagined. But for a 16×19 100 sq inch racquet, the control is still great overall.
Summary
If you are looking for a classy frame with more forgiveness and power than you are used to from the Pro Staff line, then the Pro Staff X might be your new best friend. It offers nice pocketing, good spin potential and above average control for racquets in a similar spec range. It plays a bit like a heavier Gravity MP in terms of power/spin (the Gravity Pro offers better control).
The other guys on the play-test also liked it, but compared to the Wilson Shift, it did not receive quite as many compliments. However, Nikki from the Unstrung Nerds app, enjoyed it a great deal and he is usually quite negative about new racquet models, which is a good sign for the PS X.
Although I liked it, I would say this can be a somewhat polarizing frame. That's why I would definitely recommend you try or demo it before you buy it. (This is always my recommendation, but I know some of you can't demo racquets easily).
An interesting racquet from Wilson. I liked it a lot from all areas of the court, but that little lack of confidence at times might not quite cut it for me to put in my bag.
Have you tried the Pro Staff X and what do you feel about it?