I have tested the new Pro Staffs. Let's start with the Wilson Pro Staff 97 V14 Review. Is it as good as the predecessor?
Wilson Pro Staff 97 V14 Review
The Wilson Pro Staff is one of the most iconic racquet lines since the legendary Pro Staff 85. Every time Wilson releases a new generation, it is a big event in the tennis world. This is the 14th version of the icon, and it has a daring new cosmetic called "rust." This has generated a somewhat polarized response on forums. Some people love it, and some think a Pro Staff should be predominantly black. All I can say, besides that, it is obviously subjective, is that it looks better in hand than on pictures.
Video review
Tech
Besides the new cosmetic, Wilson has added the "same aramid fibers that gave the Original Pro Staff 85 such outstanding feel". It also comes with Paradigm Bending, a layup technology that pairs a flexible shaft (for feel) with a stiffer perimeter around the head (for stability and power). This racket also has FORTYFIVE technology, strategically aligning the graphite fibers at a 45-degree angle to increase lateral bending through impact.
Specifications
The specifications of the Pro Staff 97 are well-aligned with the predecessor (check out my Pro Staff V13 review here), perhaps a slightly higher swing weight, at least from the Tennis Warehouse average. My demo racquet from Tennis Warehouse Europe was slightly lower in swing weight at 322 with a 1.25 poly string.
Head Size:
97 in / 626 cm
Length:
27in / 68,5cm
Strung Weight:
332g / 11,7oz
Unstrung Weight:
315g/11,1oz
Balance:
32cm / 7 pts HL
Unstrung Balance:
31cm/10 pts HL
Swingweight:
332
Stiffness:
66
Beam Width:
21,5mm / 21,5mm / 21,5mm
Composition:
Aramid/Graphite
Racket Colours:
Rust
Grip Type:
Wilson Pro Performance
String Pattern:
16 Mains / 19 Crosses
Mains skip: 7T,9T,7H,9H
Tension:
22-27kg / 50-60lb
How does it play?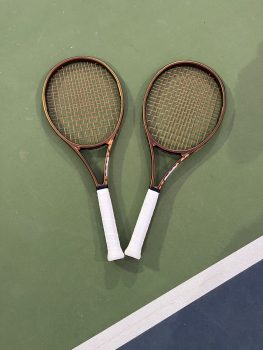 The easiest is to watch the video review above or on YouTube. Compared to the predecessor, I would say that this racquet is a bit more dampened than V13. That is my only real dislike with this frame. Otherwise it provides excellent control, good feel, and plow-through when customized to a 330+ swing weight and maneuverability.
However, a 97 sq inch racquet is never easy to use. The sweet spot is on the small side, you need to have a good footwork and the power level is lower. If you want more forgiveness and power, I suggest you check out the Wilson Pro Staff X, which is reviewed in the video above.
That racquet doesn't offer the same control, but is easier to use, offers more power on serve and a larger sweet spot. Most intermediates will play better tennis with the Pro Staff X over the 97.
Summary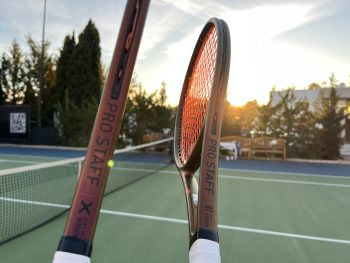 The Wilson Pro Staff 97 V14 will likely sell well. It is one of Wilson's bestsellers, mainly due to Roger Federer. However, many players will miss the Pro Staff RF97 Autograph. Not sure why Wilson didn't release that one in a similar cosmetic.
In terms of playability, I like this racquet, but prefer the more direct feel of V13. I felt more connected to the ball with that racquet, while this one feels more dampened, which can offer better comfort to players looking for that.
Have you tried the new Pro Staff 97? Let me know in the comments below.