I've gotten a few questions about this comparison: the Wilson Pro Staff RF97 Autograph vs the Yonex VCORE Pro 97 H (330g).
Some players just love heavy racquets. I do too. I've had a great time lately with the Yonex VCORE Pro 97 H and have decided to bump up the weight on my Yonex VCORE Pro 97 to match it. It's not easy or always possible to get the same feel/stability by adding weight to a lighter version of the same racquet, but the VCORE Pro 97 and its heavier brother has the same specs, mold, and layup, except for the weight/balance so that makes it easier to get them close. The Pro Staff 97 V13 and the Wilson Pro Staff RF97 Autograph are not as easy to match though, because the RF97A is foam-filled and doesn't contain the 45 braid of the PS 97. But this is another story for another day, let's compare the Wilson Pro Staff RF97 Autograph vs Yonex VCORE Pro 97 H.
Specs
Please remember that there are always variances in specs. This is a quality control issue, where the manufacturers usually can't promise anything better than +- 7 grams and +- 0.7 cm balance. This is a problem because you might buy two racquets of the same model and get two quite different frames when you head out to the court.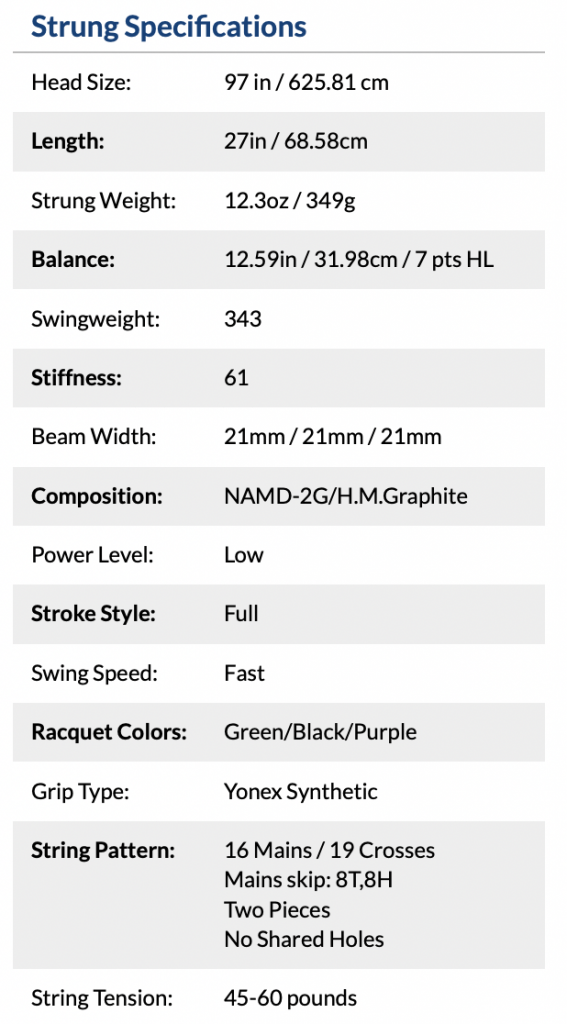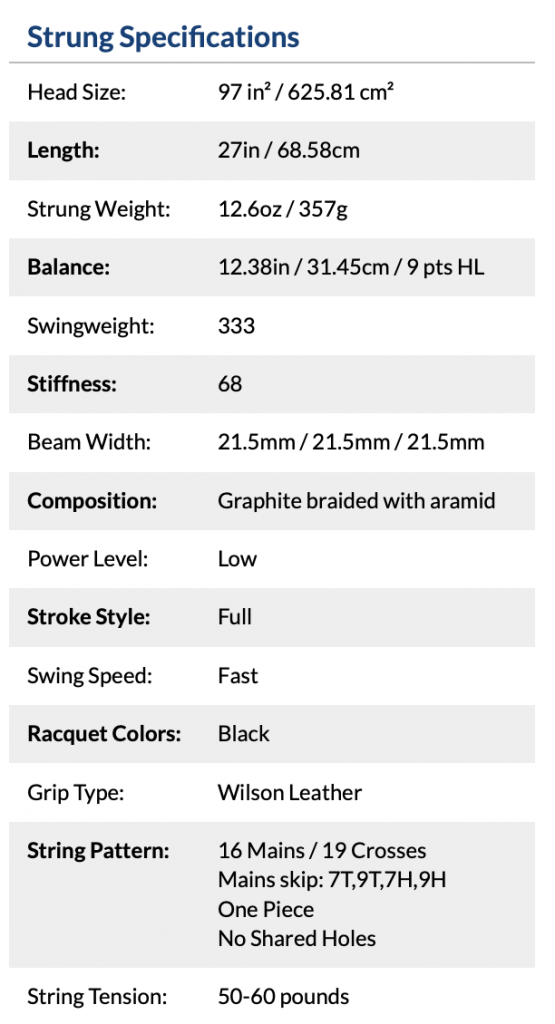 As you can see from the specs from Tennis Warehouse, there are a few key differences.
The RF97A is far stiffer, has a lower swing weight, is more head-light, and weighs more. This shows on the court when it comes to the feel. Some players like a crisper/stiffer response, where the string bed plays more like a board. They should go for the RF97A. Players who like a bit more give from the strings, a little more liveness, a feeling where the ball sinks into the string bed – they should go for the VCORE Pro 97.
Despite the differences in swing weight and static weight, they are about the same when it comes to getting them to move. They are not maneuverable racquets, but great for plowing through the ball on attacking shots. I really enjoy both racquets in singles tennis where I hit relatively flat and like to get to the net. They are both efficient on the serve, which is important to my game. But when I play doubles and need to rely on faster reflexes, they are way too heavy for me to move efficiently around the net. There I prefer a much lighter racquet.
Racquet Battle: 97 H vs RF97A
These are my personal preferences for the different shot categories. You will get more "meat on the bones" by watching the video, but this will give you an overview of what racquet I prefer for what shot.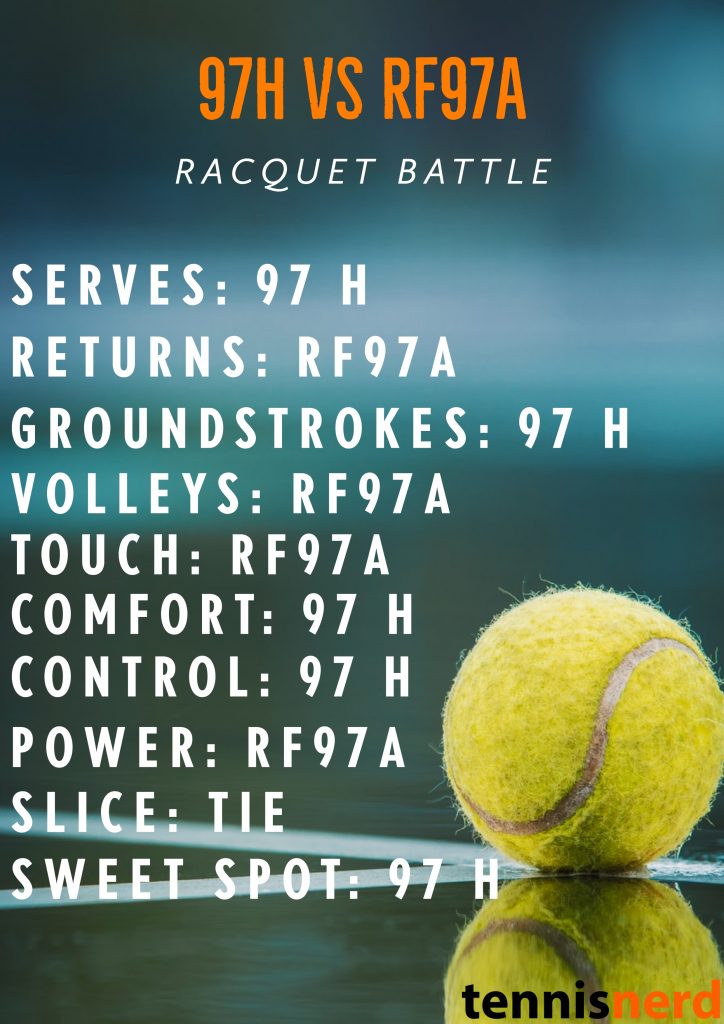 It's a tough choice, but I feel more at home with the VCORE 97 H and since comfort is very important to me, it's a pretty easy choice. The benefit of the RF97A is that you, like me, can get a custom one, through Wilson's Custom racquet program. I was impressed by the program when I ordered by RF97A and Wilson Clash 98.
Summary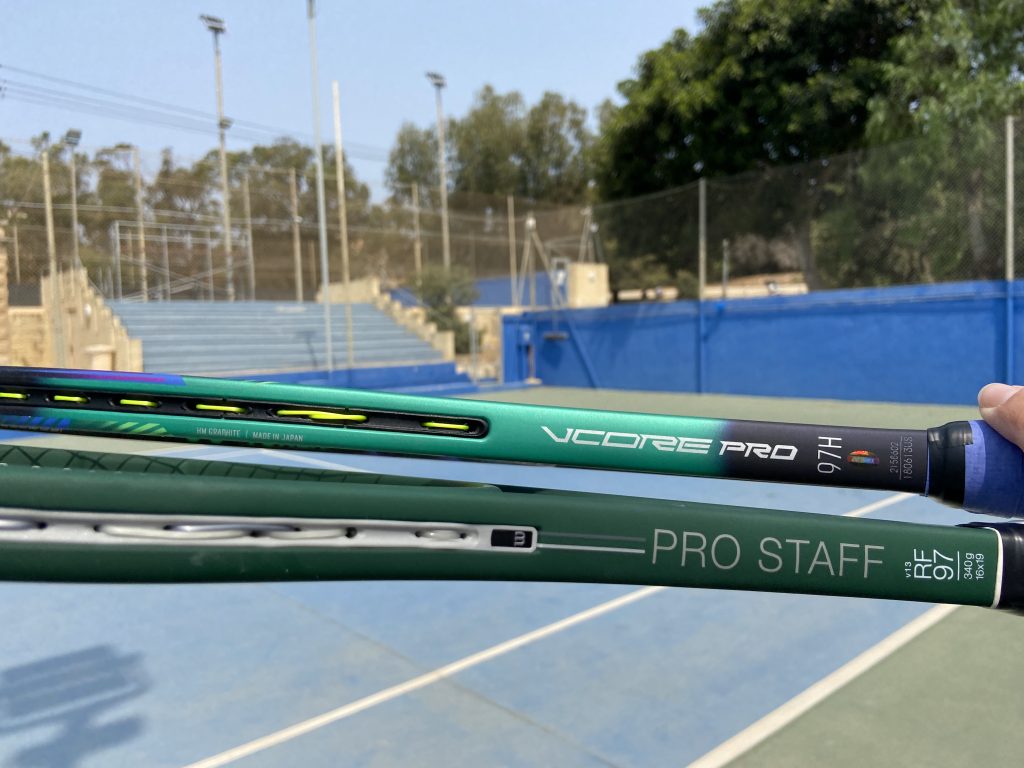 In the end, a racquet and a string setup are a personal choice. You might disagree with plenty of my points above. That's fine. We're all different, but after testing hundreds of racquets through the years, this is my conclusion about these two frames. Like I said/wrote, they are not easy racquets to use and probably not something I can use efficiently in a tournament, but once in a while, it's just a great feeling to experience the plow through that only a heavy racquet can provide.
If you want to buy any of these racquets or other things, please consider doing so from one of my affiliates. If you do, I get a small commission at no cost to you. Thanks.
Tennis Warehouse
Tennis Warehouse Europe
Tennis Only
Which one is your pick and why?