The Yonex VCORE Pro line gets a new, old-school racquet and it does not disappoint. Here is my Yonex VCORE Pro 97 HD racquet review.
Yonex updates its VCORE Pro line with some new technology, a more muted response, and a completely new racquet. The Yonex VCORE Pro 97 HD takes us back to the good old days with thin beams, tight patterns and a flexible feel. Does it have what it takes to compete with more modern-style racquets? Or is it just nostalgia? I definitely think this frame offers a lot for players who like to play aggressively and can generate their own power.
The new generation of Yonex VCORE Pro racquets are emerald green and have received a lot of positive feedback for their design. Some players I hit with thought I brought an old racquet to the court. That is how old-school this frame looks. And it feels pretty old-school too with its sub-60 stiffness rating, its 20 mm beam and its 18×20 string pattern. But I think it offers a bit more power and spin than the specs might tell you.
Specs and Tech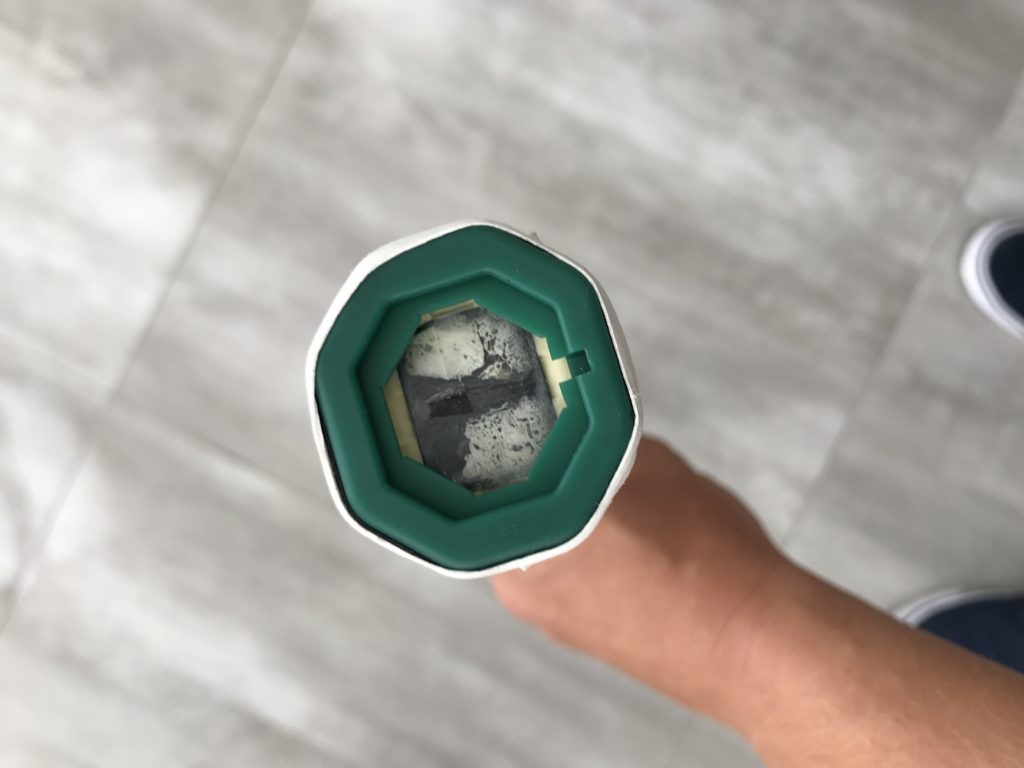 The Yonex VCORE Pro 97 HD comes with VDM, which is short for "vibration dampening mesh". "VDM is a stretchy mesh material that adheres well to graphite to reduce arm fatigue. Integrated within the grip, VDM minimizes vibrations by 30% resulting in improved feel and precise ball control." Several brands seem to look into how to dampen vibrations through the handle. Most pros use silicone, but I am sure the VDM technology works as well. This racquet is definitely comfortable enough.
There is also a new "Lock Booster" grommet system that "promotes string contact for efficient energy transfer and ball crushing power. My guess would be that it is a grommet system that improves string movement. It might be what is producing a bit more spin than what is common with most 18×20 string pattern racquets.  But I can't be sure of course.
Specs strung with a thin overgrip:
Weight: 340 grams
Head size: 97 sq inches
Beamwidth: 20 mm
String pattern: 18×20
Balance: 31,8 cm
Stiffness rating: 59
Swing weight: 331.5
Find the unstrung specs and more tech info on the Yonex official website.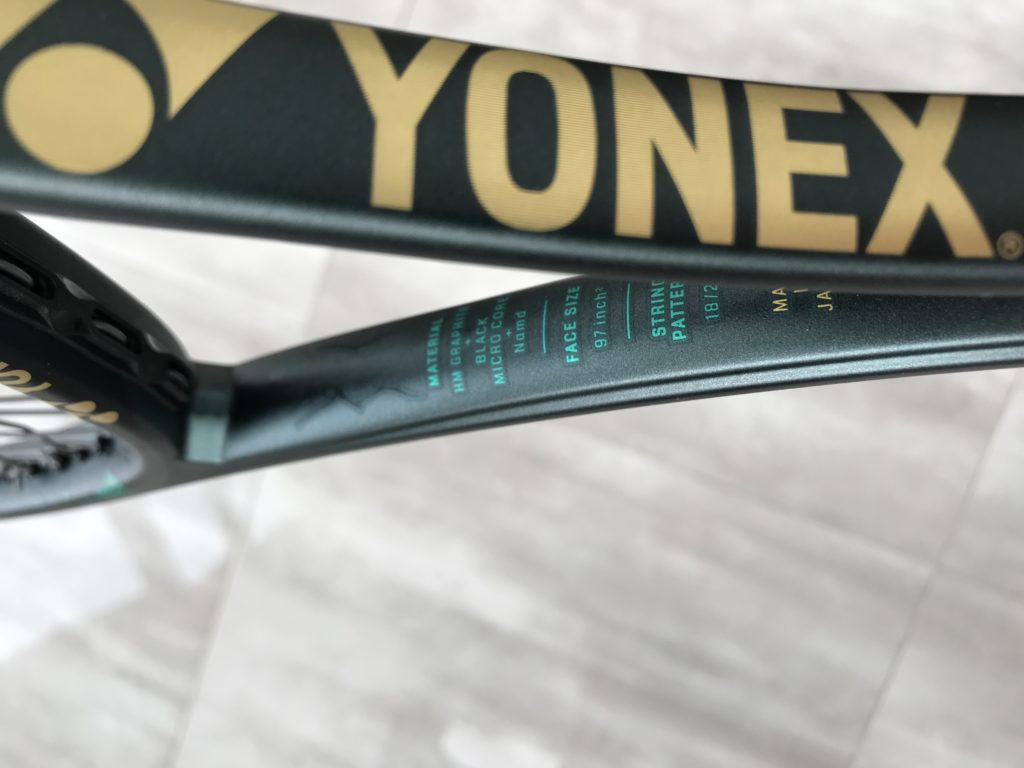 Other key info:
Strings: At first I tried this racquet strung with Yonex Poly Tour Pro
1.25 at 22 kg / 50 lbs. I did not really feel connected to the ball with that string. When I restrung it with Yonex Poly Tour Strike
1.25 at 20 kg / 44 lbs, it played much better. I would definitely recommend stringing this racquet low if you are using a poly string. Another good option is using a hybrid setup.
How does it play?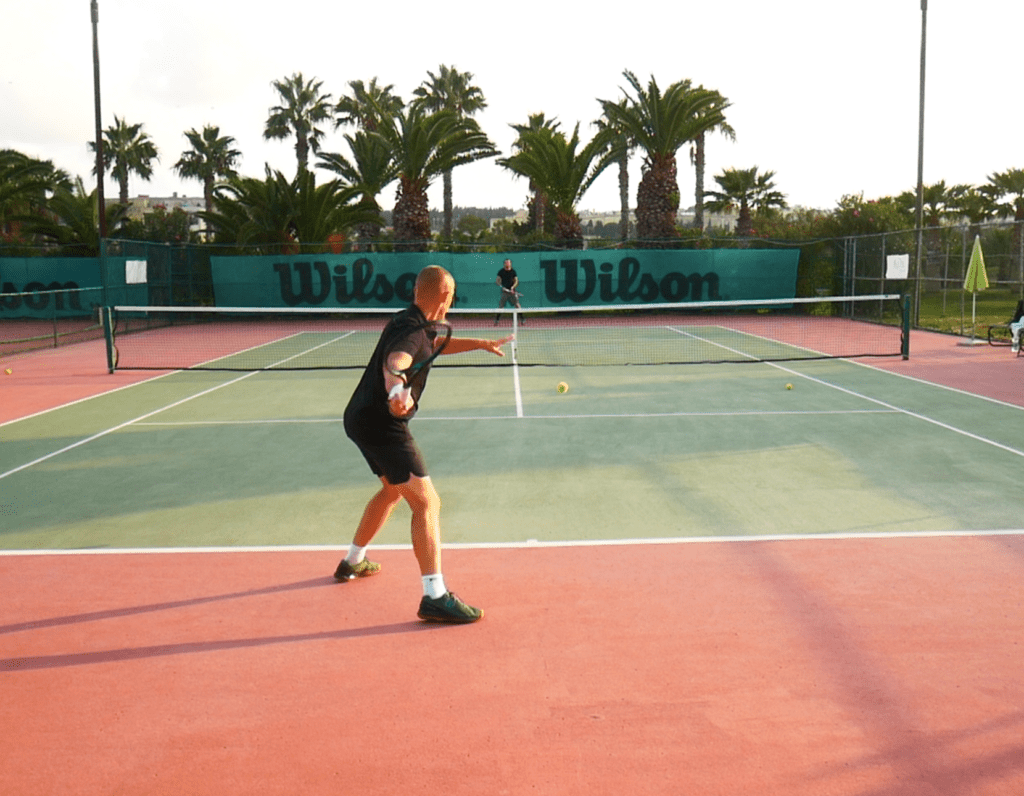 As you can see from the specs, this is not a power and spin frame for intermediate players. This is for you who can generate your own power and value feel and comfort. It is definitely a frame centered around feel and control, but it packs more pop than I would have imagined. It is not noodle-like despite the low flex rating. I would compare it to the HEAD Gravity Pro (link to my review), but with smaller head size. Both offer great feel, but while the Yonex swings fasters, the Gravity offers a slightly larger sweet spot.
Other racquets that compare well with the Yonex VCORE Pro 97 HD
(Amazon link) is the Angell TC 97 Custom 18×20 (link to my review). They both offer a comfortable response, stability on volleys and block shots, an aggressive slice trajectory and decent power for control frames. Not sure which one I would pick, but I could enter a tournament with either frame and be happy.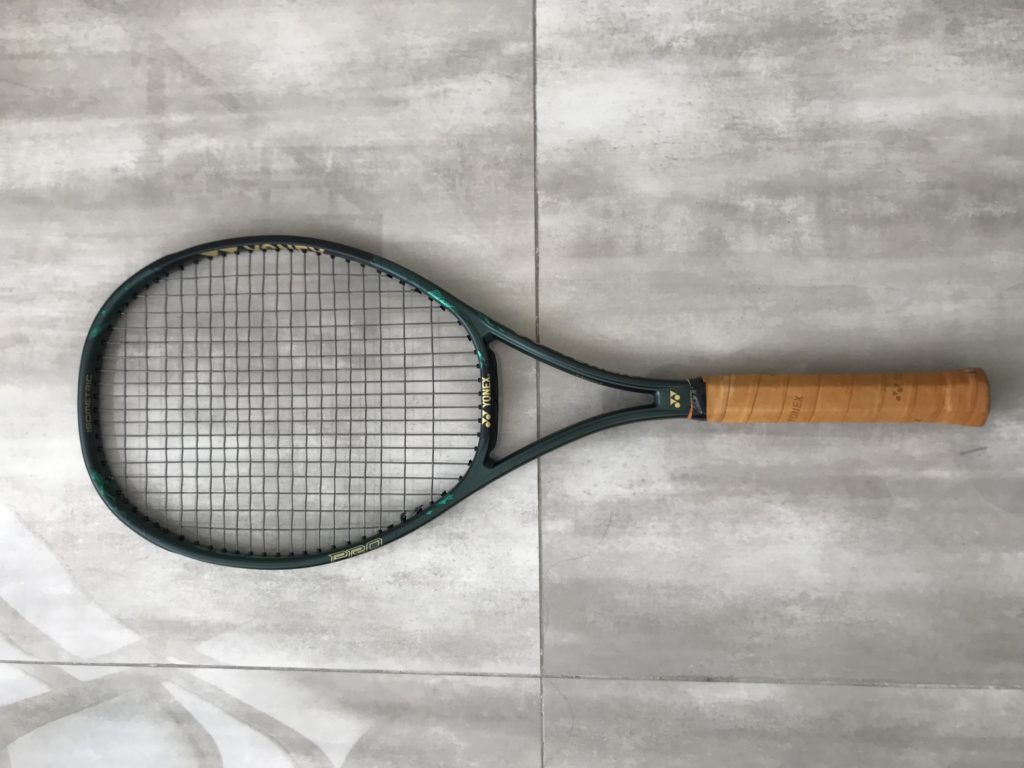 Yonex VCORE Pro 97 HD Review Summary
I enjoyed this racquet on serve too. Sometimes it can be difficult to generate pace with this type of racquet, but the weight helps and it did have more power than expected. Still, it is not a -"weapon" in that sense of the word, but the thin beam helps you generate racquet head speed.
The only shot I struggled a bit with this racquet, for some reason, was the one-handed backhand. For some reason, it did not feel as natural with this frame as for example the Yonex VCORE 95 (link to my review) or the Tecnifibre TF40 (link to my review). I do tend to like a lower static weight on my one-hander so perhaps this is why.
That is really my only dislike (albeit personal) with this frame. It is a really nice, control frame for advanced players looking for arm comfort and feel. It is one of my top racquets in the player racquet category for 2019.
Have you tried the Yonex VCORE Pro 97 HD? What did you think about it?