One of the most popular Angell racquets is the Angell Custom TC 97. It is a very versatile frame for advanced players and through the Angell Custom program, you can choose your own specs. I opted for a TC 97 18×20 in standard length, 320 grams, 10 pts headlight for my Angell Custom TC 97 18×20 racquet review.
I have reviewed a lot of Angell racquets and in an effort to summarize all of the different models and variations, I created a separate page for the brand here (I will also do this for other brands). What I like about Angell Tennis is that the racquets are really high-quality when it comes to all aspects of the product, such as build, specs, paint job, etc. Feel is always subjective, but in general, I would say that Angell racquets are quite comfortable and a bit old-school in feel and power level. If you are interested in Angell racquets, you can buy them here. For now, read this Angell Custom TC 97 18×20 racquet review.
Angell Custom TC 97 18×20 Racquet Review – Specs and tech
I rarely comment on cosmetics on tennis racquets, but the Angell Custom V3 is perhaps the most attractive paint job on the market right now. The shiny black and copper really feels and looks classy and does not chip or damage easily. So for materials and build quality, Angell deserves high praise. Here are the standard specs of the Angell Custom TC 97 18×20:
Standard specs
97inch head-size
66 RA prebuild stiffness
20mm tapered beam
New throat box section design.
Over frame grommet structure
High Modulus Carbon construction
Foam Core
Micro Braid
When it comes to customizing your specs you can choose a length between 27-28 inches, 290 grams, and 33,5 cm balance to 330 grams and 30,5 cm balance, grip shape from rectangular HEAD style (A) to even-sided (C) Prince.
Angell Custom TC 97 18×20 Racquet Review – How does it play?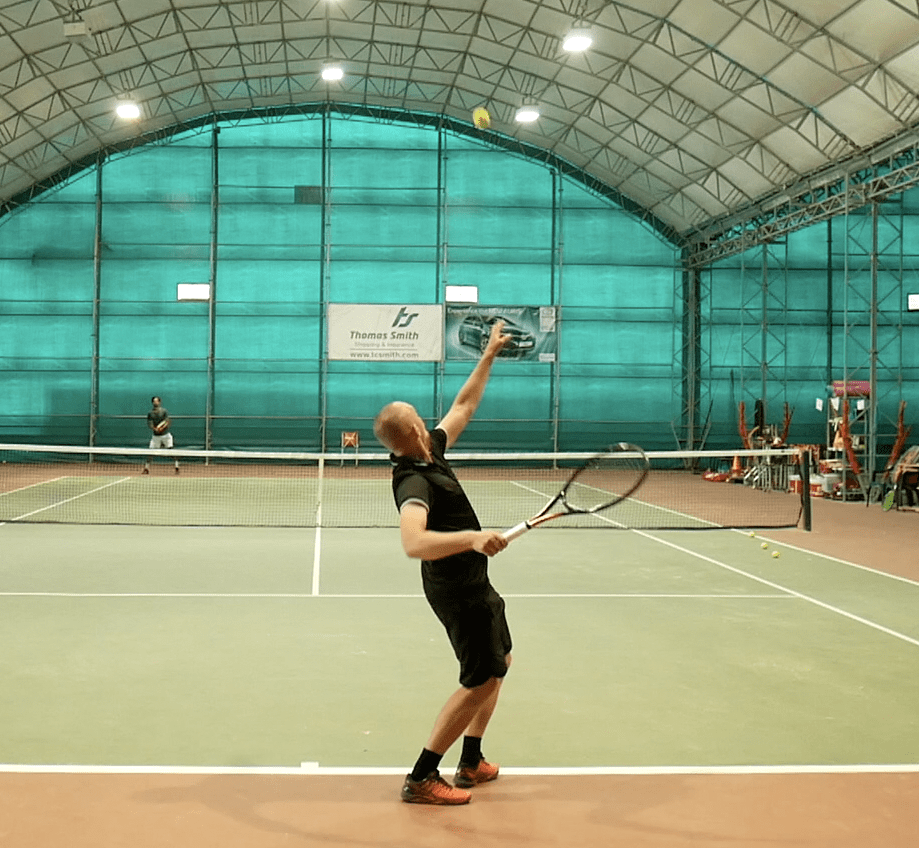 The Angell Custom TC 97 18×20 has a tight and controlled pattern, but still offers a good amount of spin. I think the specs are well balanced as the 63 RA strung gives you a nice blend of power and control without sacrificing comfort. It is kind of the classic player spec! I strung up my Angell Custom TC 97 18×20 with Kirschbaum Pro Line 2
, a great, soft poly with good tension maintenance and control. I think the string and the racquet paired well and I was awarded comfort and control on all my strokes.
The spec I got is definitely for more advanced players at 320 grams unstrung, but with the 10 pts head light balance and the thin beam, the racquet still flows through the air easily. The racquet was stable at the net and on picking up deep shots from near the baseline, which are two important things for my game. It offered nice pop on serves, not as much power as larger head-size racquets of course, but with effective precision. I think the racquet does pretty much everything well, and would fit a lot of players that want to go for a frame that accentuates their game instead of changes it.
Angell Custom TC 97 18×20 Racquet Review – Summary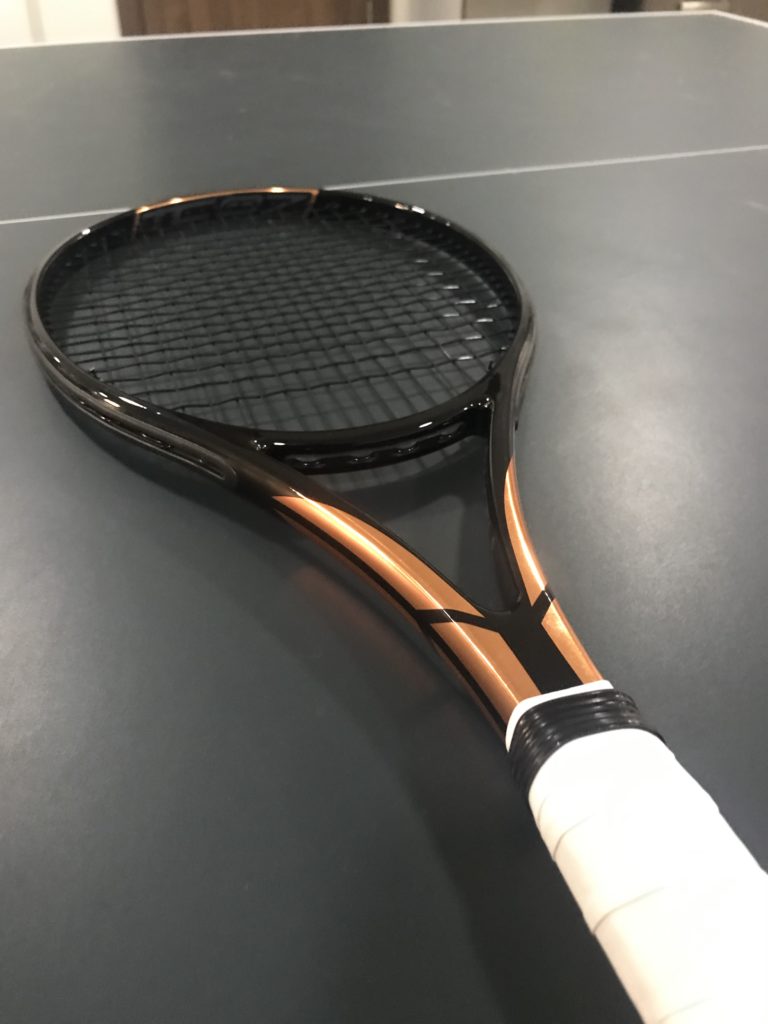 Since I like this racquet so much it is hard to find any flaws with it. A lot of intermediate to advanced level players will like this racquet. It does not have the room for error, like oversized racquets, but offers more control, and with decent technique and footwork you should really be able to appreciate this stick. The feel of a tennis racquet as it strikes the ball is always subjective though. Some people like a crisper response with more power transferred to the ball, others prefer a more noodle-like feel of the strings. I think the Angell TC 97 Custom is well-balanced. It plays similar (but in my opinion slightly sweeter) to a Wilson Ultra Tour or HEAD IG Prestige MP and the benefit of being able to choose your own specs is hard to beat.
Some key points:
A racquet for players with solid technique and footwork.
Good stability, but not stiff.
Fantastic cosmetics.
Not the most forgiving for beginners to intermediate players.
Big plus that you can choose your own specs.
Effective on slice shots.
Not a spin-monster, it gives you the spin you put into your shots.
Build quality is top notch.
Similar racquets:
HEAD IG Prestige MP
Babolat Pure Control
Angell Custom TC 97 18×20 Racquet Review – Video
***
Do you like Tennisnerd? Please also follow and share our other channels. Every like, share and follow is deeply appreciated! You can now also become a Tennisnerd patron and receive unique content and reviews before everyone else!

Patreon – Support and get VIP content
YouTube – In-depth video reviews and vlog
Instagram – Racquets, racquets, racquets
Twitter
Facebook Page – New content daily
Facebook Group – Join the discussion with other tennis nerds
Amazon Influencer
About tennis racquets
All racquet reviews
Here is a great racquet buying guide to get you started.
What tennis racquet should I buy?
Top tennis racquets to buy right now
The Gear of the Year 2018
The Gear of the Year 2017
The Gear of the Year 2016
Tennis racquets for juniors
Tennis racquets for kids