You can't keep changing your racquet every other match so at some point you need to make a commitment to a frame. The question is WHEN do you do it and HOW do you make that commitment?
This is of course a highly personal question but at some point you need to decide what racquet you take into a competitive match or a tournament because getting used to a racquet and making it into an extended arm, is what you ultimately want for your game. As you know I love playing with new racquets every session just for the pure curiosity and enjoyment in trying something new, but it hasn't always been beneficial to my game.
So I was pretty much set on my HEAD Liquidmetal Radical Tours, but with all the racquet reviewing and play-testing I'm doing it's hard not to get lured in by new frames. That's why I try to give every test a good amount of time so I really understand how my game is affected by the racquet, positively and negatively and I suggest you do the same when you're trying out a racquet. Try not to give up after 15 minutes of hitting, give the frame some time, at least a couple of hours before you decide if it's for you or not. And remember, a fresh and different set of strings and some lead tape might change the frame characteristics drastically.
As you loyal readers know, I've reviewed some nice frames lately and I even surprised myself by liking the Babolat Pure Drive Tour Plus
 (read my review), and not so surprised by enjoying the Prince Phantom Pro 100P
(read my review) and even not at ALL surprised to be playing well with the Angell K7 Red (read my review) since I have enjoyed Angell frames in the past and considered switching to the Angell TC 97 Custom 18×20 (read my review here) a while ago.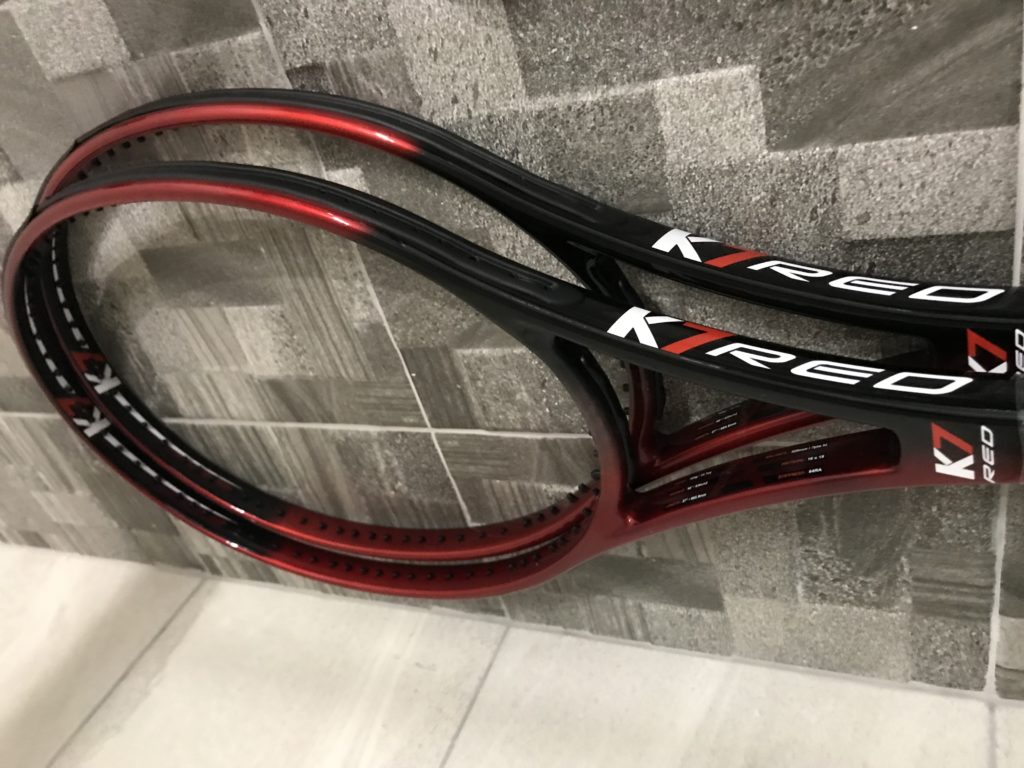 Since I've been accessing easier pace and spin with the Angell K7 Red than with my LM Radical Tours, I've decided to get two more racquets which pretty much means I'm making the switch there and committing to the Angell K7 Red for time being. It's simply offers that great playability of lighter and stiffer frames but without hurting the arm (and I've been using stiff poly strings). It seems to make tennis a little easier to play for me while still giving me good touch and control so that's why it was time to get a few more and find the right string setup.
It took me a while to make this decision and I didn't take it lightly. I was playing good tennis with the Radical Tours. I was comfortable with them, thought I'd find a good string setup. Still, on the one-handed backhand (top spin I mean, slice was good) I didn't feel as good as I have done with, for example, the Yonex VCORE 95D, the HEAD IG Radical Pro and the Angell K7. And with this thought jumping around in my head while playing, it felt like I needed to get a racquet where that shot feels more second nature.
I've been playing with the Angells for quite a while and although I liked them from the start, I thought it was just a honeymoon period and I did struggle somewhat on the volleys. But after practicing more at the net, adjusting the lead tape placement to improve the sweet spot and trying to really get a hundred percent dialled in, I'm really loving this racquet on court now and I'm enjoying myself every time I take it out of the bag. It's not the perfect racquet for me by any means, I still get more pop on the serve with my Radicals for example and I feel I can kill points faster with that racquet, but for all-round performance and comfort – the K7 Red is simply a better choice for me right now so I'm switching to it.
This leads me to another common question. Have many racquets should you get when you've made a decision on what racquet to commit to? I think two to three is a good number. I went a little bananas with the HEAD LM Radical Tours and got seven of them! I will definitely keep a pair, but I should have known myself well enough that I wasn't going to stay faithful to one racquet long enough to need seven. Although it did look really cool in the tennis bag!
I currently have three Angell K7s, the first review racquet I got had a little bit bigger grip size due to a manufacturing error so we will see if I need to beef up the other ones to match it or if I can get used to a slightly smaller size. I'm happy that the two Angells I ordered came in at the exact right weight and balance. Makes matching them with customizations a whole lot easier!
So before I start testing some other racquets (waiting on a couple of boxes), I will try to find a string setup that I think suits this racquet and my game perfectly. Maybe by the time I'm done doing that, I've found another racquet I like even better. Who knows? After all, being a racquetholic makes it difficult to commit to only one frame…
Read more on this topic in the posts "racquet commitment issues" and "What racquet to choose".
Let me know if you're committed to a racquet by now and how many of it you have. Please comment below. And good luck on the courts!
***
Do you like Tennisnerd? Don't miss a word or video by stalking us on social media. Every like and follow is appreciated!

YouTube
Instagram
Twitter
Facebook Page
Amazon Influencer
Buy tennis gear
EU
Racquet Depot
Pro Direct Tennis

USA
Tennis Express
Do It Tennis
Amazon.com
Racquet buying guides
Here is a great racquet buying guide to get you started.
What tennis racquet should I buy?
Top tennis racquets to buy right now
The Gear of the Year 2017
The Gear of the Year 2016
Tennis racquets for juniors
Tennis racquets for kids
Popular posts
What the ATP pros play
Questions about pro stock tennis racquets
Is a pro stock racquet better than a retail one?
Do professional players change racquets?
Racquet Commitment Issues