Oversize racquets will give you extra forgiveness and power at the cost of maneuverability and control. Let's dive into this Wilson Blade V8 104 Review.
I have gotten several requests for this Wilson Blade V8 104 review. Looking around the racquet choices in your local club, you might not think oversize (more than 100 sq inches) racquets are so popular, but I can tell you that the audience is growing. You get more power, more forgiveness, and often good spin potential with an oversize frame. Like always, there is a compromise involved and for this one, it's sacrificing some control and maneuverability.
I'm not a huge fan of oversize racquets because I tend to value maneuverability before power and forgiveness, but there are OS  racquets that have impressed me, such as the Angell Custom 101, the Prince Graphite OS Classic and the HEAD Gravity S.
What unites those racquets with this frame is an impressive comfort. The Wilson Blade V8 104 is a plush racquet at 60 RA strung stiffness, which should not worry even players with a history of arm issues. It also responds well to different strings, I  tried a multi and a poly hybrid and it played well with both.
If you're interested in buying the Wilson Blade V8 104, check out my affiliates: Tennis Warehouse Europe, Tennis Warehouse, or Tennis Only.
Spec check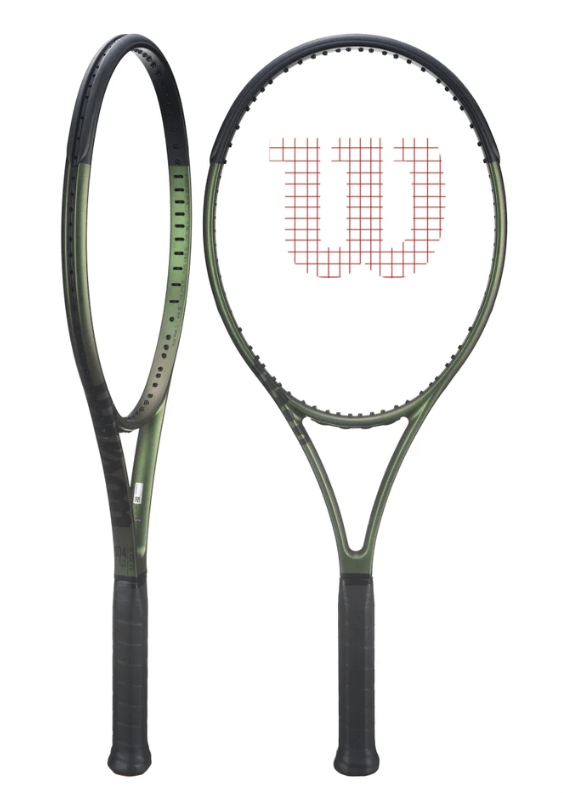 Head Size: 104 in / 670.97 cm
Length: 27.5in / 69.85cm
Strung Weight: 10.8oz / 306g
Balance: 12.99in / 32.99cm / 6 pts HL
Swingweight: 317
Stiffness: 60
Beam Width: 22.5mm / 22.5mm / 22.5mm
Composition: Braided Graphite
Power Level: Low-Medium
Stroke Style: Medium-Full
Swing Speed: Medium-Fast
Racquet Colors:Green
Grip Type: Wilson Pro Performance
Compared to V7
This update plays very similarly in my opinion to the previous Blade 104. The beam is 0.5 mm thicker, but otherwise, the specs are pretty much unchanged from the V7 Blade 104.
Who is it for?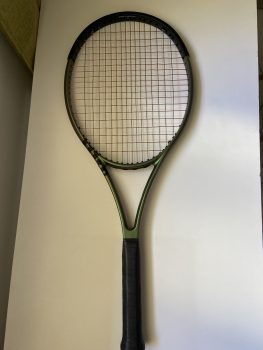 This racquet is for players that want an easy racquet to use with plenty of forgiveness, power, spin, and comfort. Veteran players and lower-level intermediates come to mind first. But if you haven't tried an oversize frame, it could be an interesting demo. Remember that it is also an extended-length racquet, so despite the low swing weight, the contact point might feel a little different at first.
How does it play?
Ps. Video goes live at 9 pm CET Ds. 
Since I'm more into the Blade 98 V8 racquet category, I knew this racquet wasn't going to be something I just picked up and played well with. It plays nice and is perfect for players with shorter strokes, but I found it a bit difficult to control and along with the low flex, you do a little bit of a "catapult" feeling at times. It's not powerful in a stiff tweener style way, but more like a Clash 100, where you get that cupping sensation in the string bed but can struggle to control it.
It's not only for players with shorter swings though. My hitting partner Szijj, who is a better player than I am, hit a nice ball with this frame without much of a getting-used-to period. It all depends on what kind of racquets you like, but this racquet gives you a large sweet spot and nice depth without needing great technique and footwork.
The launch angle is pretty high though, so if you like a flatter ball trajectory, I don't think this racquet is for you.
Summary
The Wilson Blade V8 104 is very similar to its predecessor. But perhaps a tiny bit firmer feel due to the extra 0.5 mm beam, but otherwise all the specs are unchanged. It's easy to swing, offers nice access to power and spin despite being comfortable, and will be a forgiving option for players who hit outside the sweet spot frequently.
I find it a bit difficult to control the large head size and the springy, catapult-like effect in the string bed (big head size and low flex usually create this result) and the extended length and light, the oversize frame is not something I'm used to. However, also a strong player like my buddy Szijj could hit a good ball with this frame, so I'm probably just not the target group.
But I like that Wilson has kept the flex low for players with shorter swings who might be suffering from arm problems.
If you're interested in buying the Wilson Blade V8 104, check out my affiliates: Tennis Warehouse Europe, Tennis Warehouse, or Tennis Only.
Have you tried the Wilson Blade V8 104? Let me know in the comments below.