Now you can get a Wilson Blade V8 Custom. You can now choose your own design for your Wilson Blade V8 using Wilson's online design tool.
Do you need a Wilson Blade V8 Custom design? I mean the retail version is already looking pretty great to me (check out my Wilson Blade V8 Review here). But some players like to add their name, change the colorway, spice it up with some interesting colored-grommets. Or perhaps they didn't like the V8 design at all, but loved how the racquet plays. Then the Wilson Custom program is worth checking out.
I tried and reviewed the Wilson Custom program a while back and overall, I was very happy with it. Yes, an even better program would be one where you could change specs and grip shape, like with Angell Custom racquets. But I understand if that's not possible on a large scale.
If you want to check out the program for yourself and try to customize a racquet, check out the website here. (You can use their racquet designer freely and get pdfs of your racquet designs without actually ordering anything.)
The Wilson Custom Program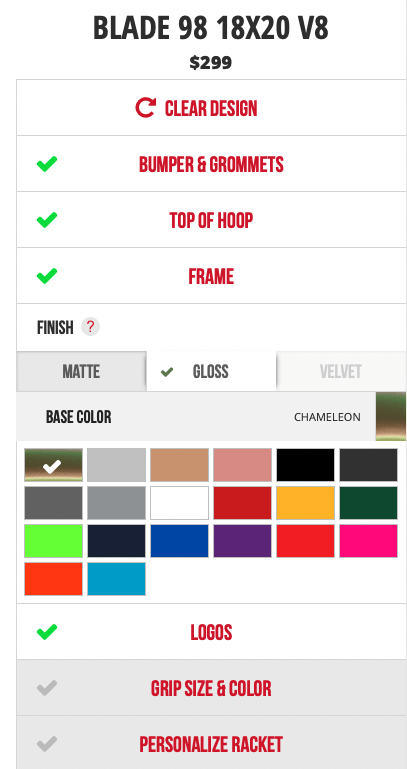 The program is available in a number of countries: Australia, New Zealand, Germany, France, Spain, Italy, Korea, UK and USA. I'm not sure why they can't offer it worldwide, but that's the current situation.
You can change the bumper/grommets, top of the hoop, frame, logos, grip size and color, as well as write something on your racquet. It could potentially be a nice gift for a true tennis nerd to design a racquet with their name on it.
One thing to keep in mind is that the delivery time is LONG. When I did the Clash 98 and the Pro Staff RF97 it took about six weeks. Which wasn't too bad. But it's currently up to 13-15 weeks. I think 3-4 months for racquets might be longer than most people are ready to wait.
But on the other hand, if it's important for you to show up to the court with a unique-looking racquet – it can definitely be worth the wait. I have been very happy with my Wilson Custom racquets. Everything came out spot on to how I wanted it, so if you're a patient person that wants a Custom design for your Wilson racquet (they also offer Clash, Ultra and Pro Staff), I'd give it a go.