I published the first impressions of the Yonex Ezone 98 Tour Review a while back, now I am ready with my full review.
There has been a lot of interest and hype around this racquet and I've gotten a lot of questions about this Yonex Ezone 98 Tour review. For a good reason. The Yonex Ezone 98 is one of the more popular racquets on the market thanks to ambassadors like Nick Kyrgios (Xi version) and Naomi Osaka (Ai version), but the most recent version felt a bit light and powerful for my liking.
The Yonex Ezone 98 Tour is heavier, more flexible, and definitely more of a player frame. There are a lot of fans of the DR 98 that were looking for a Tour-style version, but this is not a DR reissue, but slightly different in feel.
I would say the Ezone 98 Tour swings heavier and plays more stable and muted than the DR 98. If you are a fan of that version, I am not sure it would be an easy transition. Personally, I prefer this one, but I know several players who prefer the DR 98 for its more responsive and lively feel. It's also a tad lighter.
Specs and Tech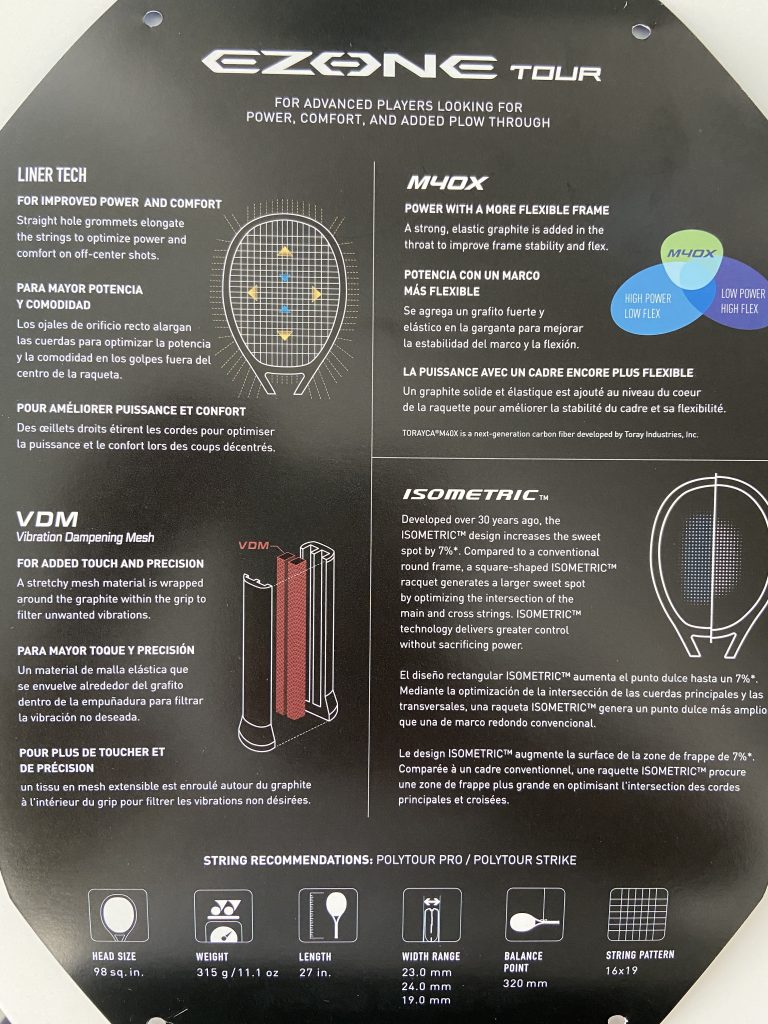 The unstrung specs of the Yonex Ezone 98 Tour are:
98 sq inch head size
315g unstrung weight (11.1 oz)
27-inch standard length
23/24/19 mm beam
32 cm balance point
16×19 string pattern
65 RA stiffness (TW measurement)
The spec of my demo from All Things Tennis were:  313.1 g, 31.5 cm balance, 292.5 SW
After adding Solinco Hyper-G Soft 1.25 at 53 lbs it measured: 330g, 32.5 cm balance, 325 SW.
It felt a bit head-heavy for my taste and I ended up adding 4 grams of lead tape underneath the grip and an overgrip to get a more head-light feel. It definitely helped me on my one-handed backhand.
How does it play?
I tried Yonex Ezone 98 Tour with a bunch of my hitting partners, but although they all liked it – some of the comments were:
"Low-powered, heavy to swing, not big on serve, muted feel"
They all ended up preferring the HEAD Radical 2021 racquets or the Tecnifibre Tfight RS 305.
I, on the other hand, felt completely connected to the Yonex Ezone Tour. And after adding some weight to the handle to make it more maneuverable, I was dialed in. The more I played with it, the better it felt.
It actually reminded me of my old Wilson Six One 95 nCodes, my first real player racquet. Muted, solid, controlled, and hits like a tank. But the Ezone offered a bit more free power, a bigger sweet spot, and more spin potential.
Yes, it is a pretty hefty racquet. Yes, it is muted, but you still feel the ball on the string bed. Yes, I can see what the other players say about it not being as responsive or powerful as the DR 98. But the Ezone Tour is the one that feels the most at home to me.
Summary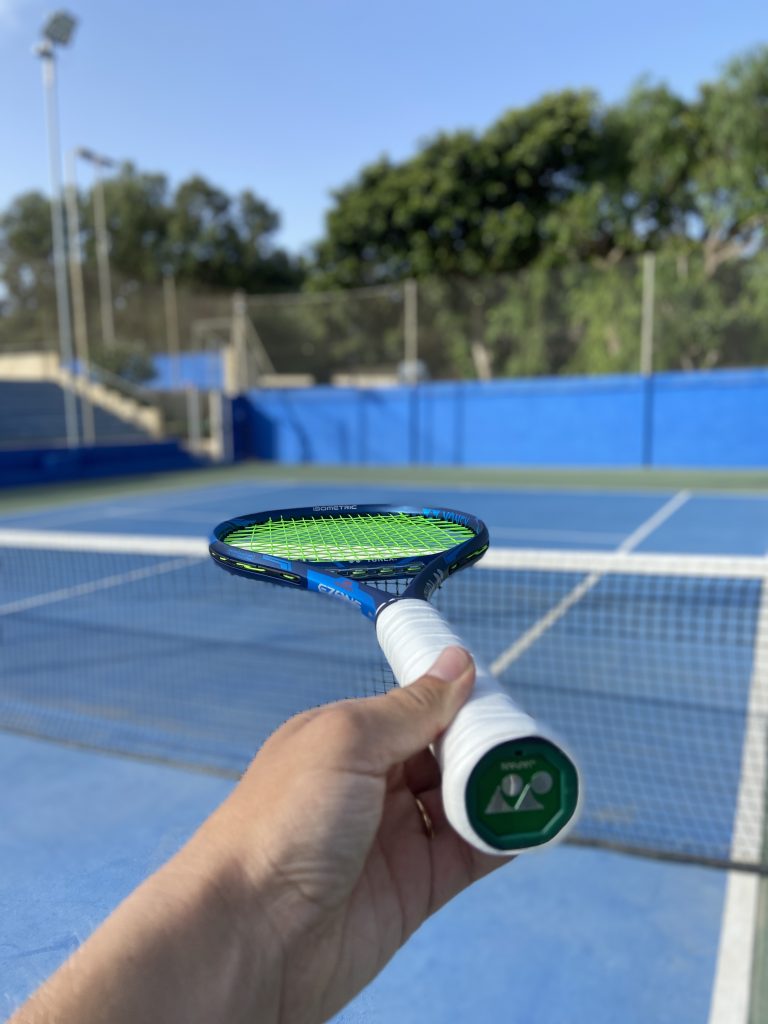 The Yonex Ezone Tour is not a racquet for everyone. You need to be able to enjoy the weight and stability. You don't get much free power and it's not easy to use. But if you're a 4.0 player who likes a solid feel and a controlled racquet that offers some nice spin, I think you should at least demo it. I am glad I did and it's now at the top of the list for my next match racquet.
I am leaving my MRR-strategy and committing to a racquet this year. Recent match play has shown me that I need a consistent setup to compete against good players. I have a few more reviews to do before we close this weird year, but this is very likely the contender for my new match racquet in 2021.
There were a lot of good racquets released this year, but for me, this one has worked the best on the court so far.
Have you tried the Yonex Ezone 98 Tour?