Ferenc Ferdinand Weisz is back with a review – this time dealing with Artengo accessories and strings. Word over to Ferenc.
I have been playing with Artengo racquets for two years, earlier with the TR 990 Pro, and now actually with the TR 930 Spin Pro. During the last few years, I bought a lot of Artengo apparel and shoes also for myself because I think these products have a really nice price/value ratio. But now I had the opportunity to also try some Artengo accessories and strings.
Artengo TA 990 1.20 mm monofilament string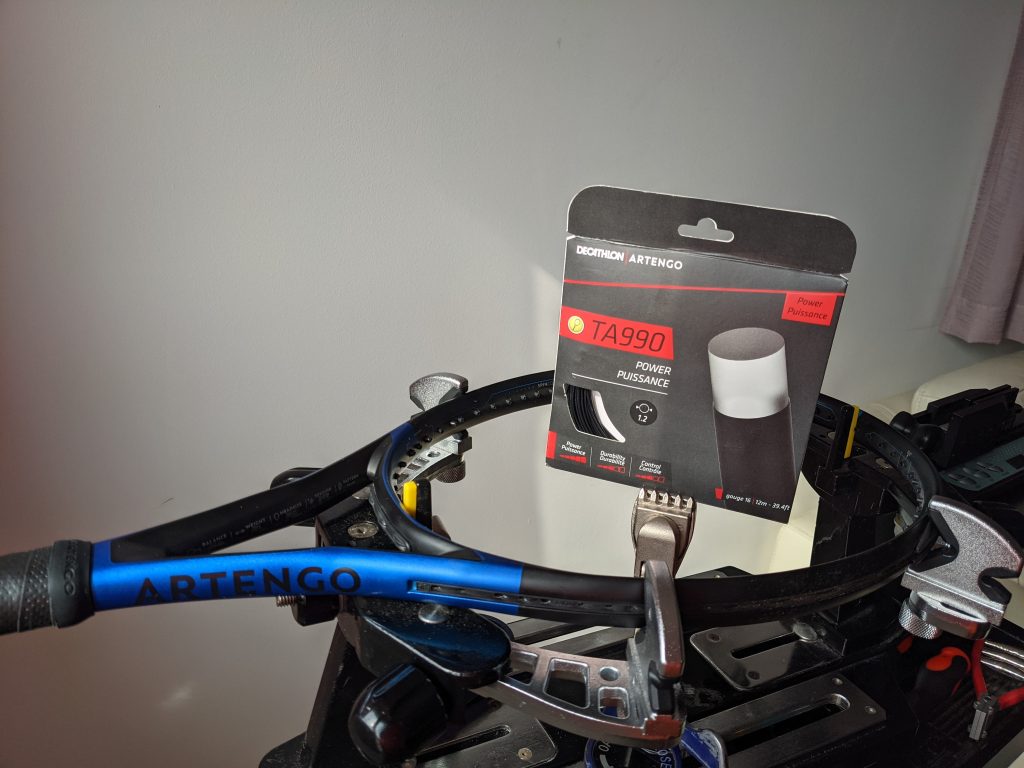 The 900 series from Artengo are high-quality co-polyester monofilament strings. The pentagonal shape TA 930 is spin, TA 960 is controlled, and TA 990 is the power string – these have the same numbers as the racquet series. I selected the thinner gauge one (also available in 1.27 mm), because I don't have too many experiences with gauges under 1.25 mm, and I also like round ones because these are more comfortable than shaped ones.
First, I strung my TR 990 Pro with this string at 25/24 kg (55/53 lbs). Later I also strung TR 930 Spin Pro at 26/25 kg (57/55 lbs). This string is easy to string and stretching is average. At first look, I thought it was a "nothing special" type string, but I liked it because "special" ones mainly caused some disappointment for me. I felt it played as I expected after a short time and an added kg (plus 2 lbs) tension.
I don't find anything disappointing about this string. Comfortable like an average poly, the spin potential is nice (like with Wilson Revolve 1.25mm) and the feel is also good. I'm not a string breaker, but I think durability and playability duration is also in the acceptable range. The price is good (70 € / 200m), cheaper than most similar strings. My statement is that most players don't need any extra or special property to their string, just something that offers a pleasant playing experience and then this is it.
Artengo TA 560 1.35 mm multifilament string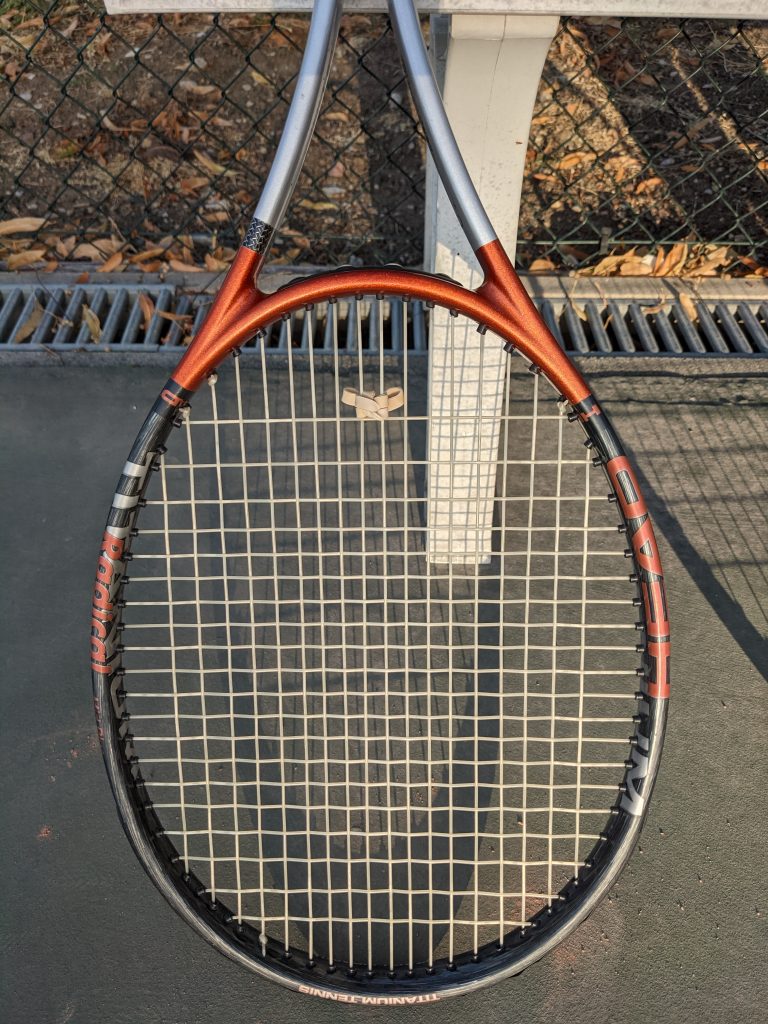 The 500 series are multifilaments. TA 500 labeled comfort and available in different gauges and this one is the control string only available in thick 1.35 mm gauge.
I strung it to my old favourite, Head Ti. Radical MidPlus. This has a smaller head size and a tight 18×20 string pattern, and I like this stick with multifilament strings. I selected the tension to 23/22 kg (50/48 lbs), and the first positive thing was how easy it is to string. The surface is a bit slippery, and this helps to not damage the string compared to other multifilaments and natural gut.
When I see that it's a true control string, I'm delighted. Maximum control, ideal for precise, defensive games. Another interesting thing is that I don't experience the typical multifilament string movement, just a little bit. Not a typical comfortable one, but not uncomfortable or stiff. I guess durability will be okay. I think in a tight pattern racquet around 20 kg (44 lbs) will also work. 
I also guess this is an excellent base for hybrid stringing and it will be interesting to combine with 1.30 mm TA 960 in an open pattern racquet like TR 930/990 and anything similar with a lower tension. The price is friendly (10 € per set), and I recommend everyone looking for a control-oriented multifilament try this type of string.
Artengo TB 930 balls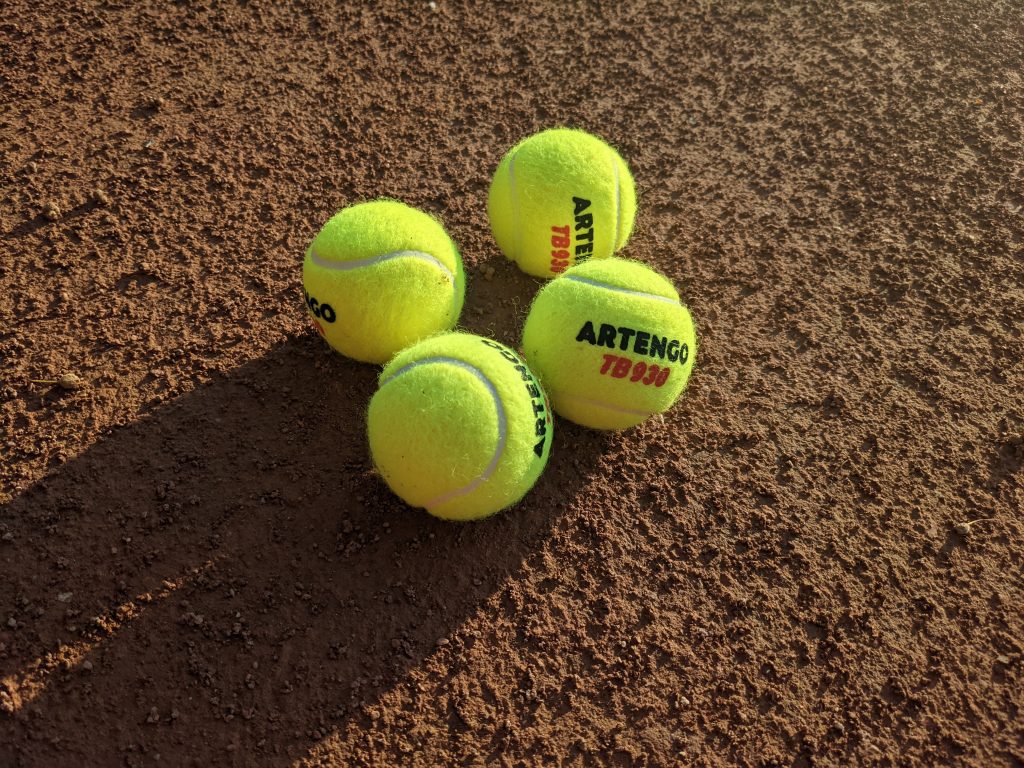 Tennis balls divide the players. For some people, it's not important, while other guys don't want to play with anything other than their long-time favourite. I'm in the middle, not very picky, but I think a good ball is part of the playing experience. I played with painfully stiff balls and/or faster than playable, so I found that these balls offer a feel with relatively good durability for the price.
Earlier I played a lot with TB 920 balls and I like them, so I was curious to compare them with the TB 930. 
The balls seem of high quality and have a nice yellow color. I sometimes struggle with fresh balls and prefer them after one hour, but fortunately, TB 930 balls are not like this. The difference between fresh and used balls is not very big. Comfort is good, the feel during hitting is convenient, and does not fly as fast as some balls. 
Typically I play 5-6 times with a can of balls and during this time it did not become too soft. From the Decathlon store, this and the TB 920 are also voted first, even compared to well-priced Babolat and Wilson models. For the best price/value ratio, go for the 2×4 packs.
Artengo Tacky overgrip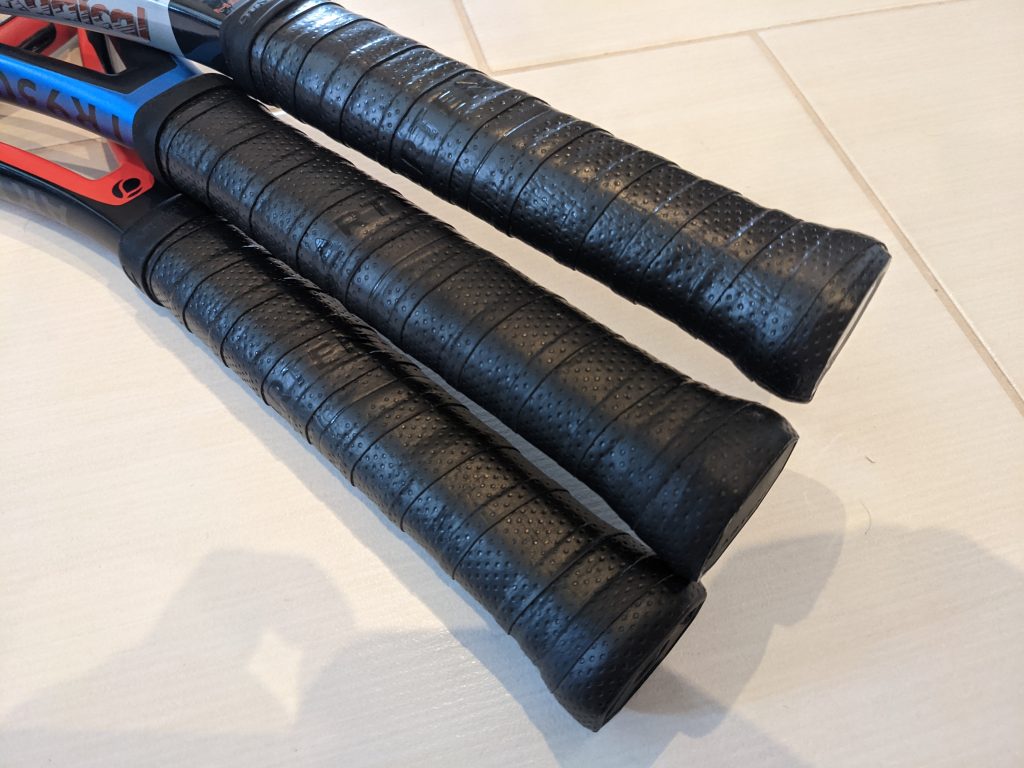 The grip is the part of the racquet that makes contact with our skin, so it is essential for stability and can prevent racquet rotation in hand during hitting. Every player has different skin pH and sweat and that's why there are many kinds of overgrips on the market.
Artengo Tacky overgrip has a lot of small dots, which helps tackiness and sweat absorption. For my hand, this is not the best, but in my opinion, it's a standard quality for a reasonable price, worth trying.
Artengo Antivib 990 dampener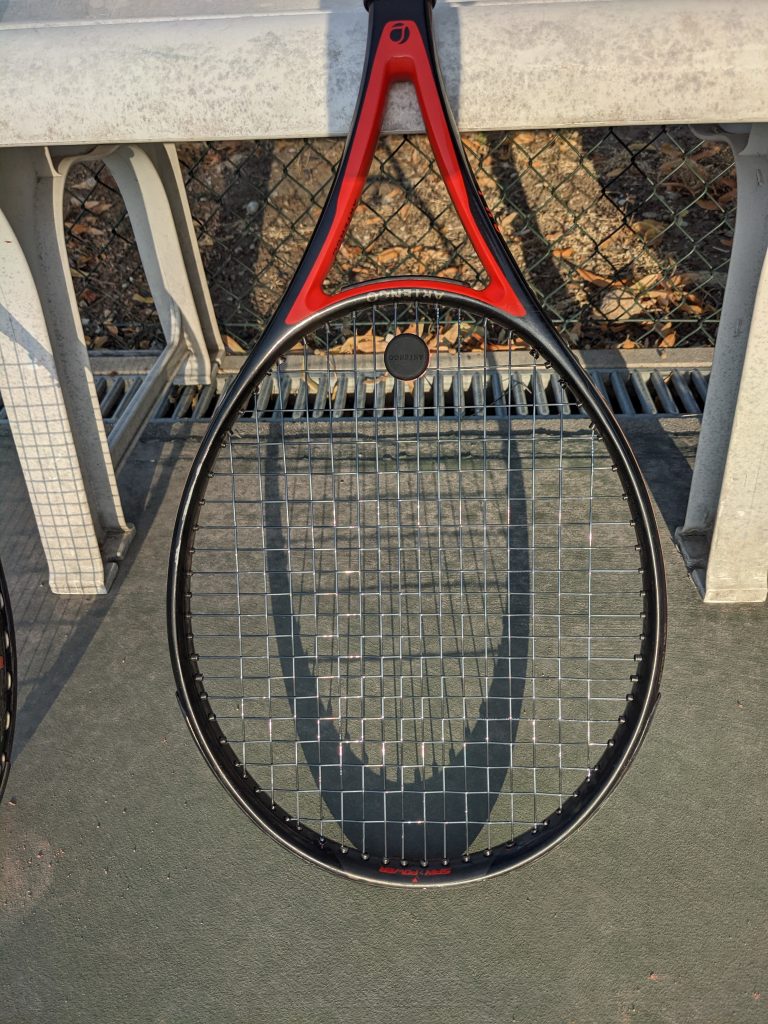 Many types of vibration dampeners are available on the market. Most typical are the small ones that must be placed under the cross and between the two main middle strings. I tried many of them, and I think material quality and softness are the key. I met a similar product from a top brand with too hard a rubber material, and it wasn't efficient enough.
Antivir 990 is also a small, round one. One side is red, another is black and big enough to not fly away during a miss-hit, and damping efficiency is good. Need anything else?
Thanks, Ferenc for this review. It's clear that Artengo offers a good choice of tennis products for a more budget-friendly price.