I got a question about Dominic Thiem playing with a new string in Erste Bank Open in Vienna. Instead of his usual Babolat RPM Blast in the crosses, he's trying RPM Blast Rough Yellow.
Dominic Thiem hasn't had the kind of season a lot of fans expected him to with "only" one title (in Rio de Janeiro) and a lot of early exits. What is the missing ingredient in his game? Would be interesting to hear your opinions about this. My personal take is that he's playing a little bit too physical and should try to move into the court more and play more aggressively. It usually takes a lot of effort for him to win a point and if he could find a way to improve his serve and his offensive game to win more free points I think it would benefit him a great deal.
When you're experiencing a slump, it's always an interesting idea to try to change things up. In Thiem's case, Babolat officials confirm that he is testing new string setups. If you want to know more about what racquet Dominic Thiem uses, you can read this post. Thiem has been testing a hybrid of Babolat VS Touch natural gut strings
in the mains and Babolat RPM Blast Rough
(yellow) in the crosses to get some extra spin compared to his standard cross string, RPM Blast
. He strung both strings at 25 kg. See his and other plays string setups on the board below (you need to squint hard or zoom in though!).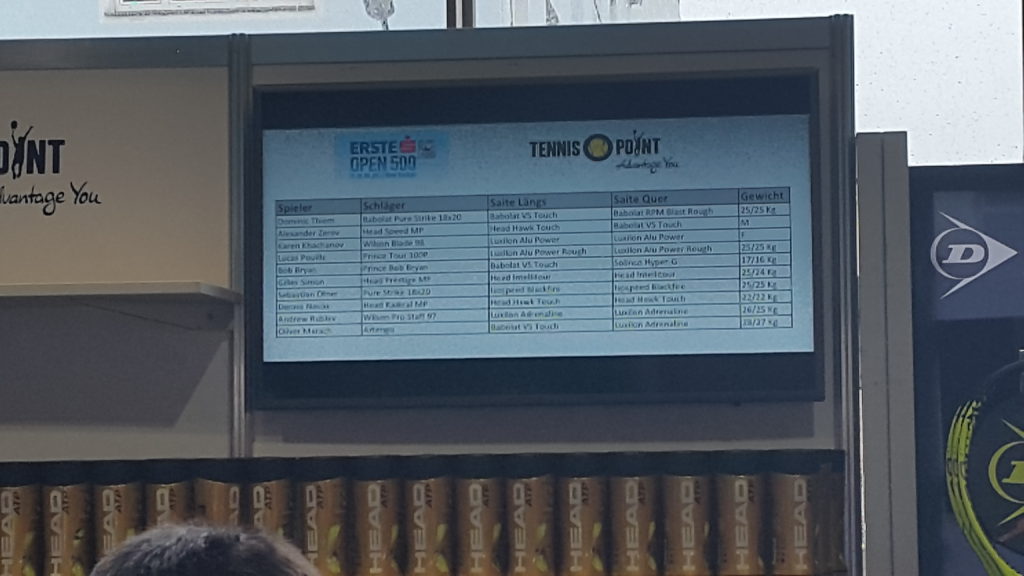 This change-up is not radical in any way, but the kind of light tinkering with their racquet setups that most professional tennis players do from time to time. Babolat RPM Blast Rough
is a softer and yet more spin-friendly string than the very dead polyester string Babolat RPM Blast which is known to wreak havoc on arms of intermediate players with not fully-developed technique/physique and who perhaps doesn't change strings as often as the pro players do.
In Vienna he lost to Richard Gasquet in the round of 16: 6-4 5-7 1-6 and it seemed like he ran a little flat in the end despite playing in front of his home crowd.
2017 hasn't been a great year for Dominic Thiem. Can he finish strongly in Paris and the ATP World Tour Finals? Will he use his new hybrid string setup in his next tournaments? We will soon find out.
Have you tried the new RPM Blast Rough? What do you think of it? And what do you think of Dominic Thiem's 2018?
Racquet buying guides
Here is a great racquet buying guide to get you started.
What tennis racquet should I buy?
Top tennis racquets to buy right now
The Gear of the Year 2016
Tennis racquets for juniors
Tennis racquets for kids
Buy the RPM Blast Rough string and other tennis gear:
EU
Racquet Depot
Pro Direct Tennis
USA
Tennis Express
Do It Tennis
Amazon.com
Do you like Tennisnerd? Don't miss a word or video by stalking us on social media. Every like and follow is appreciated!

YouTube
Instagram
Twitter
Facebook Page