I wanted to get another take on Mayami strings and invited fellow tennis nerd Ferenc to test Mayami Hit Pro and Big Spin. Here is his Mayami Big Spin string review.
During 2019 I mostly played with different strings to gain experience and find the best fitting one to my play. Because I'm not totally satisfied with my current go-to string, naturally I said yes to testing the interesting new Mayami strings. And here is my Mayami Big Spin string review.
Mayami string review – introduction
I got two strings from Ukrainian brand Mayami. They are offering five different polyester strings and sponsoring many Ukrainian players from ATP to youth ranked. I tested two from these five products: a round, gut-like color poly called Hit Pro in 1.25 mm/17G diameter and a twisted, triangle cross-section black poly, called Big Spin, also in 1.25mm/17G.
Mayami string review – Big Spin

Because of under tensioning the Hit Pro I strung Big Spin to approx 23 kg / 51 lbs, but I had a little fear of how this will hurt my hand. Stringing felt similar to Hit Pro, which I conclude also not a pre-stretched one. Not the easiest to string, but I have met with worse.
I'm not a believer of shaped strings, because I never found extra topspin, but ball feel and comfort was worse in every case when I played with any shaped strings. Another downside of shaped strings is how they can cut grommets. Important to know about triangular and square cross-section strings is how a square (4-sided) string contains more material than a round, for example, 1.18mm Grapplesnake Cube is equal with a 1.33mm round string. Following this theory, a triangular string contains less amount of material than a round one.
Mayami string review – How Big Spin plays
After hitting an hour my fears faded. Big Spin is neither comfortable nor uncomfortable. The tension feels optimal for my play, volleys are really controlled. It is noticeably lower-powered string than Hit Pro and I don't recommend to string it at a  higher tension. Tension maintenance was really impressive, initial tension loss was really small. It had only lost 2,9 kg after 5-6 hours of play, which I normally measure at 4 kg! I quickly felt that this is probably the most shaped string I have ever tested. The spin potential is good, nothing outrageous perhaps, but similar to other shaped strings.
So considering the tension maintenance, Mayami Big Spin is a very impressive string!
Mayami string review – Hit Pro

First I strung Hit Pro to my Artengo TR 990 Pro racquet, which is a 100 sq in 16×19 pattern spin machine. I thought about the right tension because my racquet is a stiff one and my hand is sensitive. Hit Pro is defined as "ultra-strong" by Mayami, and I thought about how it's a stiff string, so I decided by 21 kg / 46 lbs. For me, it's important to feel the quality of the string surface, and this string has really nice touch. Stretching like non-pre stretched polys, and easy to string.
Mayami string review – How Hit Pro plays
My idea about ultra-strong means stiff and rigid was wrong. This is a standard, but high-quality polyester string. Strung with this tension it played really comfortable and offering the same, big sweet spot which I got used to with my really soft co-poly string. I can also imagine how this also works well in 23-24kg (51-53 lbs), and on higher tension in a lower 60 RA racquets as well.
I think a higher tension is needed, since attacker style hard hits with good timing fly like bombs, and I didn't hit much more outs, but most of the block/touch hits are flying away, and also have problems when opponent play faster than you. I cannot complain about of spin amount, because this is great. Tension maintenance is average. Ball feel is also good, have a defined response during hitting. The sad thing in this story is how I had to cut out this string after only two hours of play because I felt this control level is not enough for my abilities. Maybe I will get another chance to test this string one more time but on 23-24 kg.
Mayami string review – summary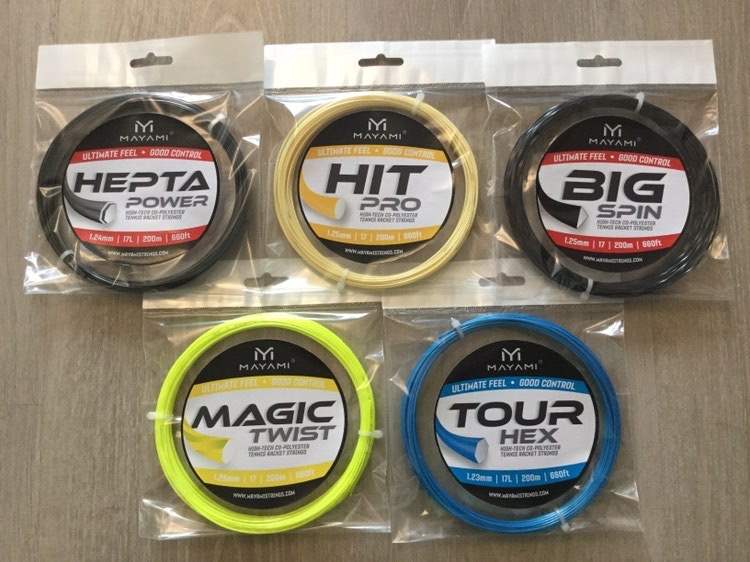 Mayami strings made a good impression on me. I told a few guys in court how it's a Ukranian string, and somebody watched me strangely. I'm living in a former eastern block country and have a reservation about products from eastern countries. I testify how this thing is groundless in case of these strings because these products are held this level like bigger and well-known string brands. I truly recommend Mayami strings. Hit Pro for everyone who looks a comfortable and powerful round string with nice spin and touch, and Big Spin for those guys who hits hard and wanted more spin to their control-oriented racquet. I am really thankful I had the chance to try these strings.