Our guest reviewer Ferenc Ferdinand Weisz is back with an Isospeed Cream string review. If you want to create a guest post or review, contact us here.
Ps. I have also tried this Isospeed Cream string in a Babolat Soft Drive and I agree with Ferenc's opinions. Maybe it works better in tighter pattern or hybrid, but I wouldn't use it in an open pattern racquet for the purpose of creating a softer response. / TN DS.
Isospeed Cream String Review
I have tried circa 30 strings during the past few years. I think I have an imagination about what I look and what I want from a tennis string. From these strings around the half I liked, the other half not. I have a go-to string that I like, but I felt motivated to try something new again, and I took out Isospeed Cream from the drawer.
Isospeed is the brand of Austrian sport-purpose plastic manufacturer Isosport. They became a known manufacturer around the nineties from their multifilaments like classic series of Professional and Control, but now they produce nice polyester strings also. Cream is a special string, as you can imagine from the name. This string's specialty comes from the material because polyester combined with elastomer makes a unique result. Definition of string promises a lot: sensational control with excellent arm protection. Isospeed is also notable because they talk about technologies, actually Double Heating, Spring Load, Pre-Stretched and Liquid Wax included, and these technologies offer minimal tension loss and nice snapback.
First impressions
I strung Cream 1.23mm/17 to my Artengo TR 930 Spin Pro, because I wanted to know how a relatively stiff frame compares with a relative soft and highly elastic monofilament. I usually play with Wilson Revolve 1.25mm at 25/24 kg (55/53 lbs), and I stay in this tension. Stringing was a nightmare. I did an ATW pattern, but the long side is curled and tangled, so I recommend a two-piece method for this string.
My first impressions are mixed. I looked at some multifilament style advantages, but I got disadvantages. This string is moving, and I hate string movement. I don't feel it to be comfortable and it doesn't provide a bigger sweet spot than Wilson Revolve. Despite waiting for better elasticity and elongation, I met with the same concrete polyester feel and touch. This is not a bad thing because I like the concrete response. My disappointment comes from my expectations because the product name creates a different impression.
How does it play?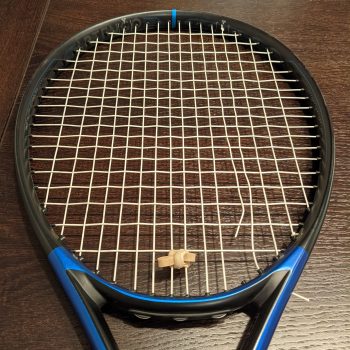 Moving past the first negative impression of Isospeed Cream, this string is nice. Spin is good as I like, hitting sound is clear, and control is also okay. Some sparring with the best youth player of the local tennis club shows what flexibility is in this case. When the ball comes harder and I hit hard, this is flexible and comfortable on the sweet spot, but don't extend it.
After a few hours of playing, tension loss is normal and hitting sound more muted. String movement isn't bigger than the beginning but the feel is less concrete, but not bad. Test was ended after 5-6 hours of play after a forehand return mishit, breaking the string near the throat. I was surprised because this racquet has a really open string pattern and this type of string break isn't typical in these patterns compared to for example Head Graphene Radicals.
Summary
Overall, I'm disappointed. Even though I liked to play with this string I experienced a few things which aren't positive: stringing difficulties, string movement, unextended sweetspot and easy break as a result of a mishit. I can imagine in another type of racquet, it can work better and maybe this is good in a hybrid compared with a stiffer poly, but I didn't get the experience I wanted.
TN notes: Got this comment from fellow tennis player Jordan Schlick, which I think makes sense.
In response to the review of Isospeed Cream, it is a very nice string in a hybrid for those players looking to added control and spin. It is, due to it's softness, a less worthy choice as a full-bed for a player that plays with an open string bed with lots of spin.
Final words from TN
Thanks Ferdinand for the review. You can check out the Isospeed Cream string at Tennis Warehouse Europe, Tennis Warehouse, or Tennis Only. Other soft poly strings I can recommend:
Solinco Hyper-G Soft (lively, but good feel and tension maintenance)
Volkl Cyclone Tour (a bit softer and more powerful than Hyper-G Soft)
Wilson Revolve Spin
If you want even more comfort, check out my top 3 comfort strings here.