You might not have heard of the Sergetti stringing method, but it has its fair share of fans around the world. What is it? Read this review to find out.
I have known about the Sergetti stringing method for a few years but never got the chance to try it until now. It is a method where each string is tensioned differently to optimize the sweet spot size, but the creators of the method also claim other benefits. I quote from the Sergetti website:
The Sergetti technology OPTIMIZES:
Sweetspot size: Optimal margin for error
Precision: Reach your target more often
Power and racquet stability on off-center hits
Torsion, shock and vibration reduction at impact
Lessening of the risk of injuries
Comfort: Softer feeling at impact
Tension maintenance: 3 times longer
String durability: Up to 2.5 times
Overall racquet performance
That is quite a list of benefits! Although I can't say I am convinced about all these things, I do think that there is a noticeable change to the racquet when I used the Sergetti stringing method.
If you want to try Sergetti, use the promo code TENNISNERD-15  and get 15% off your purchase of a Sergetti tension sheet.
Sergetti stringing – What is it really?
Sergetti is not a type of proportional stringing, where the tension is calculated in proportion to the lengths of the vertical and horizontal strings. It 50 variables into account when determining the tension of each string. Such as specific characteristics of the racquet and string, frame distortion, and the friction between strings while weaving cross strings. This is quite different to just the regular proportional stringing method or the JET method.
The founders of Sergetti call Sergetti a multi-stringing technology using a sophisticated program that calculates a different and perfect tension for each string.
Sergetti stringing – How does it work?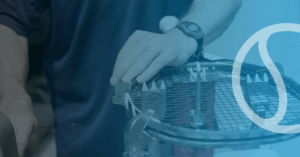 To be able to string your racquet with the Sergetti method, you need a tension sheet for your racquet and string and the reference tension you desire. You can order these from their website. I wanted my Babolat Soft Drive Original strung with Babolat RPM Power at 25 kg / 55 lbs. When I realized I did not have any RPM Power, I went for one of my go-to string Mayami Magic Twist. This is in the same string category as RPM Power, so I did not need to get a new sheet.
The sheet I got from Sergetti details exactly what I need to do to string the racquet. The only thing that was different from how I usually string was that each string needed to be tensioned differently. It takes a few minutes longer overall, but I don't find it to be a major issue. It would be worse if a stringing team encountered a lot of Sergetti requests during a tournament though, but it is still pretty rare on the tour.
One of the things I noticed is that the outer strings are strung at a really low tension and the center crosses are strung at a really high tension. This is to give you control in the center of the racquet, but more forgiveness and depth outside the sweet spot. It makes a lot of sense.
How does it play?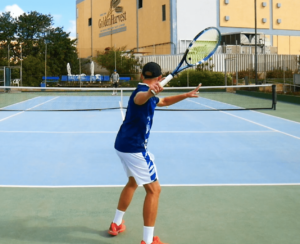 I strung up one racquet with the Sergetti method and one with the regular method where I tensioned both mains and crosses at 25 kg and took it out for a play-test. I have actually been spending quite a lot of time with these string jobs and learned some interesting things.
Pros and cons of the Sergetti string method
+ The sweet spot on the Sergetti string job really does feel bigger.
+ The Sergetti string job felt better on my arm
+ It did create better depth on my shots
– It did make the string bed a bit too soft/muted (might take some getting used to)
– I missed some of the feedback of my original string job
– At times it felt a little irrational
I did not notice any real difference in durability in tension maintenance compared to my other string job, but it wasn't worse either. I definitely must say I was pretty positive about the Sergetti string method. It might not be necessary for my Soft Drive, but for racquets with smaller sweet spots, this would definitely be interesting to try.
Who is it for?
I think the Sergetti stringing method is worth a test for players looking for:
Added comfort
A bigger sweet spot
A softer and more muted feel in general
For players who want a lot of feedback from their racquet, I think Sergetti might make the string bed feel a bit too soft. Like with all things tennis, it is a matter of feeling and personal taste. The feeling is definitely different and if you are curious about ways to take your game to the next level – you should definitely try it.
If you want to try Sergetti, use the promo code TENNISNERD-15  and get 15% off your purchase of a Sergetti tension sheet. Click here to go to their website.
Have you tried Sergetti stringing? What did you think about it?