Have you ever played on three court surfaces in one day? Yesterday was my first time. Grass, hard court and clay!
I would have nit been able to play alone so big thanks to Robin Bucher, a talented Swiss player working to go pro for hitting with me. I tried to compensate my limited tennis skills with helping find a new racquet as he has been struggling with arm paint from his current setup.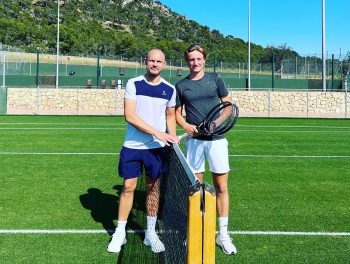 He plays with a Speed pro stock, 16×19, 330g, 304 SW and 31.9 cm balance unstrung that he strings with MSV Co-Focus Hex 1.30 at 23 kg or 51 lbs. It's not the string setup that has bothered him but the weight looks a bit heavy for physical frame and he is not going to be able to get adequate whip with that kind of spec.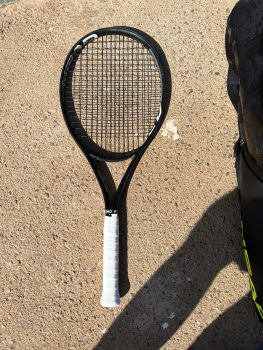 He tested a few of my racquets and really enjoyed the Artengo TR 960 Control Tour (customized) and the HEAD Extreme Tour (customized). That's why he will give them another test with his string setup at the time of writing against an ATP 500.  It will give him a stronger indication if a switch is in the works. Robin is happiest on clay and I think the Extreme Tour might work better for him overall with the more open string pattern and slight increase in power, but we will see.
Three surfaces in one day
I am here in Mallorca visiting my friends running the Mallorca Country Club. It's a spectacular place with 12 courts, grass, clay and hard court, as well as padel courts, physiotherapy, restaurant and more. I've been to some nice tennis clubs in my life, but this one takes the cake for now. It's like a luxury boutique tennis club. I will create a video and a separate post about my experience there. But I wanted to say that it's hard to find clubs where you can play on grass, clay and hard in the same location.
Back to the surfaces.
Grass courts look so beautiful so we couldn't hesitate to start there. In retrospect, this was a mistake. The bounces are low, fast and sometimes not true, so getting any rhythm was tough. It's better in this scenario to start at the clay court, move to to the hard court and end at the grass court. But I only had one pair of tennis shoes with me (not for grass, sadly) and we simply had to do it this way. But even starting at the hard court was a better idea to build the proper rhythm.
Playing on three surfaces in one day helps you understand how much the difference and conditions matter in tennis. Getting used to the bounce, the wind, the court, your opponent, there are so many factors affecting you. I knew that before, obviously, but three courts in 2 hours helped me get an even stronger understanding of it.
I think that's one beautiful aspect of tennis, that the rules stay the same, but conditions and other factors keep changing with the locations.