The first day of the first slam of the year has been completed and it was a decent one with Nadal winning easily in an entertaining match-up, Sock and Isner taking surprise losses and Rublev taking out Ferrer in five.
Still, one of things that netted most publicity was Djokovic taking over a press conference to ask pro tennis players to form a union in a fight for more prize money on the ATP World Tour. If this was an attempt to increase the prize money overall or mainly for the ATP top tournaments is not yet clear, but what is clear is that Djokovic is not in need for any more prize money with over 100 million USD in earnings. However, life on the Futures and Challenger tour is quite tough and that's really where the money is needed.
Zverev has been reported to be one of the players behind Djokovic's plan, while Federer seems skeptical. Will be interesting to watch it unfold, but I personally thought it was a bit strange to come back to the tour after six months injury timeout and start by asking for more money, even if it's a for a bigger group of tennis players it strikes me as kind of a strange, political move. But let's see, maybe Djokovic just wants to look out for the lower rungs of the tennis circuit and then I would definitely support the quest. The top ATP professionals does not need to make more money in my opinion.
That was the drama off the tennis court, on the tennis court there was also some drama of course. There were nine five-setters, the most notable one being Ferrer losing to Rublev and arguably the most entertaining one being Schwartzman's win over Lajovic. The biggest surprises were Sugita beating Sock, Edmund beating Anderson, Bemelmans defeating Pouille and Ebden beating Isner. The easiest victories were Dimitrov crushing Novak, Kyrgios defeating Dutra Silva and Nadal beating Estrella.
Nadal looked to be on fire for most of the match, but it's hard to find a more suitable opponent than a player that doesn't have much of a backhand. Estrella-Burgos were slicing most of his shots from that wing and Nadal could happily move the ball around with his forehand. The most entertaining part of the match was how hard Burgos had to fight to get the three games he won in the 6-1 6-1 6-1 result. I wonder why Estrella-Burgos doesn't hit more of his backhands with top spin instead of the constant slicing, but perhaps he's not just confident enough on that wing. Sort of like Feliciano Lopez. This makes us more deadly tennis players feel more confident about our games so it's maybe not a bad thing!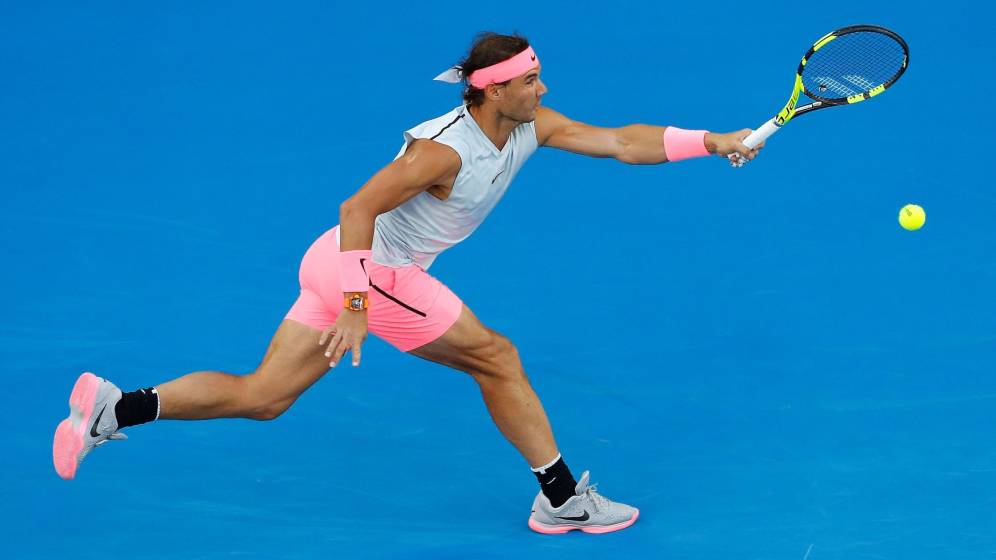 Also! For you apparel people out there: Nadal is back in sleeveless. Really a non-news story, but could be significant if you're Roger Federer and remember the days when Nadal used to bash you like a pirate?
What matches stood out for you over the course of the day and what do you feel about Rafa's chances of winning his second Australian Open title? Also: sleeveless, yay or nay?
Do you like Tennisnerd? Don't miss a word or video by stalking us on social media. Every like and follow is appreciated!

YouTube
Instagram
Twitter
Facebook Page
Amazon Influencer
Buy tennis gear
EU
Racquet Depot
Pro Direct Tennis

USA
Tennis Express
Do It Tennis
Amazon.com
Racquet buying guides
Here is a great racquet buying guide to get you started.
What tennis racquet should I buy?
Top tennis racquets to buy right now
The Gear of the Year 2017
The Gear of the Year 2016
Tennis racquets for juniors
Tennis racquets for kids
Popular posts
What the ATP pros play
Questions about pro stock tennis racquets
Is a pro stock racquet better than a retail one?
Do professional players change racquets?
Racquet Commitment Issues