Murray and Zverev are confirmed to join two ATP tournaments in October under the collective name of Bett1HULKS. 
My friends at e|motion group have not been laying low during COVID. After the Bett1Aces the group expands its tennis portfolio with two tournaments under the name of Bett1HULKS in the LANXESS arena in Cologne, Germany.
So there will be two ATP 250 indoor tournaments from October 11th to 25th, 2020. The two tournaments will offer prize money of €325,610 Euro each. The first tournament will be called bett1HULKS Indoors while the second will have the title bett1HULKS Championship.
Three superstars have already committed to the tournaments in Cologne: Alexander Zverev (World No. 7), three-time Grand Slam champion Andy Murray (US Open 2012, Wimbledon 2013 and 2016), and Gael Monfils (current World No. 9).
"It's great that there will be two ATP tournaments in Cologne in such a complicated season. It is always special for me to play in Germany and I would be very happy if there could be as many fans in the arena as possible. I had a good re-start on the ATP Tour in New York and I'm confident that I will carry on my great form to Cologne", says Alexander Zverev looking forward to his home tournaments.
E|motion group and Bett1 = Bett1HULKS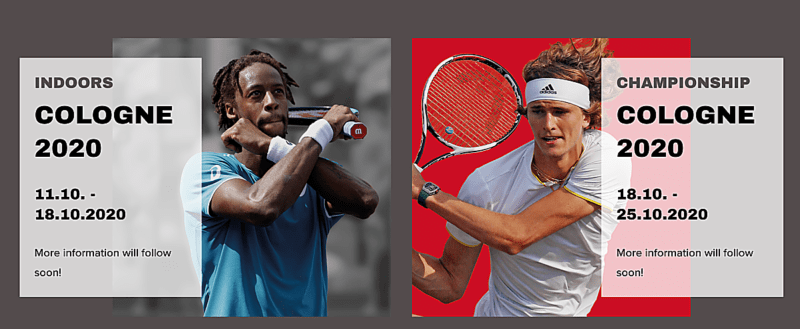 Both events will be organized by the e|motion group, who already organizes three other ATP tournaments: the MercedesCup in Stuttgart, the Erste Bank Open in Vienna and the Mallorca Championships in Santa Ponsa.
"We are delighted that our concept for the events in Cologne has gotten such positive reactions from the ATP and that we are now able to offer German tennis fans 15 days of world-class tennis. Some of the most dazzling personalities on the ATP tour will come and play in Cologne: Alexander Zverev, who is right now playing the best tennis of his career at the US Open in New York. And you can add to that Andy Murray and Gael Monfils. Usually, you only get two weeks of top tennis in the same place during Grand Slam tournaments. If one of the players should win both tournaments and then finish the hat-trick by winning the subsequent ATP 500 event in Vienna, he would collect 1,000 ATP points. That's certainly an added bonus for these three indoor events. I want to thank our main sponsor bett1, who have fully supported us in this ambitious project", explains Edwin Weindorfer, CEO of the e|motion group.
If you want to listen to my podcast interview with Edwin Weindörfer, click here.
"After the great success of the bett1ACES in Berlin, we are continuing our tennis commitment with the bett1HULKS tournaments in Cologne. The two events on two different surfaces in Berlin have already been unique, and the concept for two tournaments in two consecutive weeks in the same location in Cologne is just as unique. Events in Germany with a great international radiance perfectly fit bett1 and so we didn't hesitate to take on a key role in Cologne, too", explains bett1 CEO Adam Szpyt.
"Adding new events to the Tour calendar is a positive step given the many challenges our sport has faced this year, and I would like to thank all the event organisers," says Andrea Gaudenzi, ATP Chairman. "Our goal was to create additional opportunities for players and entertainment for our fans, and to do so in a safe and practical way. We are delighted to have tennis back on court again and these new events will help us finish the year strongly."
More tennis is always good news, right? So I'm definitely looking forward to the Bett1HULKS tournaments.