In a recent press release, the ATP has announced the addition of four new ATP events to the 2020 provisional schedule.
The updated schedule included the back-to-back ATP 250 events in Cologne (Germany, Indoor Hard) that I wrote about in my previous Bett1HULKS post. And also two new ATP 250 events in Sardinia (Italy, Clay), and Nur-Sultan (Kazakhstan, Indoor Hard) issued as single-year licenses for 2020. You can only get a license as a tournament promotor if you are able to satisfy strict health & safety, international travel, and ATP event requirements.
This means we have plenty of tennis to look forward to before the end of this crazy 2020. Tennis is back and despite crowd limitations, it feels great. We need sport in a time where pretty much everything else is uncertain. I think the staging of the current US Open was a success on its own and showed that the world can go on, even during COVID.
Adding new events to the Tour calendar is a positive step given the many challenges our sport has faced this year, and I would like to thank all the event organizers on the calendar," said Andrea Gaudenzi, ATP Chairman. "Our goal was to create additional opportunities for players and entertainment for our fans and to do so in a safe and practical way. We are delighted to have tennis back on the court again and these new events will help us finish the year strongly, as we build towards the season-ending Nitto ATP Finals.
Updated ATP Tour Calendar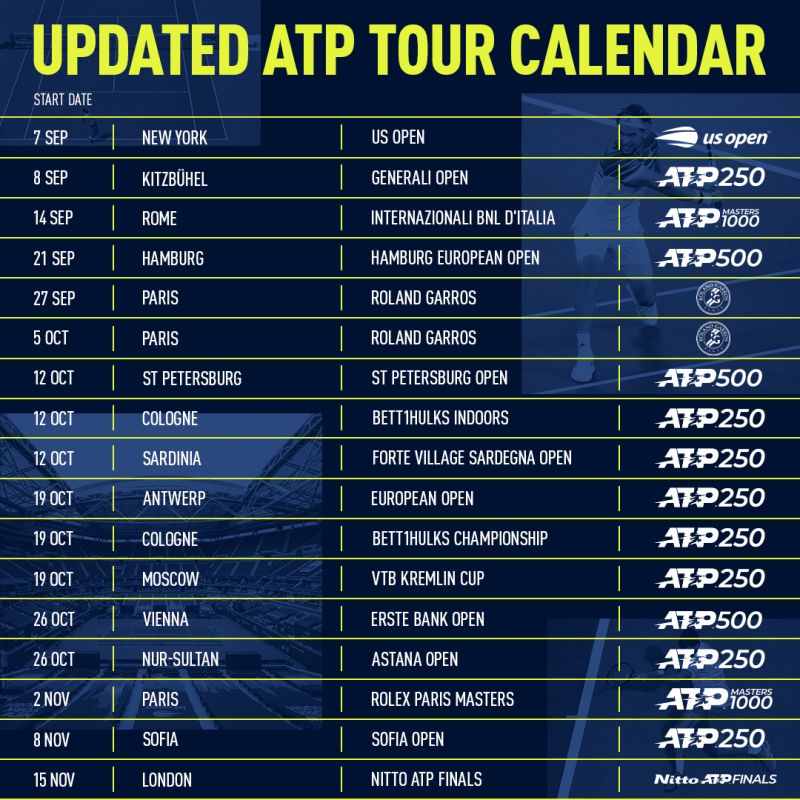 The provisional ATP calendar remains subject to change and continued assessments will be made relating to health & safety, international travel policies, and governmental approval of sporting events.
The 2020 ATP Tour provisional calendar can be found here.
Which tournament on the revised ATP calendar are you most looking forward to?