Is Daniil Medvedev a Future Number One? The question must be answered with a resounding "yes" after him winning his second Masters title in 2019.
Medvedev defeated Alexander Zverev in the final of the Shanghai Masters 6-4 6-1 and did not drop a set during the whole tournament. It was his second straight Masters' title and his fourth title this year. He is ranked at number four in the world, reached the final at the US Open and has a whopping 59-17 match record in 2019. He is by far the most impressive of the often touted Next-Gen. Now the question is: Is Daniil Medvedev a future number one?
I think everything points in this direction. The only question is really when. The big three are all still around, Murray is coming back to good form and the competition from Tsitsipas and Zverev will be tough as well. But it is clear that Medvedev is the strongest of the "new guys", especially when it comes to the mental game.
"Everybody is talking that they need new guys, something new, so I gave them something new," Medvedev said. "I don't celebrate my wins. I just stay calm, I do my job. Boom, done."
Ps. If you want to purchase Daniil Medvedev's tennis gear, check out my affiliates Tennis Warehouse, Tennis Warehouse Europe or Tennis Only (AUS). If you buy anything through my links, Tennisnerd gets a small commission. DS.
Can Medvedev win a Grand Slam in 2020?
Yes, Medvedev should have all the tools to win a grand slam in 2020. He took Rafa to five sets in the US Open final and looks both physically and mentally ready to go all the way at one of the biggest tournaments of the year. He has a no-nonsense approach to him and lets his game do most of the talking. There are no real weaknesses to his game and he moves brilliantly for such a tall player.
With the success he has had in 2019, he has also built up loads of confidence for the next year. Yes, Zverev had a bad year after winning the World Tour finals last year, but he definitely is frailer as a competitor. Tsitsipas is there too, already established in the top ten, but Medvedev's record in 2019 speaks for itself. This is definitely the strongest candidate for a new grand slam winner.
Is Medvedev ready to dominate the game?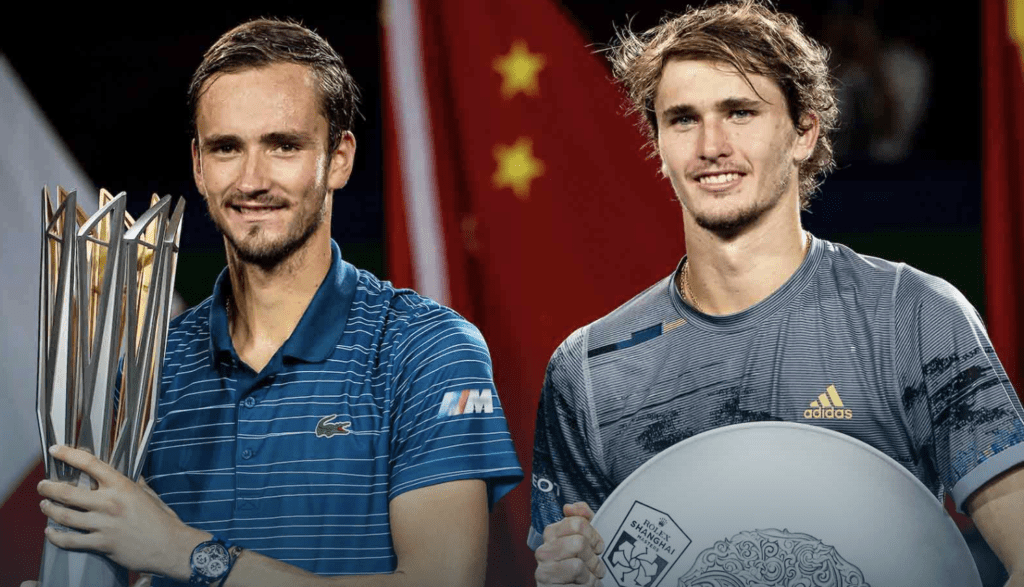 I don't think we will see Medvedev dominate the game like Federer, Nadal, and Djokovic did during period in their careers, but if I would bet on one player who could do it – it would be him. The mental toughness he possesses is one of champions and legends and if he can build on that and improve his game even further, it is difficult to see who can beat him. But it is, of course, a bit too soon to tell how things pan out next year. We have seen big swings and surprises in tennis before. Although it does seem unlikely that Medvedev will lose a lot of tennis matches. He simply seems to have forgotten how to.
*Medvedev endorses the Tecnifibre XTC 305
(read my review) and uses Tecnifibre Razor Cod
e strings.
What do you think of Daniil Medvedev and his game?
(Pic from ATP World Tour website.)