Can Daniil Medvedev Win a Grand Slam? That is the big question after his brilliant spell of form where he reached the final in two Masters tournaments in a row and ended up winning Cincinnati after defeating Djokovic in the semi-finals.
Medvedev is one of those players without the elegance of Tsitsipas and the warped and flawed genius of Kyrgios, but who just produces results quietly, methodically and who fears no one on the court. He is consistency personified and hardly seems to miss the ball, almost in Djokovic style. He might not be the most exciting new player, but his results speak for themselves and he is now ranked at number 5 in the world.
Can Daniil Medvedev Win a Grand Slam?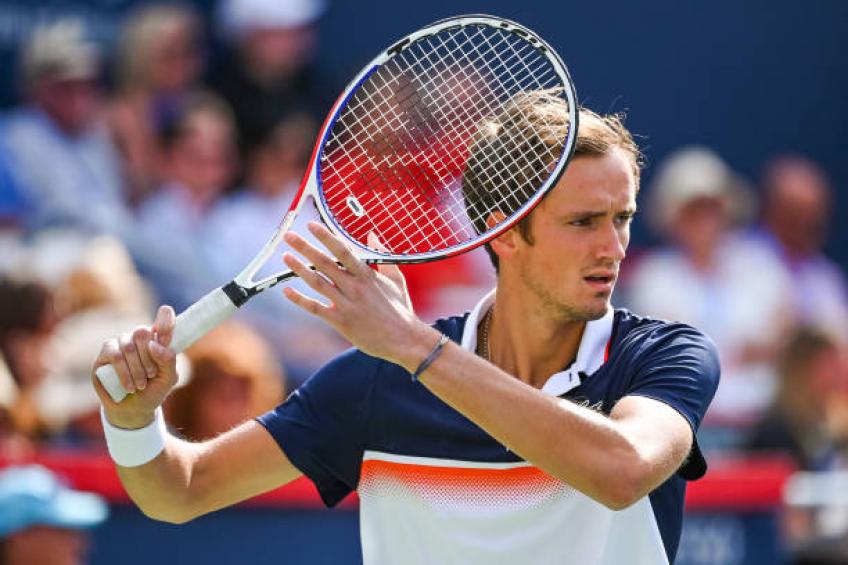 How far can he take it? Can he win a slam? After all, most hyped-up "next genners" have suffered from the dominance of the big three along with the pressure of being called the next generation of great players. Hyping up players seem to do little more than reducing their chances of realizing their potential. The lack of progress of Zverev, Tiafoe, and Shapovalov to name a few seems to have let a player like Medvedev slowly advance his skills and actually get the results that most other new top players lack.
But winning a grand slam is a completely different feat than winning a Masters 1000 title. Just ask Alexander Zverev. The best of five sets format with the added pressure of playing a "slam", where the big three guards the trophy allocation like hungry lions, has not been easy for the next-gen. I won't say that this obstacle will be unsurmountable for Medvedev and I think he deserves a thought as one of the favorites for the US Open, but despite him playing his best tennis on American hard courts, I still think the three top guys will be too hard to beat this time around. Maybe next year? I think the answer to the question "Can Daniil Medvedev Win a Grand Slam?" is a resounding Yes.
Daniil Medvedev uses the excellent Tecnifibre Tfight XTC 305 (read my review here) and strings it with Tecnifibre Razor Code 1.25 – a control-oriented poly string.
What do you think of Medvedev? Can he win a grand slam? Please comment below.