It's "unbelebelable". Rafael Nadal wins his 21st Grand Slam at the Australian Open 2022, coming back from 0-2 in sets against Daniil Medvedev.
What a final it was! Amazing high quality of play from both players and it's easy to argue that they both deserved to win the title. But it's Rafael Nadal that wins his 21st Grand Slam after five and a half hours of spellbinding tennis.
It was the final the Australian Open 2022 deserved. Two great players and fighters duking it out for history. Nadal to win his 21st, record-breaking grand slam, and Medvedev to be the first male player to win his first slam titles in a row.
It started badly for Nadal fans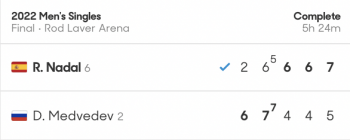 After winning an 84-minute second set where he was a break down twice, it seemed like the match was Medvedev's. Most players would have pretty much given up at this point, both physically and mentally. But the thing that makes Nadal unique is that he doesn't give up – he keeps fighting for every point. And with almost the whole Rod Laver Arena in his back, he fought hard and got the third set.
Medvedev could have been disheartened by that, but he is also a true fighter. Despite that, Nadal struck first in the fourth set and after lots of back and forth, he also took that set 6-4.
It's tough to lose two sets in row when you feel like your opponent should have given up already. But Medvedev is the guy that believes. He got broken early in the fifth and final set, but broke back when Rafa was serving for the match. Still, some of his resolve seemed weaknened and he couldn't get the same free points on serve anymore. Rafa broke again and ended up serving it out for 7-5.
A role model for the mental tennis game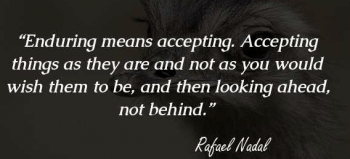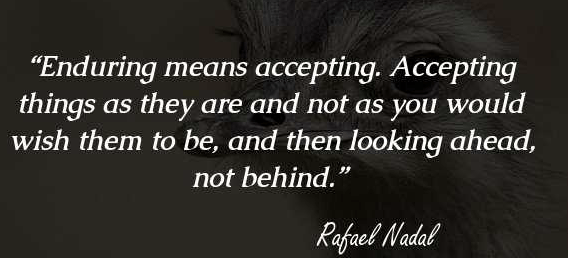 If you have played competitive tennis you know how tough it is to be mentally strong. This is the area I have struggled most with in my tennis life. Nadal is a true inspiration in how to tackle the mental rollercoaster of a tennis match. He never gives up. He rarely overthinks, gets too negative and starts doubting himself. If you're curious about the mental part of tennis, check out my podcast with mental tennis trainer, Filippo Gioello.
What's next for Nadal?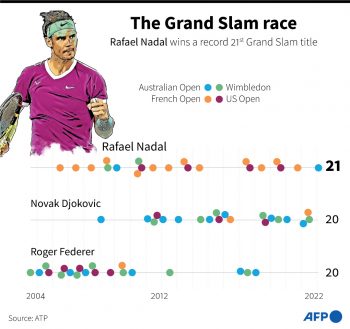 Nadal takes the lead in the grand slam race. But the race is FAR from over. Yes, it's unlikely that Federer wins more slam titles, but maybe this gives him extra motivation to go for one more Wimbledon? He did come back in 2017 from injury to win three more grand slams, so it's not impossible!
Novak certainly has more titles in him and might not win the French Open, but should be the favorite for Wimbledon and possibly US Open (alongside Medvedev).
Despite the big three (get more info about the racquets of the three GOATs here and get into the GOAT debate here) being so strong when it comes to grand slams, it's obvious that the next generation of players is coming, also for the slams. Medvedev showed that it wasn't wrong to hold him as favorite (I'm still quite proud of my predictions). Players like Tsitsipas, Zverev, Alcaraz and Sinner are also improving, meaning it will be tougher and tougher to win a grand slam, even for the big three.
How many more slams do you think the big three can win? Three? Five? More?
My take Australian Open final(s)
I hope you enjoyed watching the Australian Open! Now we're returning to the "regular programming" on the tennis calendar.
We have action at the ATP 250s Cordoba Open, Maharashtra Open (Pune), Open Sud De France in Montpellier and a strong Challenger in Cleveland.