After months of no professional tennis, the tennis tour returns. The ATP World Tour has issued a revised provisional calendar.
According to the calendar and the ATP press release, the ATP tour will start on August 14th at the ATP 500 event Citi Open in Washington, DC. It will be followed by the Cincinnati Masters 1000 event (hosted at Flushing Meadows!) and then the US Open between August 31st and September 13th. After that, we move into the delayed clay-court season with events in Kitzbuhel, Madrid, Rome, and the French Open in Paris.
This sounds like a pretty aggressive plan, but I think the governing bodies of tennis (ATP, WTA, ITF, USTA, and FFT) are intent on getting tennis back to work. This calendar is, obviously, subject to change depending on what happens in the world around health and safety, travel policies and government decisions around sporting events. The ATP writes that "all events will be held under strict guidelines related to health and safety, social distancing. There will be a reduced number of spectators or none at all at these events. This might sound a bit strange considering the scenes we saw at the Adria Tour last week, but I think they are really keen to make this return to tennis as a safe as possible.
Salvaging the season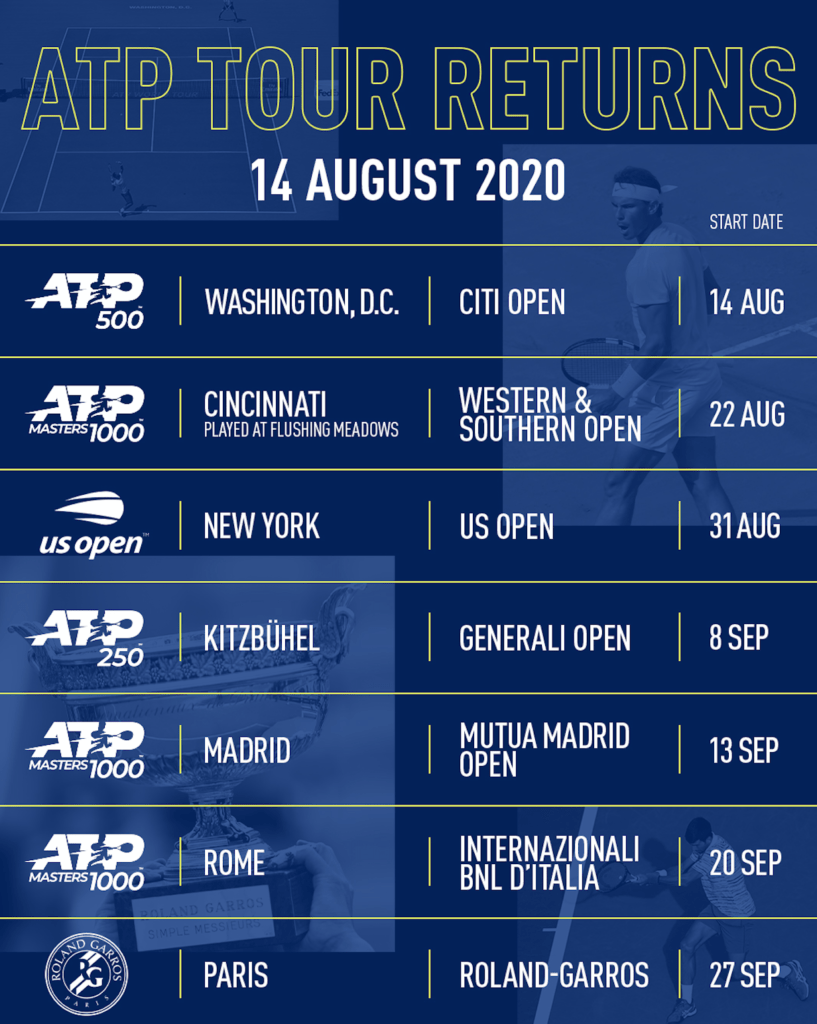 ATP Chairman Andrea Gaudenzi said that:
"Our objective has been to reschedule as many tournaments as possible and salvage as much of the season as we can. It has been a truly collaborative effort and we hope to add more events to the calendar as the situation evolves. I would like to recognise our tournaments' efforts to operate during these challenging times, as well as our players who will be competing under different conditions. At every turn, ensuring that the resumption of the Tour takes place in a safe environment will be paramount.
The Challenger Tour and the ITF World Tennis Tour will resume from the week of August 17.
What happens to the rankings?
The ATP writes this about the rankings:
The FedEx ATP Rankings have been frozen since March 16, 2020. The ATP continues to monitor all global travel restrictions and general access to playing opportunities ahead of the resumption of the Tour.
As the situation continues to evolve on a weekly basis, a determination will be made in the coming weeks with respect to the most appropriate and fair way for the rankings to resume in parallel with the resumption of the Tour.
No Federer
As you might have heard, Roger Federer still suffers from issues with his knee and has opted to have another operation and sit out the remainder of the season. It seems like a wise decision based on the uncertainty of the tour at the moment and let's all just hope he comes back in 2021 in the kind of style he did back in 2017.
What do you think about the news of the Tour returning?