The Western and Southern Open 2020 draw is out. Despite COVID and Nadal and Federer missing, it's a strong field!
If you have missing ATP tennis, this is a happy day. Tennis at the highest competitive level starts again in New York with a Masters 1000 tournament. This tournament is usually taking place in Cincinnati, but due to COVID and the organizers wanting to create a "bubble" for the US Open, it will be held in New York. The situation will be new to all the players and it will be interesting to see who can handle it best. But first, let's look at the Western and Southern Open 2020 draw.
The Western and Southern Open 2020 Draw – top half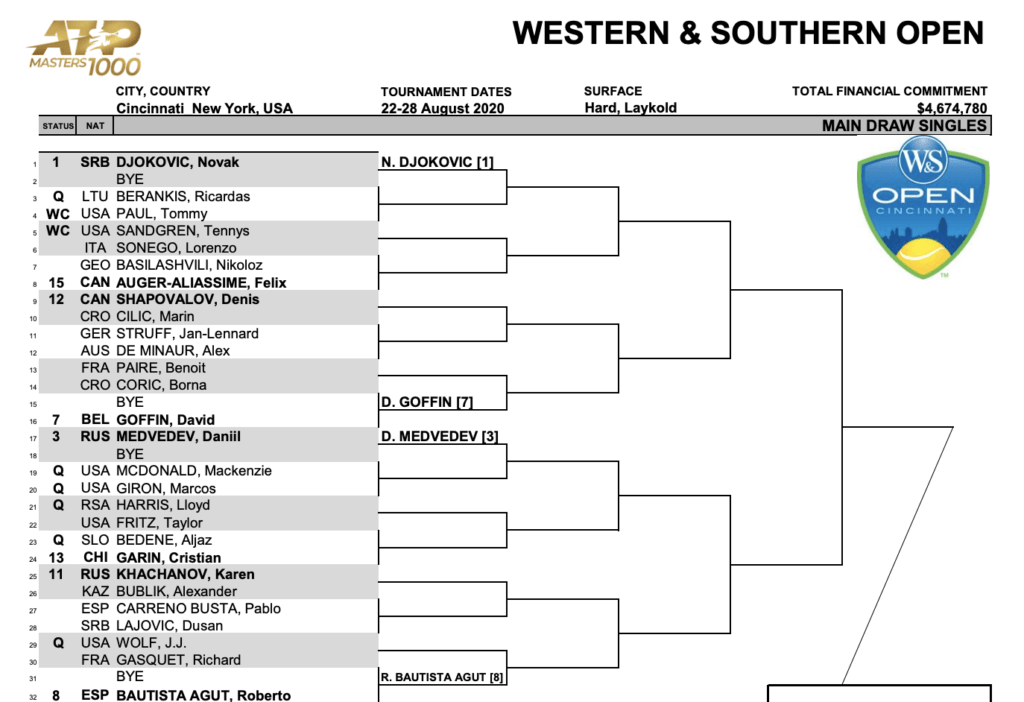 As it should be in a Masters 1000 tournament, the first rounds offer plenty of interesting matches. Looking at the top half of the draw, we get young gun Felix Auger-Aliassime versus the explosive Nikoloz Bashilashvili. Bashilashvil was in the press a while back for assaulting his ex-wife, so besides being the player "who never smiles in a photo" it is difficult to root for him at the moment. I also think Auger-Aliassime (click the link for info about his racquet) is the better player.
Paire vs Coric is another interesting encounter. Simply because you never know what you're going to get when Paire enters a tennis court. Shapovalov vs Cilic is the best match on paper, but like Paire it's all about form with those players.
Alexander Bublik is "Kyrgios light" so it will be fascinating to see how he can handle the mighty Khachanov.
All in all, it doesn't feel like a gutsy prediction to say that Djokovic will go through this draw like a hot knife through butter.
The Western and Southern Open 2020 Draw – bottom half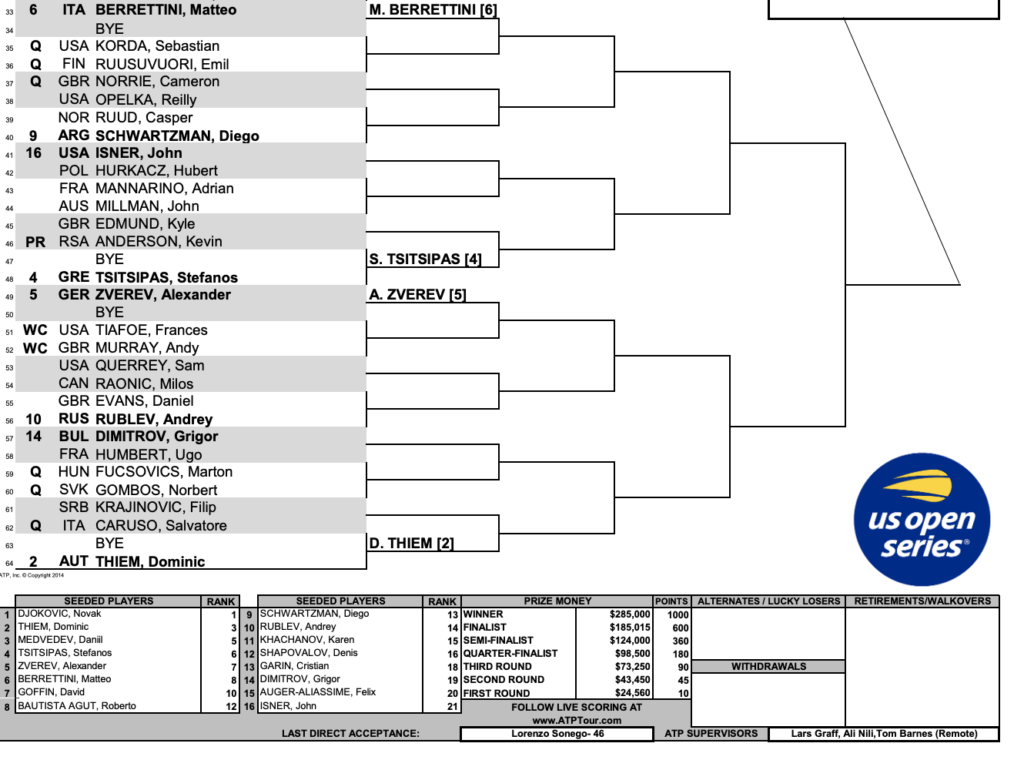 In the second half, there a few interesting questions. Let's put them in bullets. Keen to hear your thoughts.
How will Dimitrov do after COVID roughed him up?
It's interesting to see how the "Zverrer partnership" between Ferrer and Zverev will work on the court.
Murray is back in business. How will his hip hold up?
Nice match between qualifiers and youngsters Ruusuvuori and Korda in the first round!
I think Thiem will be the winner of the second half of the draw. I know I'm not making a fun prediction by saying there will be a Thiem and Djokovic final that Thiem will win, but that's what I believe. 🙂
Let's hear your predictions!