Rush Walters is back with another pickleball paddle review, this time of the ProKennex Pro Flight, an arm-friendly paddle.
Pickleball Paddle Review: ProKennex Pro Flight
The ProKennex Pro Flight paddle can be purchased at our friends at Total Pickleball. And you can check out more pickleball paddle reviews here.
Specifications
Head Dimensions (Length x Width): 15.5 x 7.875 in.
Paddle Thickness: 11 mm.
Grip Length: 4.875 in.
Standard Weight: 7.3 – 7.6 oz.
Paddle Material: Cloud Cell Polymer Core
Notable Features: Carbon Face & Kinetic Technology
The first tennis racquet that I ever used was an old ProKennex that I found in my dad's closet. I can remember using it my freshman year of high school and then quickly realizing that its strings were so old and brittle, they were junk.
Arm-friendly Pickleball Paddles
Seeing that ProKennex produced a line of paddles, I knew I had to take one for a spin. The company boasts about their paddle's Kinetic Energy technology. The technology essentially focuses on preventing players from absorbing forces/vibrations when hitting the ball. This helps with reducing arm and elbow injuries. According to ProKennex.com, "An independent study by MIT Labs found that the ProKennex's Kinetic system reduced vibration by 43% causing significantly less damage to the arm."
As of writing this review, I am only 29 years old; therefore, I can take the potential arm and elbow strain from swings, but I can see how this could be very helpful for older people and those with preexisting shoulder and/or arm injuries. One of the players I play with at my community center's open court was excited to pick up pickleball because she no longer played tennis due to arm injuries. She would be a prime candidate for ProKennex's Kinetic technology.
Technology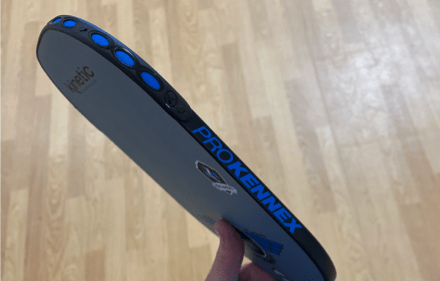 The technology also creates a successful transfer of energy from the paddle to the ball. Feel free to read more about it on their website. Pretty interesting technology; they use tungsten beads to absorb the shock from hitting the ball.
My first impression of the paddle was that it was a fairly thin paddle with a lot of power. After rallying in a few games, I realized my hypothesis was correct, but it also produced a little spin that surprised me. The paddle does have a carbon surface but is not as grippy as some of the other paddles I have played with, such as Joola's Vision CGS 14 or Diadem's Warrior Edge.
How it plays
Some of my opponents at open court commented on the top spin I produced on my serves from this paddle, but when it came to slicing, I could only spin it from time to time on short shots and dinks. Honestly, I had more success with not attempting to slice the ball at the kitchen and instead focusing more on the paddle's power ability.
Therefore the paddle scored 3/5 for spin, but 5/5 for power. I could really smack that ball when given the opportunity, even on my drives, I noticed strong, consistent power with each hit. Even though the paddle has a carbon face, it wasn't super grippy. Enough to give me a little spin, but not enough. The paddle's ability to spin combined with its soft touch did not give me ultimate control of the ball.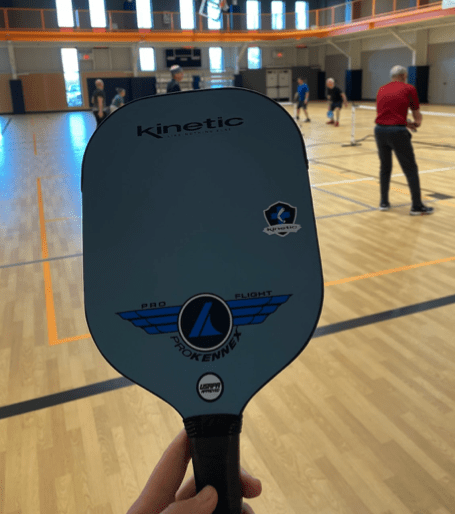 Along with spin, the paddle's amount of control came in at 3/5. At first, I had some trouble gaining full control of the ball. With the paddle's soft touch coming in at 4/5, it also contributed to its low amount of control. I had to adjust my spin style of play to be more power focused.
Since the paddle did not have great spin or soft touch, I strived to focus on power regarding my drives and dinks. The paddle's drinks came in at 4/5, too, mostly because they were good but not great. I truly had to focus on adjusting my power. With an ok soft touch and ability to fully grip the ball, I did not have quick time to decide on the amount of power I put behind my dinks.
As for maneuverability and my deep shots, the paddle was excellent. Great power from the baseline on my drives and I could move very quickly in the kitchen when needed for my dinks.
Performance
Time Tested:__3+ hours____
Date(s) Tested:__01/16/23___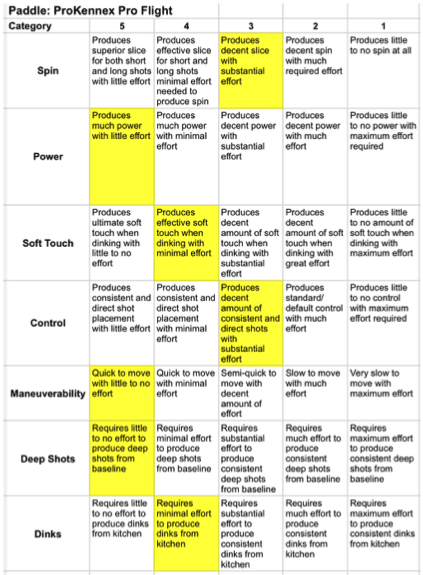 Final Grade: 29/35 82% B
Grading Scale:
A 100-90%
B 89-80%
C 79-70%
D 69-50%
F 49-0%
Conclusion
In conclusion, I would definitely play with this paddle again. The paddle provides a unique blend of power and maneuverability with a dash of spin. Also, although I'm only 29 without any arm injuries, the paddle would be great for those not wanting to absorb the shock of the ball. Reflecting on my hits, the paddle did absorb a lot of the vibration compared to other paddles I have in my collection. This experience was truly the first of its kind for me, not that the kinetic energy technology is something I really look for in a paddle, but it is a nice touch and I could see it being very helpful for those who are older or have had previous arm/shoulder injuries.
The Pro Flight is definitely more of a power paddle and I enjoyed using it in the kitchen. The paddle produced a decent amount of topspin on my serves but not as much as I would like on my drinks. I am more of a placement, control, and spin type of player, but if I decided to be more aggressive for a few games this paddle would be in my hand.
The ProKennex Pro Flight paddle can be purchased at our friends at Total Pickleball.