JJ Wolf had what you can call some kind of breakthrough on the ATP Tour last week. He reached the final in Florence.
Young American player JJ Wolf always had clean strokes, but for a while, more people noticed him more for his mullet. Do you remember that "serious in the front, party in the back" hairstyle from the 80s? Coupled with some tank-tops, it was the kind of white-trash-inspired attire that you don't often see on tennis courts. In a way, it was refreshing. Not everyone needs to wear Lacoste.
But these days, his look is cleaner, and his strokes are as good as ever. The pretty straight takeback of the forehand (which looks like an Eastern grip) is unusual but seems to work well for him. He has a pretty complete game and can move fast on the court. It's hard to see any particular weaknesses, and one of his strengths is that he often takes the ball early.
What racquet does JJ Wolf use?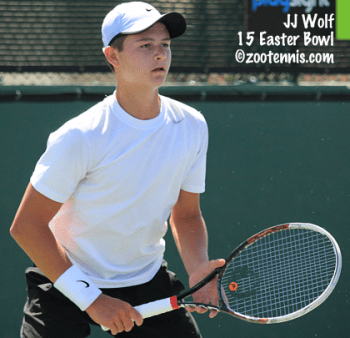 The racquet JJ Wolf uses is some form of HEAD Speed Pro.  I don't know which generation it is, but it's a Speed mold and has an 18×20 string pattern. He has used some form of Speed since his junior days. If you're interested in purchasing the current Speed Pro, check out my friends at Tennis Warehouse. It is one of the highest-rated racquets on the website.
His string setup looks like Luxilon Alu Power, but it's hard to tell for sure. If you have inside information about JJ Wolf's gear, let me know in the comments below.
What do you think of JJ Wolf's game? I would recommend you to check the highlights of his win against Tsitsipas from Miami on YouTube or watch the breakdown of his forehand technique from 2minutetennis. It's always fun when an up-and-coming player has a different style and take on the game.