The HEAD Speed Pro is suitable for advanced and aggressive baseliners. Here is my HEAD Speed Pro 2022 Racquet Review.
Intro
The new HEAD Speed racquets are on the way and should be available for purchase in March 2022. (Find out where to buy it at the bottom of this post.) I have tested the MP and the Pro but will also review the lighter Speed racquets, Team and MP Lite. This review deals with the Pro version, the heaviest Speed racquet for advanced players. The specifications of the racquets are pretty much unchanged from the HEAD Graphene 360+ Speed racquets, but the addition of Auxetic technology does change the properties slightly.
The Speed is HEAD's bestselling racquet line, and the subtle changes are in the line of If it ain't broken, don't fix it.
Cosmetics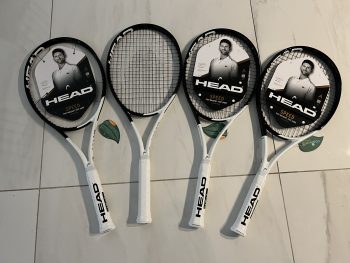 I like the new cosmetics, although the update is minor. The graphics follow the trend of previous Speed racquets. White and black. The black in the hoop is glossy, and the white parts in the throat are matte. The text and butt cap logo are copper brown.
Tech
The new thing in this HEAD Speed Pro 2022 is the Auxetic technology. What is Auxetic? You can read more about Auxetic tech on HEAD's official website but briefy, it's supposed to alter the racquet's feel. Quoting from HEAD's website:
Named after the Greek word 'auxetos', which means 'that which grows', Auxetic materials do something very surprising when stretched along their length: they become fatter. They have another counterintuitive property – when compressed, they get thinner.
"Auxetic materials have properties that conventional materials don't," British scientist Andrew Alderson says, who worked with HEAD on the first Auxetic racquets in history. "That includes enhancing vibration dampening and energy absorption, and after Tom (Thomas Allen, the second British scientist who worked on incorporating Auxetic tech into tennis racquet) told HEAD what I was working on they said they wanted to have a look at how they could use Auxetic materials in their racquets."
Here is the marketing jargon from HEAD:
"Tennis players of all levels – from beginners to the elite athletes on the ATP and WTA Tours – will have more confidence in their games thanks to the Auxetic construction in the carbon fiber yoke piece of their HEAD racquets. When you hit the ball, the yoke piece actively responds in real-time. It adapts its internal structure, deforming to give you optimal impact feel and highly accurate feedback."
Specs
The specs are unchanged from the previous generation of the HEAD Speed Pro. The listed specs below come from Tennis Warehouse Europe of the previous version. I noticed a significantly higher swing weight with my review racquet. This can result from poor quality control in terms of swing weights, which is prevalent in the whole industry, or an intention from HEAD to make the racquet have more plow-through and stability.
I strung the racquet with Grapplesnake Tour Sniper 1.25 at 51 lbs or 23 kg and got a swing weight of 334 strung (302 unstrung).
This were the listed specs of the previous version. Only addition is Auxetic.
Head Size:
100 in² / 645 cm²
Length:
27in / 68,5cm
Strung Weight:
329g / 11,6oz
Unstrung Weight:
310g/10,9oz
Balance:
32,49cm / 6 pts HL
Unstrung Balance:
31,5cm/9 pts HL
Swingweight:
329
Stiffness:
62
Beam Width:
23mm / 23mm / 23mm
Composition:
Graphene 360+/Graphite
Racket Colours:
Black!
Grip Type:
Head Hydrosorb Pro
String Pattern:
18 Mains / 20 Crosses
Mains skip: 8T,10T,8H,10H
Tension:
21-25kg / 48-57lb
Playing level
Advanced
+4.5 NTRP
+6.5 NTR
For more info on player ratings, check this post.
Playing style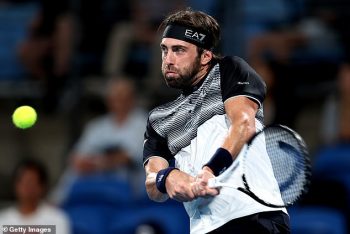 Aggressive baseliners. Think Nikoloz Basilashvili, Jannik Sinner, Iga Swiatek or Emma Raducanu.
Pros + and Cons –
Pros +
Stability
Plow-through
Controlled power thanks to the 18×20 string pattern
Cons –
Lack of maneuverability
Verdict
I thought this racquet was a subtle but noticeable improvement over the previous generation. I thought the feel was more refined and the racquet played like it had a bigger sweet spot than the Graphene 360+ Speed Pro. It's a good update, and if you're picky about your racquet choice, I think it's worth upgrading. But if you're not that picky and enjoy the previous Speed Pro, I don't quite see the point.
You can criticize HEAD for playing it safe with the recent updates to the Prestige and the Speed racquets. But at the same time, the racquets were quite good, so it's hard to make any drastic improvements. I have noticed that the Auxetic tech seems to slightly expand the sweet spot and improve the stability. Another takeaway is that both the Prestige 2021 and Speed 2022 racquets come with higher swing weights than their predecessors, which can also affect the stability.
These high swing weights are great for advanced players with good footwork, but intermediate players might feel like it's a bit much to swing over time.
Overall, a solid update that I like a lot. But I can see how other people might have wanted a more significant change or a lower swing weight.
Buy the HEAD Speed Pro
You can buy the HEAD Speed Pro from Tennis Warehouse, Tennis Warehouse Europe and Tennis Only.
If you buy this racquet or something else through my links, I get a small commission at no extra cost to you. This is well-needed support for the website and Tennisnerd. Big thanks!