What is French Open champion Iga Swiatek's new racquet? She has signed an agreement with French brand Tecnifibre.
Iga Swiatek's racquet used to be the Prince Textreme Tour 290, which she took all the way to her first grand slam title some months back (without dropping a set). She has now changed her racquet to a Tecnifibre T-Rebound Tempo and will use Razor Code strings (like Daniil Medvedev). I don't know the specs of Iga Swiatek's new racquet, but it might be released by Tecnifibre later on.
Often with seemingly drastic racquet changes, we are talking about a paint job, but when there's a brand change we will see the player with a new racquet on the court. It's gutsy to switch to a different brand after winning a grand slam title with one racquet, but perhaps Iga is confident that it is not about the racquet, or maybe she found what she is looking for in this new Tecnifibre T-Rebound Tempo (upcoming signature model), which is a new racquet line specifically made for the women's game.
A word from Patrice Chabrel, Racket Product Manager of Tecnifibre: Iga will play with a signature Iga Swiatek T-Rebound 298 product, which will be released on RG 2021. It is also the start of a collaborative approach with Iga to keep on working on technical and cosmetic product design.
Personalized racquet info (unstrung):
Weight: 298g
Balance: 320mm
headsize: 630cm²
Stringing pattern: 16×19
Iga Swiatek's T-Rebound Tempo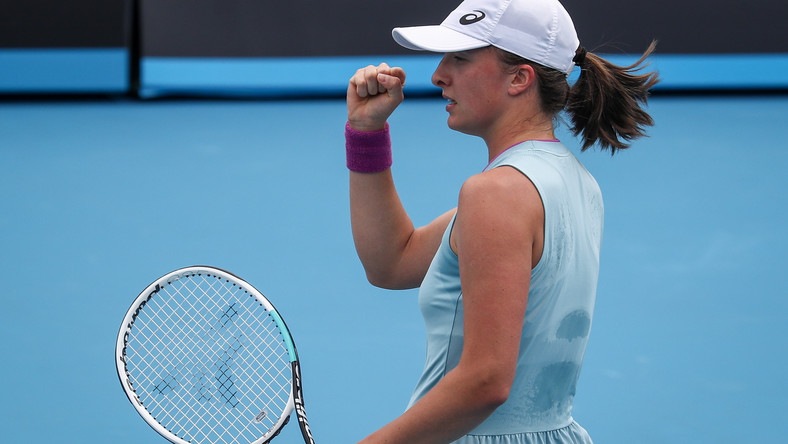 This is what Iga said about moving over to Tecnifibre:
I started my journey in tennis with a Tecnifibre racket and my first on court memory is associated to the brand. So I'm really happy to be back today and to release my signature racket that I've chosen after many days of testing and customizing. It perfectly fits my game style and enhance my play.
Tecnifibre will release Iga's Swiatek's new racquet – the signature T-Rebound Tempo – later on in 2021 as far as I understand. I guess we will find out more via the Tecnfibre website (and keep checking back to Tennisnerd of course!).
What do you think of Iga's racquet change? I am sure she got a good deal and fair financial compensation, but how will it affect her game? We have seen racquet changes turn sour before, so this is not something to be taken lightly in my opinion.
At the time of writing, Iga has just won her first round match at the Australian Open 2021 in convincing style, so maybe she will just keep bulldozing her opponents – no matter what racquet is in her hands!