Russian next-gen player Daniil Medvedev has just reached his first Grand Slam final and is currently a top 5 player. What is Daniil Medvedev's tennis racquet?
Daniil Medvedev is one of the more consistent next-gen players on the ATP tour. He was on a massive tear last year where he won two Masters titles, four ATP titles in total and reached the US Open final where he lost a hard-fought match against Rafa Nadal. But what is Daniil Medvedev's racquet?
Medvedev plays a bit like Novak Djokovic with a bigger serve. He plays patiently and consistently from the baseline and hardly seems to miss a ball. If needed, he actually has a pretty solid volley game, and his serve is huge. He also moves extremely well for a player who is 1m 98cm or 6'6 feet.
Ps. If you want to purchase Daniil Medvedev's tennis gear, check out my affiliates Tennis Warehouse, Tennis Warehouse Europe or Tennis Only (AUS). If you buy anything through my links, Tennisnerd gets a small commission. DS.
Daniil Medvedev's Racquet
Daniil used a Wilson Six One 95 for many years but is currently sponsored by Tecnifibre. Based on pics from a person who actually owns his racquets, it seems to be a Tecnifibre Dynacore 305 with plenty of weight added to get it up close to 360 grams.
This makes sense as it mimics the setup he had for his Six One 95. A heavy and head-light racquet with medium stiffness and a 22 mm beam. The red/black edition of Dynacore 305 that he is using is actually 95 sq inches, not 98 as the later models. So like Djokovic, Medvedev is using a 95 sq inch racquet with an 18×19 string pattern and a weight around 360 grams.
Medvedev's approximate racquet specs:
Head size: 95 sq inches
Length: 27 inches
Weight: 355-360 grams
String pattern: 18×19
Beam: 22 mm
Flex: 65
Daniil Medvedev's Strings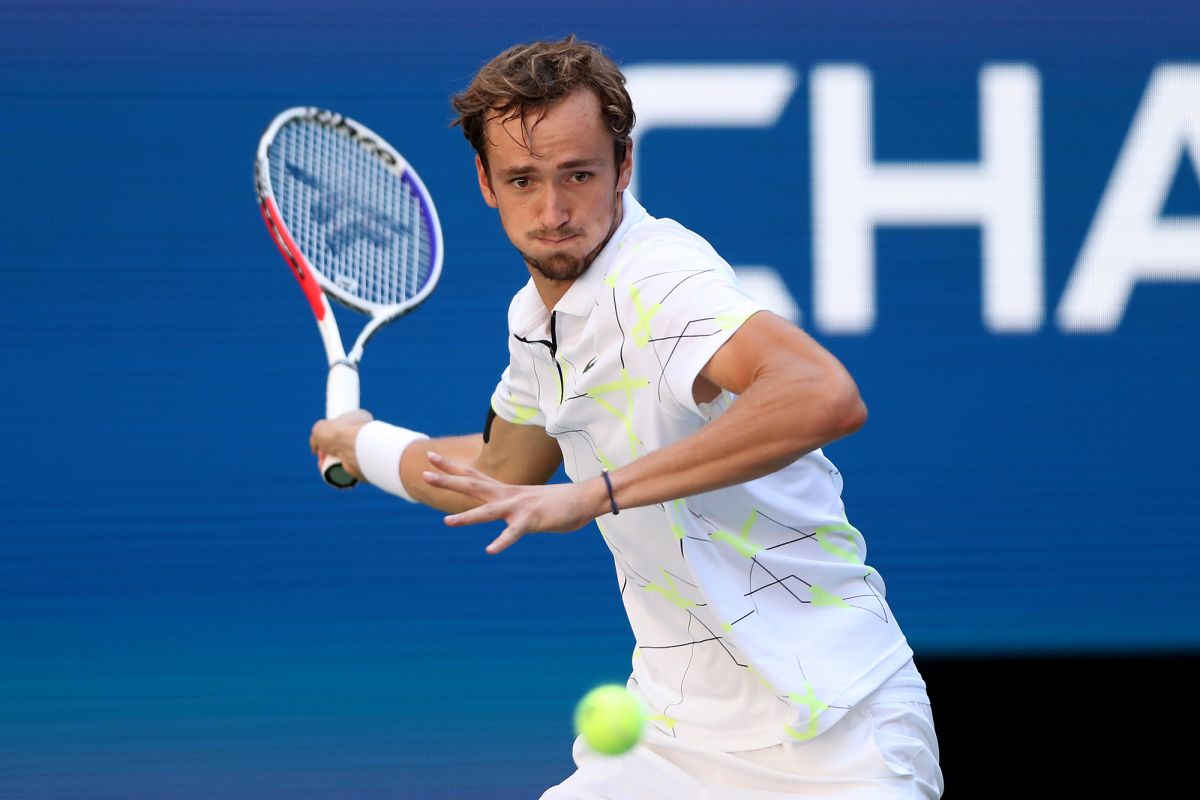 There has been some discussion about whether Medvedev uses Tecnifibre Razor Code
(Amazon link) or Ice Code. He was using the blue Razor Code until last year when he was playing with white strings. This was likely the unreleased white version of Razor Code which is now available to the public.
Medvedev strings his racquets around 22 kg or 49 lbs. This is his reference tension which is obviously subject to change depending on the conditions.
How do you think Medvedev will do in 2020? Please write in the comments below.