A lot of players were disappointed when Wilson decided to discontinue their beloved Wilson Six One 95 series in 2015-16. About two years later it came back in a white/red paint job. How does it play? Here is my Wilson Six One 95 racquet review.
My first love in player racquets was the Wilson Six One 95 nCode 18×20. I used it for quite a while before I discovered racquetholism and hundreds of racquets later I still appreciate its plush and controlled response. Wilson has now re-released the Wilson Six One 95 (sadly, only 18×20 string pattern) in the heritage colors of red and white. Since I have played every iteration of the series, I thought it was time to write a Wilson Six One 95 racquet review.
It is hard to tell if Wilson Six One 95
is still in fashion on the ATP world tour, because no one endorses this line anymore. Despite the excellent new paint job, not one player uses it and instead most Six One 95 players endorse the Wilson Pro Staff 97 (see pic below from David Wimpenny who owns a pair), a racquet which very few professional tennis players actually use. The rising British player Kyle Edmund endorses the Pro Staff 97
along with Philipp Kohlschreiber (and many more), Del Potro for some reason endorses the old Wilson Burn FST 95 (he is notoriously picky with paint jobs for his Hyper Pro Staff and it took him a long time to switch from this k-Factor paint job!) only to name a couple of players.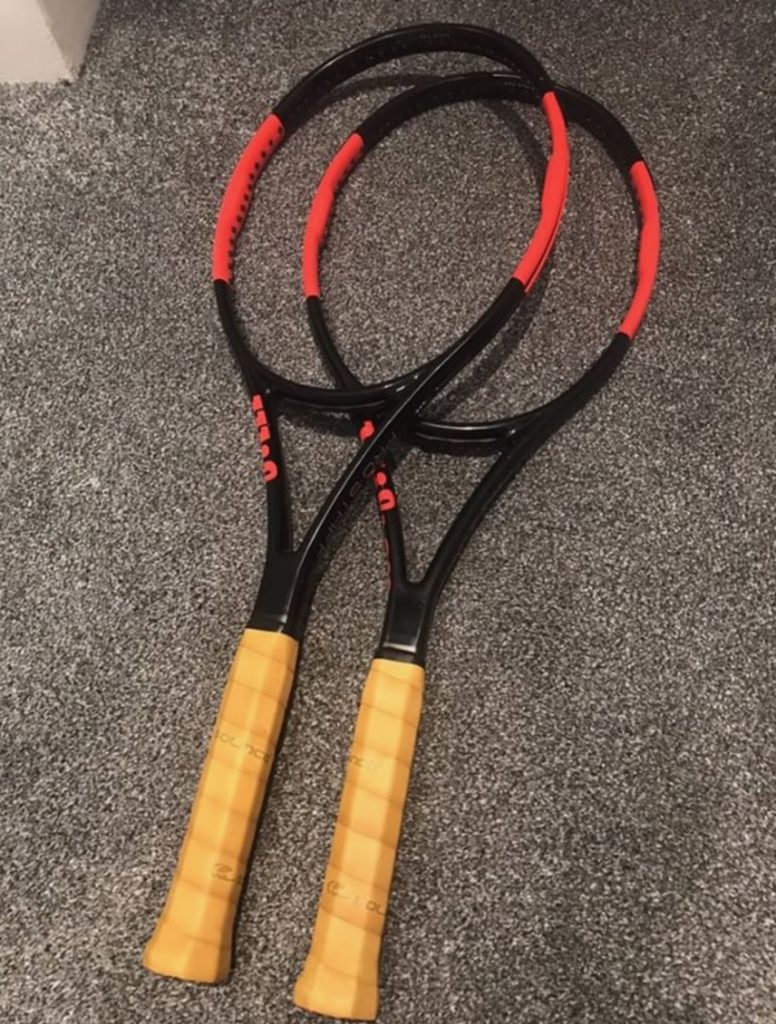 Wilson Six One 95 Racquet Review – How does it play?
Since the Six One 95 version I have enjoyed the most is the nCode Six One 95, I was a bit skeptical of doing this Wilson Six One 95 racquet review. I did play a bit with this racquet before, but remember not liking it as much as the nCode. However, you change as a player and your preferences change too and with Luxilon Alu Power
I thought this racquet was a joy to hit with. It is noticeably crisper than the nCode edition, but plays close to the recent BLX racquets.
You need to have a full swing and solid technique to play with the Six One 95 and since I still have some issues with my knee, my movement is not a 100%, which makes it more difficult to use. I always thought the Six One 95 is quite an easy racquet to play with, but this is when my movement is normal and I feel fit. I currently appreciate a slightly bigger head size than 95 sq inches, but this might change once I get back in form. So I would say the racquet is definitely for advanced players. But compared to the Wilson Pro Staff RF97 Autograph
(read my review here), it is definitely easier to swing and also slightly more comfortable so I think a lot of people who struggle with the RF97A, but want a hefty racquet, will appreciate the Six One 95.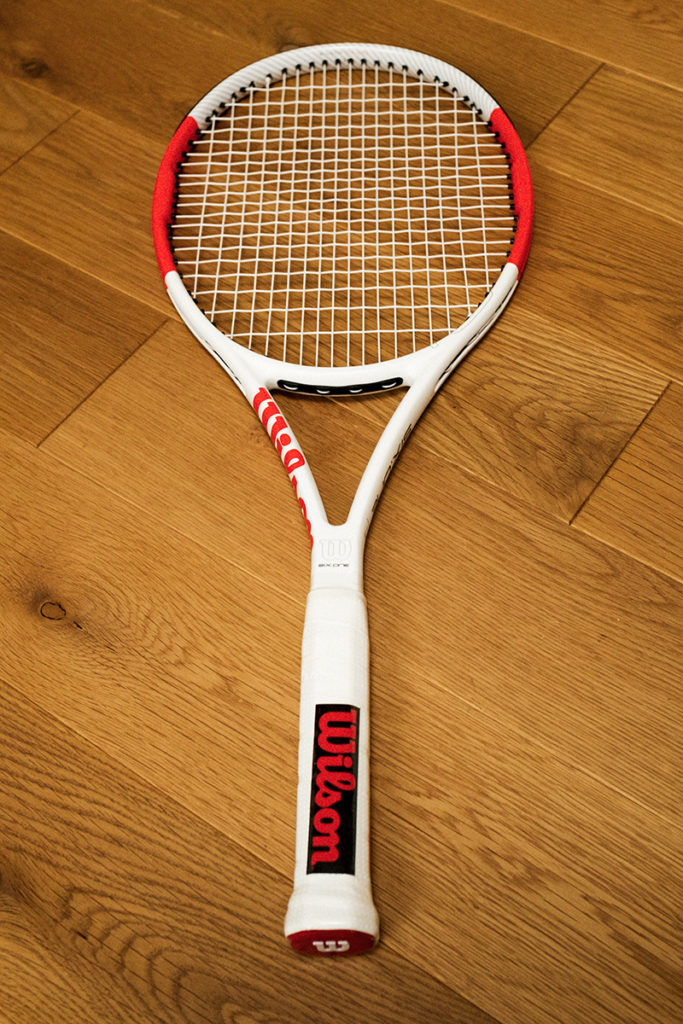 Wilson Six One 95 Racquet Review – Unstrung Specs
Head size: 95 sq inches
Weight: 332 grams unstrung
Balance: 31 cm (10 pts HL)
RA: 68
Beam width: 22 mm
String pattern: 18×20
As you can see the balance is slightly less head light than the older Six Ones, the stiffness is a little bit higher and the swing weight too. This makes Six One 95 an excellent choice for advanced players! You get full-on control in a racquet that still packs a good amount of power. However, it will require a transition if you are coming from "tweener" racquets such as the Babolat Pure Drive
(read my review) or Yonex DR98
 (review here).
So the Wilson Six One 95 specs are definitely built for advanced players. But if you are worried about the stiffness rating I would urge you not to let it fool you, the racquet is heavy and handles vibrations quite well. The first edition of the Wilson Pro Staff 6.1 had a stiffness rating of 72, but felt a lot plusher than that. You still need to be quite reliable when it comes to hitting the sweet spot however, few racquets allow shots close to the frame to be "pillowy".
Wilson Six One 95 Racquet Review – Ratings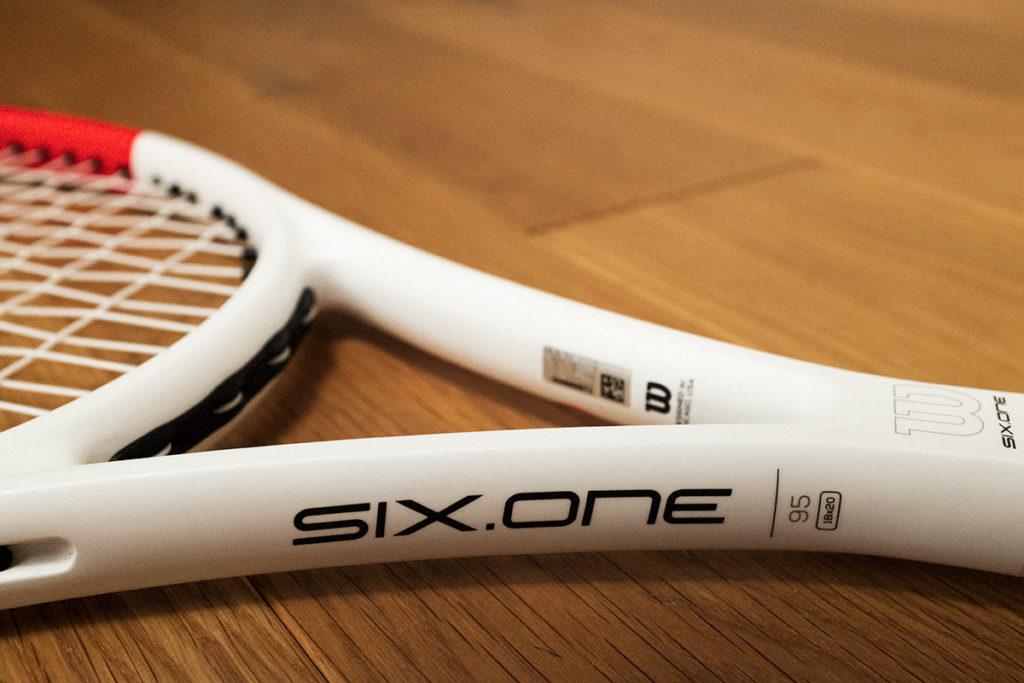 POWER: 8/10 – More power than many 95 sq inch racquets.
CONTROL: 8/10 – But with the tight pattern it manages to stay controlled. (16×18 version is a bit more erratic).
MANOEUVRABILITY: 7/10 – For the weight the head light balance makes it easy to swing.
TOUCH: 6/10 – I would not put this as a great touch racquet. You attack the ball with it.
COMFORT: 7/10 – This racquet is definitely more comfortable than its stiffness rating.
SPIN: 6/10 – You need to provide your own spin.
GROUNDSTROKES: 8/10 – Really happy grinding from the baseline with this stick.
VOLLEYS: 8/10 – Stable and fast at the net. Great for serve and volley players.
SERVE: 8/10 – Thanks to the head light balance you can get some good racquet head speed.
SLICE: 9/10 – The RF97A is a bit better, but this is a top slicing racquet.
OVERALL: 8/10 – This is a top racquet for advanced players and it has been in fashion for more than 20 years. String it with a hybrid for more comfort and go out and murder the ball. Yes, it has a high static weight and swing weight so you need to make sure to be fit, have solid movement and technique, etc, but if you connect with the ball properly you are instantly rewarded. Just look at how Kyle Edmund plays with this racquet (not sure which version he uses)! Boom!
In general, I am not sure if I prefer this slightly beefier and more powerful version or the softer nCode (I have two). They have some differences but share that nice, plow-through and good mix of control and power. I could easily take either one into a tournament and not blame the racquet for losing.
PS. Now that I have tested this racquet I am selling it to make room for more racquet reviews and play-tests. Let me know if you are interested. DS.
Have you tried the Wilson Six One? Which version is YOUR favorite? Let me know in the comments below.
***
Do you like Tennisnerd? Do not miss a word or video by stalking us on social media. Every like and follow is appreciated!

YouTube
Instagram
Twitter
Facebook Page
Amazon Influencer
Buy tennis gear
EU
Racquet Depot
Pro Direct Tennis

USA
Tennis Express
Do It Tennis
Amazon.com
Racquet buying guides
Here is a great racquet buying guide to get you started.
What tennis racquet should I buy?
Top tennis racquets to buy right now
The Gear of the Year 2017
The Gear of the Year 2016
Tennis racquets for juniors
Tennis racquets for kids
Popular posts
What the ATP pros play
Questions about pro stock tennis racquets
Is a pro stock racquet better than a retail one?
Do professional players change racquets?
Racquet Commitment Issues