Is Daniel Medvedev's new string making him play better? Maybe, but does it work for club players? Here is my Tecnifibre Razor Soft Review.
Tecnifibre Razor Soft Review
It is difficult to say, but since he switched from Tecnifibre Razor Code White to the new string Razor Soft, he has won four tournaments and reached one final. After a pro player string change, this kind of performance will perk the ears of the general tennis-playing population.
Despite the name Razor SOFT, this is not a soft string. It offers more pocketing than Razor Code and plays with excellent control, but I would say it is a relatively firm poly.
It is constructed with the same material as Razor Code but with a flexible polyurethane additive at its core to give it better pocketing and feel. In my opinion, the feel is better than Razor Code, so it does its job.
Click here to watch my Tecnifibre Razor Soft video review.
Specifications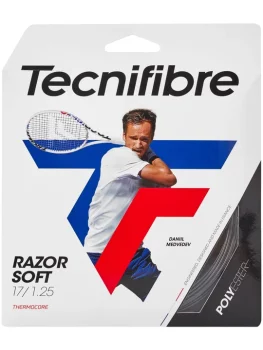 Razor Soft only comes in carbon color and the gauges are 1.20, 1.25, and 1.30. Go thicker for more durability and control and thinner for more power and feel. If you want to know more technical stuff about strings and racquets, check out my ebook and course.
Tecnifibre recommends not to string it lower than 22 kg and also writes on their website that it is highly recommended for racquets over 300g. What you can read into this is that this is a string for advanced players.
I tested Razor Soft in a bunch of racquets. The Babolat pure drive 98, Solinco whiteout 18×20 and the Pro staff 97 comes to mind.
Playability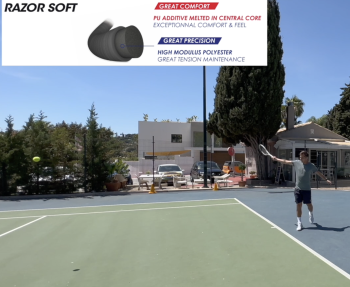 It played with excellent control straight from the bat. It seems to hold tension pretty well. As is standard with most poly strings in my experience, it plays best one hour into the playtest. I tested tensions from 22 kg (49 lbs) in the Whiteout to 24 kg (53 lbs) in the Pure Drives.
In the stiff Pure Drive, it didn't feel harsh, which is good praise and in the Solinco Whiteout, it offered excellent control.
Is the HEAD Hawk Touch of Tecnifibre? No, it's not as elastic. This string is pretty firm and dead. It reminded me more of RPM Blast or 4G, but with more comfort.
A firm but not harsh string is the best way to put it. It gave me excellent control on full swings and offered more pocketing than other Tecnifibre polyesters I've tried. It is not a spin monster with a massive bite on the ball, but the snapback is good and the string delivers pretty much what you put into it. A very dependable string for big hitters and string breakers since the durability and tension maintenance are both good.
This might become one of my go-to strings. I enjoyed it that much, and the players who tested it alongside me were also impressed with the response.
If you want to check out Razor Soft, do so at our affiliates Tennis Warehouse, Tennis Warehouse Europe and Tennis Only.