The Whiteout impressed me in its original 16×19 version, but the string bed played a little lively. Here is my Solinco Whiteout 18×20 Review.
Solinco Whiteout 18×20 Review
The Solinco Whiteout surprised me with a great feel. The racquet was made in consultation with Roman Prokes, so I shouldn't have been so surprised. The specs are pretty much what you expect of a 98 sq inch control racquet these days.
It is foam-filled, arm-friendly, a little muted, and offers more power than traditional control racquets, and works for a wide range of players looking for confidence on aggressive strikes. The denser string pattern of the 18×20 controls the launch angle better and gives the racquet less of a trampoline effect.
But your choice of strings is important. I first tried it with the Solinco Hyper-G Soft, which is a lively and soft polyester string. This produced a slightly more erratic response than for example, Tour Bite or Confidential would. I then tested it with the new Tecnifibre Razor Soft, and it gave me better control and an excellent feel.
Where to buy the Solinco Whiteout 18×20
You can find the 18×20 version at Tennis Warehouse, but as far as I can see there is only the 16×19 version at Tennis Warehouse Europe and Tennis Only. I haven't checked other retailers (and I do appreciate if you purchase tennis stuff through my links as we get a small commission at no extra cost to you), but I assume it might be a US thing for now.
Specifications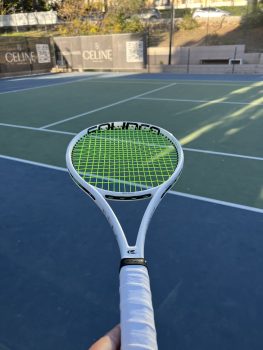 The stiffness of this racquet is not felt. It feels rather arm-friendly and offers a nice sensation on impact.
Head Size: 98 in / 632.26 cm
Length: 27in / 68.58cm
Strung Weight: 11.4oz / 323g
Balance: 13in / 33.02cm / 4 pts HL
Swingweight: 324
Stiffness: 66
Beam Width: 21.7mm / 21.7mm / 21.7mm
Composition: 40T Carbon/Graphite
Power Level: Low
Stroke Style: Full
Swing Speed: Fast
Racquet Colors: White
Grip Type: Solinco Synthetic
String Pattern: 18 Mains / 20 Crosses
Mains skip: 8T,10T,8H,10H
(Two Pieces, No Shared Holes)
Competitors
The Solinco Whiteout belongs in the modern control racquet category with racquets like:
Dunlop CX 200
Wilson Blade 98
Tecnifibre TF40
Babolat Pure Strike VS
HEAD Radical MP
How does it play?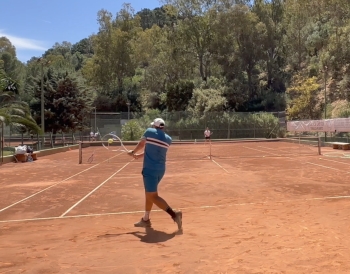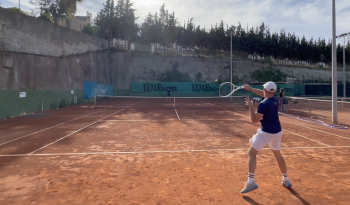 The Solinco Whiteout 18×20 is a great rival to the abovementioned racquets. For example, I think it offers a tad more power than the Blade, and it still plays with an excellent feel. The mid-60 stiffness rating can be a worry to some players, but I felt no soreness or issues at all. The foam makes the racquet well-dampened, but I didn't find it overly muted where it is difficult to estimate the ball depth. It's still a racquet where you need to provide the power. Not as much as in a Prestige or even Pro Staff, but it requires a good player to achieve consistent depth and spin.
The players who tested this racquet alongside me preferred it to industry bestsellers like the Blade 98 or Radical MP. The sensation when striking the ball was the thing that impressed them the most. This racquet plays somewhere between the first Tecnifibre TF40 and the second-gen.
The racquet doesn't stand out in any one area to me, but it offers a great combination of control/power/spin/feel for players who are looking for a modern control racquet that gives them a bit more depth and power. Not quite Babolat Pure Strike style, but somewhere in between that and a Pro Staff 97.
Overall, an excellent modern control racquet that should win players over.