Some months back I created a Babolat Pure Strike VS 2022 review on my YouTube channel. Now it's finally available for sale.
I concluded my Babolat Pure Strike VS 2022 review positively. It's great that Babolat brings back the Pure Control with a new name. A thinner beam, lower flex, leather grip and a 16×20 pattern will surely please a lot of control racquet lovers. The racquet plays with great feel and control, but it's not without decent power. It's a pretty demanding frame and you need to have solid technique and be a pretty advanced (NTRP 4.0+) player to use it, but if you like this type of racquet, I'm sure you'll enjoy the Babolat Pure Strike VS 2022.
I tried the racquet with both Solinco Hyper-G Soft 1.20 and Solinco Outlast 1.20  at my usual reference tension around 51 lbs and enjoyed both setups. As expected, I got more spin potential with Hyper-G and more control from Outlast.
You can buy the Babolat Pure Strike VS 2022 from Tennis Warehouse but it's not yet available from Tennis Warehouse Europe or Tennis Only.
Video review
I sometimes use the "first impressions" expression, but if those impressions remain, I don't bother to create a new review. I feel like I need to be a bit clearer about that or perhaps just create a full-scale review where my first feelings are enforced.
Pure Strike VS Specs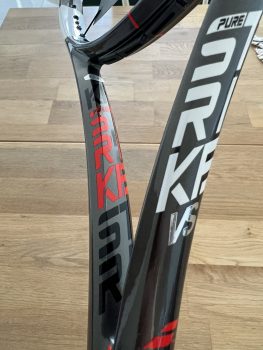 Head Size: 97 in / 625.81 cm
Length: 27in / 68.58cm
Strung Weight:11.7oz / 332g
Balance: 12.59in / 31.98cm / 7 pts HL
Swingweight: 322
Stiffness: 63
Beam Width: 21mm / 22mm / 21mm
Composition: Graphite
Power Level: Low-Medium
Stroke Style: Medium-Full
Swing Speed: Medium-Fast
Racquet Colors:Black/Orange
Grip Type: LEATHER!
String Pattern:
16 Mains / 20 Crosses
Mains skip: 7T,9T,7H,9H
One Piece
No Shared Holes
I felt like the racquet needed a little bit of weight in the hoop to play with more plow-through and power. 2-3 grams at 12 did the trick for me.
How does it play?
If you tried old Babolat Pure Control racquets, this one plays in the same vein. Good control and feel (a little bit firmer than most of the older ones, but not harsh by any means), great looks and playability for advanced players.
I felt like the weight at 310 grams unstrung is close to perfect. It allows you some customization and maintains a good balance of being maneuverable yet stable.
It's a racquet to rival the HEAD Radical Pro (and Boom Pro in a way), the Wilson Blade 98 18×20 and the Yonex VCORE Pro 97.
For players who enjoy the Babolat Pure Strike 98 Gen 3, but want a softer feel and more control, the Pure Strike VS is a must-demo.
Have you tried the Babolat Pure Strike VS 2022?