After his win in Doha, I've gotten the question: what racquet does Nikoloz Bashilashvili use? The answer came from racquet legend Dr325i.
If you're interested in pro stock racquet discussion, check out the Tennis Warehouse Forums. There are a few very knowledgeable guys and girls there. One of the top ones is user Dr325i, who knows a lot about HEAD racquets. A while back Bashilashvili made a racquet switch from the HEAD Prestige Rev Pro. I didn't know exactly what racquet he switched to, but according to Dr325i, it's a pro stock racquet called TGT 344.3 (Gravity Pro) which is extended to 27.4 inches, weighs 345 grams with strings and has a swing weight of 350 SW strung. My guess is that he strings it with HEAD Hawk (white), but I'm not sure.
Bashilashvili's racquet has become quite popular among top players: Rublev, Zverev and Barty to name the top names. HEAD offers many of their pro players the possibility to get variations on a racquet mold, such as a Gravity Pro in extended length and with an open pattern. Offering all these options on the retail market would either be expensive or difficult, but in some cases I think it would be great to have a variation in string pattern available to the retail user. For example the Prestige MP or the Gravity Pro in a 16×19 pattern.
What racquet does Bashilashvili use and does it matter?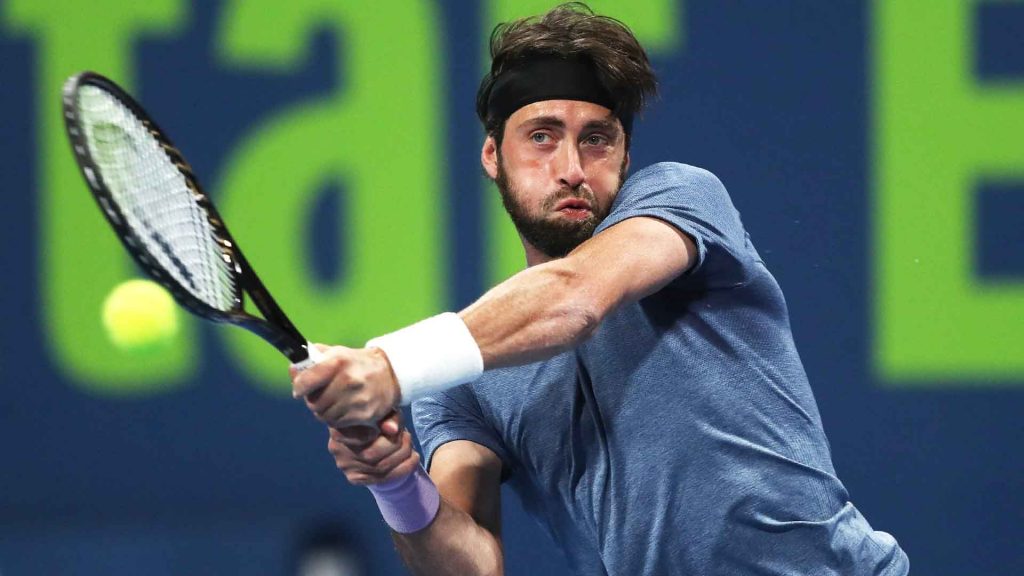 If you're curious like me, it's fun to know. But it doesn't affect the way I play tennis or what racquets I use and neither should it do for you. Too many club players try to copy/imitate their favorite pros and it can sometimes lead down to wrong choices or poor technical decisions in the long run. Most club players just need tennis to be as simple and forgiving as possible. We can't match the footwork, technique and physical conditioning of the pros, so in most cases we need more forgiving racquets. As I've said so many times before, a racquet is a personal thing.
No matter what racquet he uses, like Rublev, Bashilashvili attack the ball with vicious aggression and is fun to watch. I was impressed with how he played against Federer in the quarter-final and it will be interesting to see what he can make of the rest of the season.
Thoughts on ball-striker extraordinaire Bashilashvili?