I had the good fortune of watching Novak Djokovic practice and recorded 30 minutes of his training below. I picked up a few interesting things from Novak's training that I want to share with you.
Novak Djokovic is the number one player in the world on the ATP rankings by a long shot, but at the time of writing, he hasn't had such a great last few months. He hasn't won a title since Australian Open and looks a bit grumpy on the court. It will be interesting to see if he can turn this around in the Madrid Masters that starts next week. I was watching Novak Djokovic practice at the Puente Romano tennis club in Marbella, Spain. This is where his brother lives and Novak often comes there to visit and practice.
Here are five things I learned from watching Novak Djokovic practice: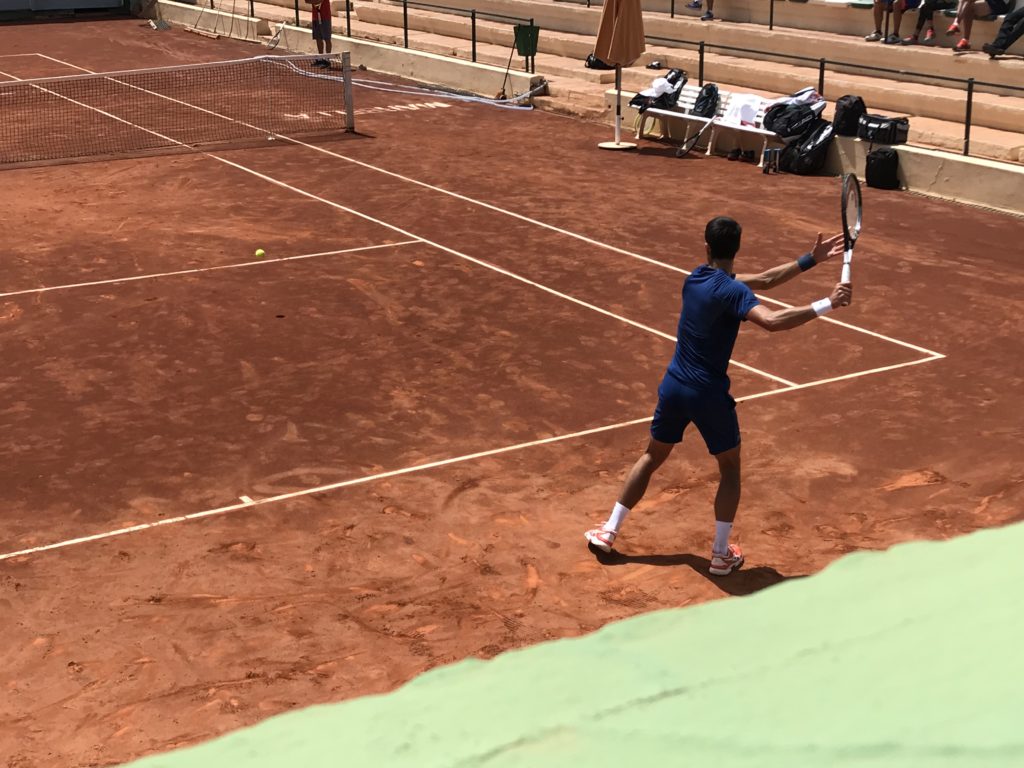 You need to have fun when you practice. This time Novak did a four-square warm-up battle with his brother Marko, talented youngster Pablo Llamas Ruiz, and coach Marjan Vajda. The game resulted in a lot of laughs and in Marjan Vajda being punished by a serve to the ass.
Your practice should mimic match situations. In this session, Novak was playing high-intensity points with and without serve. He got a different type of ball from his brother and from Llamas Ruiz which prevented him from becoming too comfortable with a type of shot.
Top players also need to focus on technique. You are never fully taught as a tennis player. Novak was frustrated with his forehand and was discussing his wrist movement with coach Vajda during the practice.
Any kind of exercise and practice should include high-intensity training. If you do things at 50% intensity in the gym or on the court, chances are you won't make any improvements.
Practicing with different players is important because you will need to adjust to different styles of play. If you always play with the same player, you will become accustomed to the way he plays and likely be frustrated once you play someone else.
Those are at least five things you can take away from watching Novak Djokovic practice. You can watch the video below.
Do you like Tennisnerd? Please also follow and share our other channels. Every like, share and follow is deeply appreciated! You can now also become a Tennisnerd patron and receive unique content and reviews before everyone else!

Patreon – Support and get VIP content
YouTube – In-depth video reviews and vlog
Instagram – Racquets, racquets, racquets
Twitter
Facebook Page – New content daily
Facebook Group – Join the discussion with other tennis nerds
Amazon Influencer
About tennis racquets
All racquet reviews
Here is a great racquet buying guide to get you started.
What tennis racquet should I buy?
Top tennis racquets to buy right now
The Gear of the Year 2018
The Gear of the Year 2017
The Gear of the Year 2016
Tennis racquets for juniors
Tennis racquets for kids