Last year was a fairytale for Roger Federer who, coming back from a long injury won the Australian Open and then the "sunshine double". Can he do it again?
Federer is yet again on top of the tennis world after defending his Australian Open title and winning in Rotterdam. He has now won 20 grand slams and at age 36 he is one of the true legends of not just tennis, but all sports. With so many of the top players on the ATP tour gone due to injuries (Murray, Nadal, Wawrinka to name a few), Federer looks like the clear favourite to pick up at least one of the so called sunshine masters tournaments. Question is: Can he even win two and make it another sunshine double?
Let's start by looking at the opposition. With so many of the top players gone, the only question mark that remains how Djokovic will perform after his injury. He has been seen practicing on court with his coach Andre Agassi and posts actively and positively on his Instagram account. He has won Indian Wells six times and the surface and climate is perfect for his game. He will surely be rusty, but can still be a challenge for the rest of the field. I doubt however that he can beat Federer considering Federer's form and Djokovic's lack of competitive matches. But maybe I'm wrong?
If we look at the rest of the field it is hard to see what can pose a serious threat for the Fed Express. A dangerous guy like Kyrgios is still injured as far as I know, Alexander Zverev has not been showing good results lately and recently fired his coach Juan Carlos Ferrero after what was reportedly a "fight" between them. This is what Zverev had to say about it:
"We had a kind of a fight in Australia after the Australian Open, which is fine when it involves me and him. I have those kind of arguments [with other team members] and we are still working fine. That argument there involved my whole team and there was a moment where he was very disrespectful towards everybody in my team and that's why I had to stop the relationship."
Now there's talk about Boris Becker joining Zverev's team and I think that could be the extra energy that Zverev needs. Whether that partnership is going to happen or not remains to be seen, but I think Becker would like the challenge and Zverev would prosper from it. Would be interesting to hear your opinions here.
What other players can bother Federer? Cilic? Only if he's at his ultimate best. Federer's draw is not easy however as he can face a pumped-up Ryan Harrison, a vastly improved Krajinovic or an in-form Fabio Fognini early on. Can these players create issues for him on a good day? For sure! Can they beat him? Definitely not so sure.
For the tournament it would be amazing to see a Federer vs Djokovic final. They are, after all, on opposite sides of the draw. And if that happens maybe Djokovic can pull out some magic to stop the mighty Swiss just out of the pure joy of being on court again.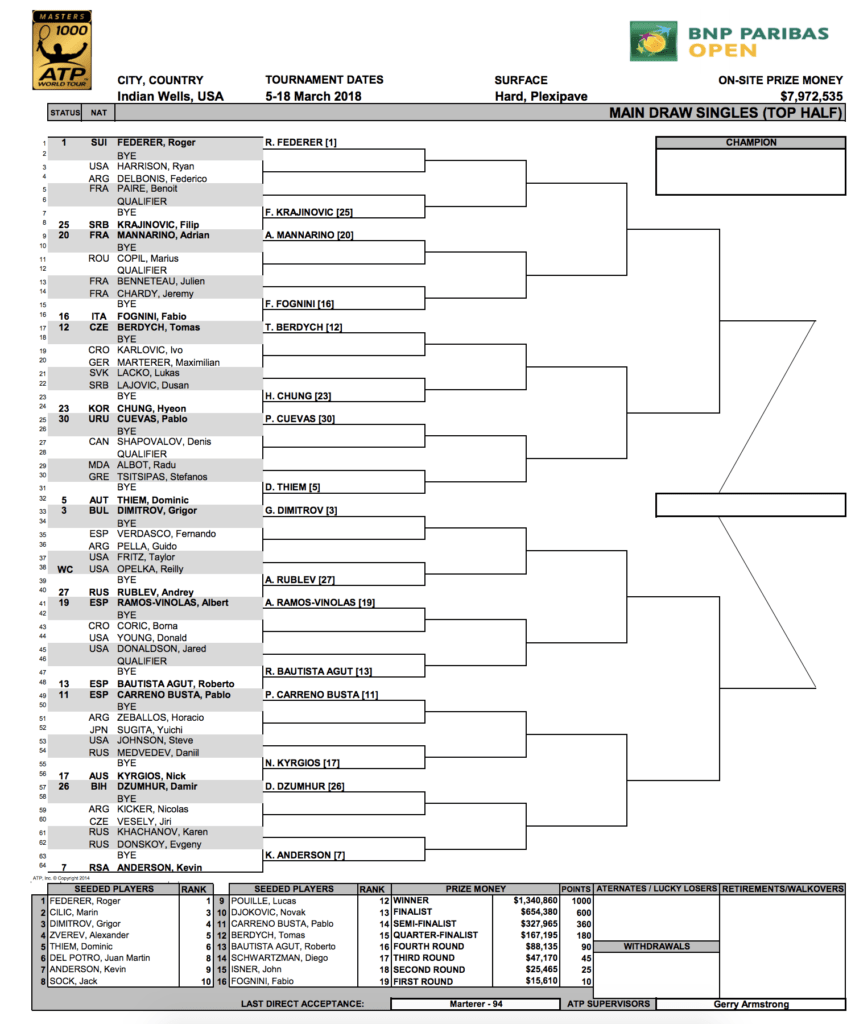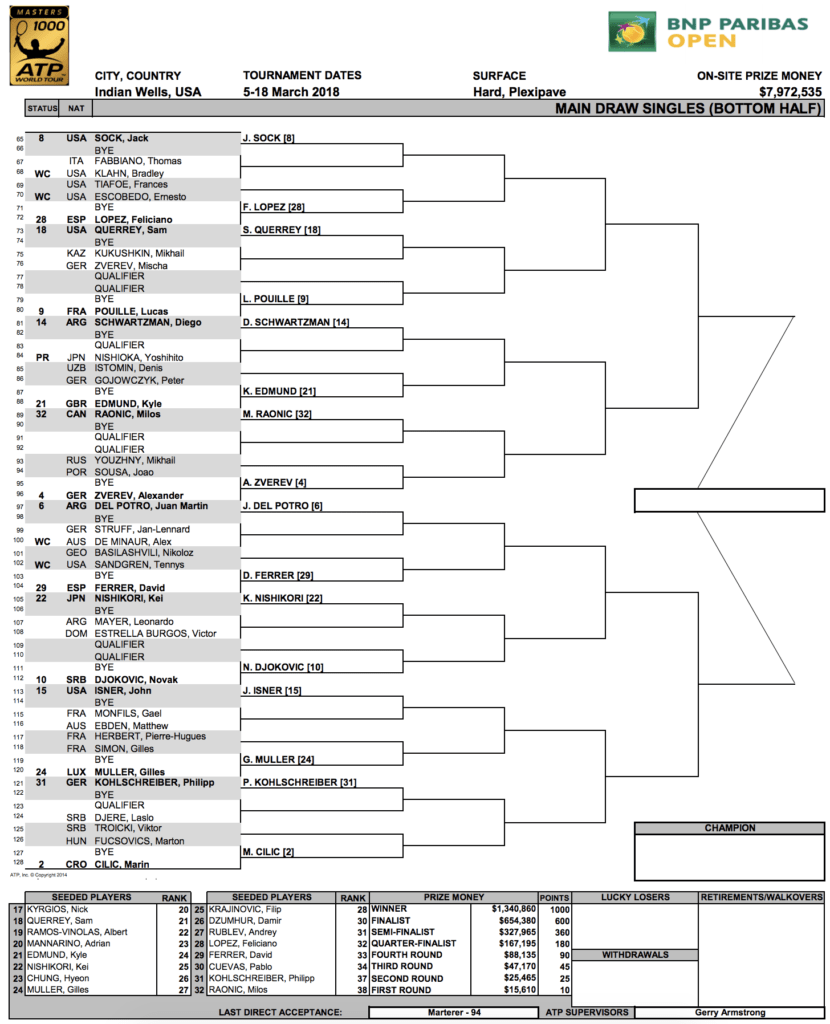 What do you think of Federer's chances to win the "Sunshine Double"? Please comment below!
***
Do you like Tennisnerd? Don't miss a word or video by stalking us on social media. Every like and follow is appreciated!

YouTube
Instagram
Twitter
Facebook Page
Amazon Influencer
Buy tennis gear
EU
Racquet Depot
Pro Direct Tennis

USA
Tennis Express
Do It Tennis
Amazon.com
Racquet buying guides
Here is a great racquet buying guide to get you started.
What tennis racquet should I buy?
Top tennis racquets to buy right now
The Gear of the Year 2017
The Gear of the Year 2016
Tennis racquets for juniors
Tennis racquets for kids
Popular posts
What the ATP pros play
Questions about pro stock tennis racquets
Is a pro stock racquet better than a retail one?
Do professional players change racquets?
Racquet Commitment Issues