We've all been distracted by the Djokovic vaccination situation, but here we go, Australian Open 2022 Draw Predictions.
Let's do this by a quarter of 32 players. At this stage, we don't even know if Djokovic will be allowed to play. If you haven't followed the drama, there are a few posts on Tennisnerd and pretty much EVERYWHERE else.
You can find the Australian Open 2022 draw here. If you like to check the odds, you can do so at Betway.
1st Quarter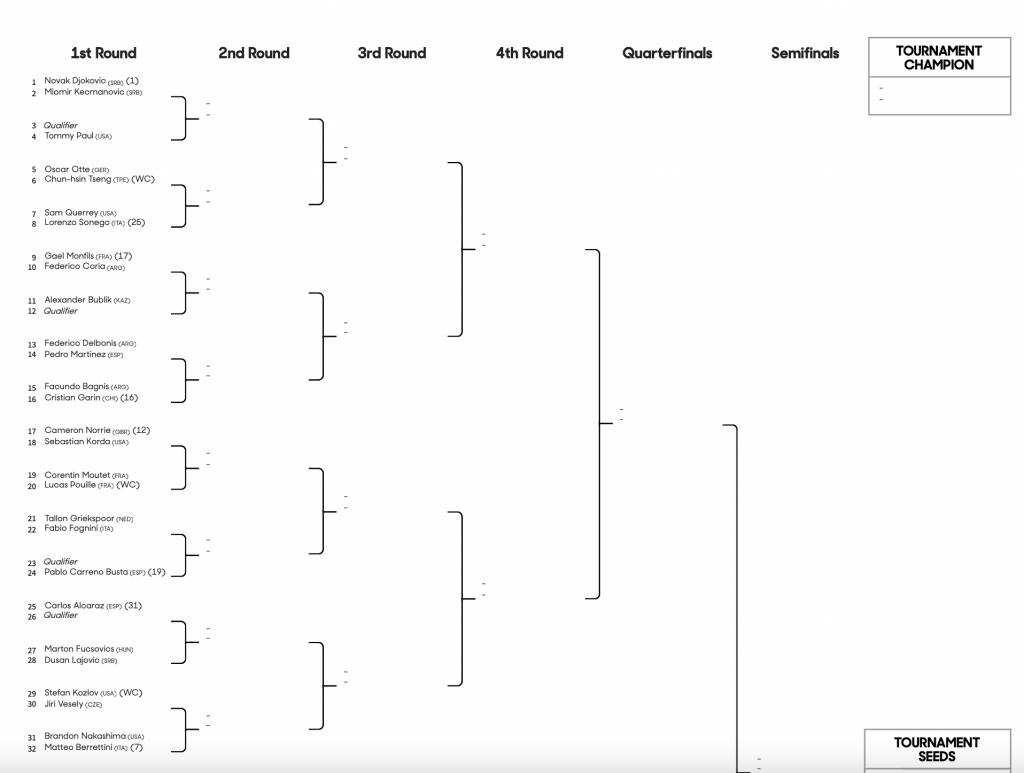 If Djokovic plays, he faces his young countryman Kecmanovic in the first round. Not an easy one, but not a huge challenge either. Djokovic through (if he is allowed). If Djokovic plays, he is still my pick to win the tournament. Despite everything. My other two favorites for the tournament are unsurprisingly: Daniil Medvedev and Alexander Zverev.
Tommy Paul plays Kukushkin. Although you can never count out Kukushkin, I believe Tommy Paul takes that. He has been playing well lately and won his first ATP title in Stockholm late in 2021.
Oscar Otte is a dangerous player and should win confidently against wild card Tseng.
I believe Sonego can beat Querrey. The American has not played much in recent months, while Sonego put up a good fight against Karatsev in Sydney.
Is Monfils' neck better? If that's the case, he should beat Coria.
Bublik had a great season in 2021, but we haven't seen anything from him in 2022. Still, I believe in him in the first round against Escobedo.
Delbonis vs Martinez is a tough one – I believe Martinez is the more dangerous player at the moment.
Bagnis beat Murray in Melbourne, but Murray was sub-par. It shouldn't be enough to trouble Garin.
Norrie vs. Korda is a TOUGH first-round match in a slam. Norrie played the ATP Cup, while Korda hasn't been playing as far as I can see. Norrie is knocking on the top ten after a stellar year and should be the favorite, but this one is tough to predict. I'd go with Norrie in the end, but upset alert.
The battle of the Frenchmen, Pouille vs Moutet. We haven't seen much of Lucas Pouille due to persistent injuries in recent years. Moutet, on the other hand, was defaulted in Adelaide after not being able to let go of a call and then verbally attacking the linesmen and umpire. I think the cooler character of Pouille can help him through.
22-year-old Dutch player Tallon Griekspoor is making moves on the tour. He is at his highest ranking ever at 62 and will be a difficult opponent for the unpredictable Fognini. I'm predicting Griekspoor, but it will be a tough match.
Carreno Busta is one of the most dependable players you can find on the ATP Tour to win winnable matches. He should beat Etcheverry.
Countryman Carlos Alcaraz is coming into this grand slam seeded for the first time. He will be dangerous to any player in the field and should get through the first round.
Fucsovics vs Lajovic is a tough first-round match. I predict this one will go down to the wire. They're both around similar strength, but Fucsovics is stronger physically. And an important part – he has 2-0 in the head-to-head.
Kozlov vs Vesely is not the match to draw the biggest crowds. I will go on the ranking and that Vesely is far more experienced.
Nakashima vs Berrettini is one of the best matches of the first round. Nakashima is only 20 years old and made great strides on tour last year. He did beat Fognini in Sydney and should create problems for Berrettini. But Berrettini is now a top ten player and is carrying himself as such. Berrettini in four sets.
2nd Quarter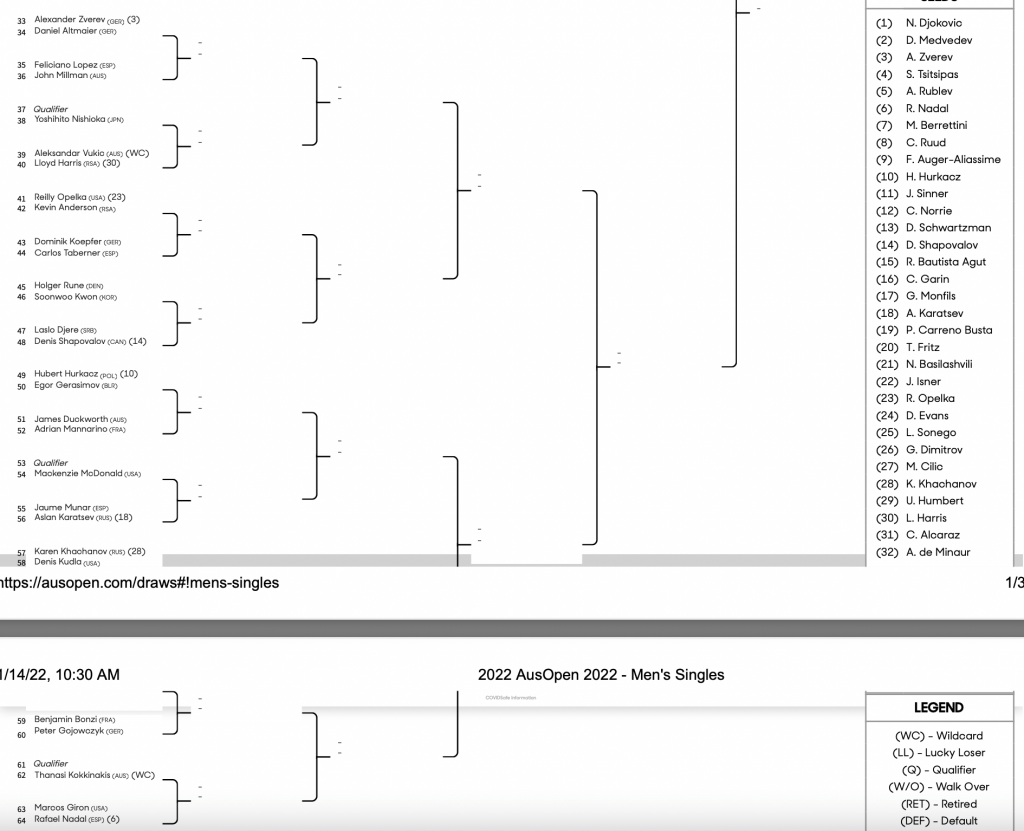 Zverev vs Altmaier – the German showdown. Altmaier's beautiful backhand is not enough to take down one of the favorites for the title.
Lopez vs Millman – Feliciano, 40 years old, is still going strong on tour with his slice, dice, and excellent serve. It should not be enough to beat hard-working local boy Millman though.
Nishioka vs Q. Nishioka had a bad match against Soonwoo Kwon in Adelaide and I feel he will be vulnerable here against Radu Albot.
Local player Aleksandar Vukic got a wildcard into the tournament, but his best-ever ranking is around 160 and he should not have much to show against dangerous South-African Lloyd Harris.
There will be plenty of aces in Anderson vs Opelka. Opelka looked great in Sydney, and my bet is on him beating Anderson.
When I think of Koepfer I think of a hard-working feisty German who likes to spit on a clay court. He is a strong player, though, and should beat Carlos Taberner.
Hyped-up Holger Rune from Denmark is close to breaking the top 100 and I think the Australian Open will give him an excellent chance to do so. Still, Soonwoo Kwon is a clean striker on the ball and in the top 60 players of the world. Tough match, but I will pick Rune.
Serbian Djere gets a tough opponent in Shapovalov, fresh from his ATP Cup win. Shapo should take this one.
Hubert Hurkacz is a top ten player and rightfully so. He should be able to beat Egor Gerasimov, who is a dangerous player but not quite difficult enough.
Adrian Mannarino has had two rough weeks down under with first-round losses and I don't think his fortunes will reverse against local player James Duckworth.
Mackenzie McDonald vs Qualifier Milojevic – should be a win for the rising American
Jaume Munar beat Kevin Anderson in the Melbourne Summer Set tournament, but it's not enough against in-form Aslan Karatsev.
Khachanov seems to be playing some solid tennis and shouldn't be troubled by Dennis Kudla.
Bonzi vs Gojowczyk will be a hard-fought match. Coin toss on this one, but I will say Bonzi.
Kokkinakis in excellent form will likely win his against Hanfmann. Fun to see him healthy and playing well.
Giron is a dangerous player, but it should not be enough to threaten Rafa Nadal.
3rd Quarter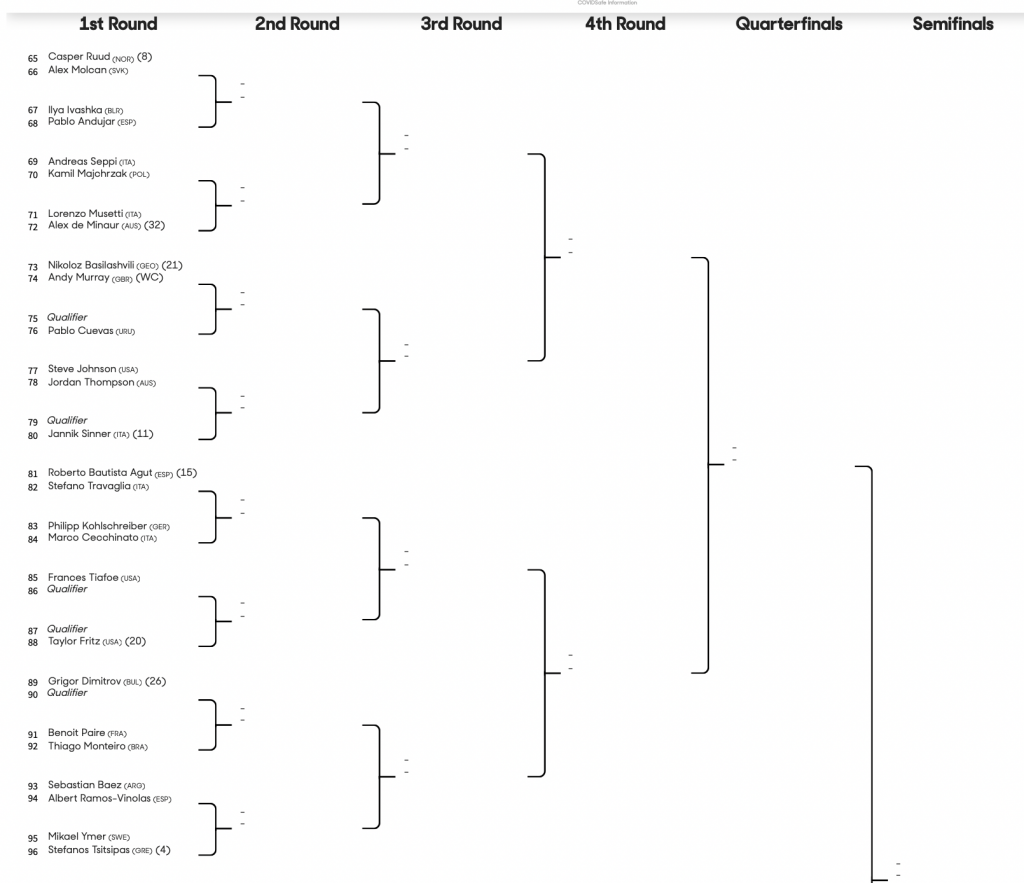 Casper Ruud had a spectacular 2021 and I think he will continue beating players like Alex Molcan in 2022.
Ilya Ivashka can play some spectacular tennis and I think he will defeat seasoned grinder Pablo Andujar.
Andreas Seppi usually gets involved in these marathon five-set matches, which is likely also against Majchrzak. But I think Seppi will win on experience.
Musetti got a tough first-round match in Alex de Minaur. I'm expecting lots of exciting tennis, but de Minaur to win in the end.
Basilashvili vs Murray is a reprise from Sydney, where Murray won in three sets. The Bionic Scot is back in full flow and should be the favorite to win, but a tough first round.
Taro Daniel has been playing great tennis lately and should beat fellow qualifier Barrios Vera.
Can Pueblo Cuevas beat a qualifier? Maybe.
Johnson vs Thompson sounds almost like a Covid vaccine. Two players of even strength. I think the home crowd will push Thompson over the finish line.
Jannik Sinner will play Joao Sousa and be the winner.
Bautista-Agut, also known as the "moving wall" or Djoko light, will take on Stefano Travaglia. Never bet against Agut.
Kohlschreiber Cecchinato sounds like a match played some years ago. Kohlschreiber feels close to retirement, Cecchinato has a few more years in the tank. The Italian will drop shot this one home.
Tiafoe should beat Trungelliti reasonably easily and I don't believe Fritz will face much trouble against Marterer.
Grigor Dimitrov has played pretty well lately and should have a comfortable win against Czech Lehecka.
Benoit Paire is like a kinder egg. You never know what you're going to get. Against Monteiro, he should be the favorite, though.
Sebastian Baez is an exciting young player from Argentina with lightning-quick feet. I think he can defeat higher-ranked Ramos-Vinolas in the first round.
Tsitsipas vs Ymer can be the biggest upset of the tournament. Ymer played well in Adelaide, while Tsitsipas has struggled with injuries and not quite looked himself. I think Ymer can grind him down. Upset alert.
4th Quarter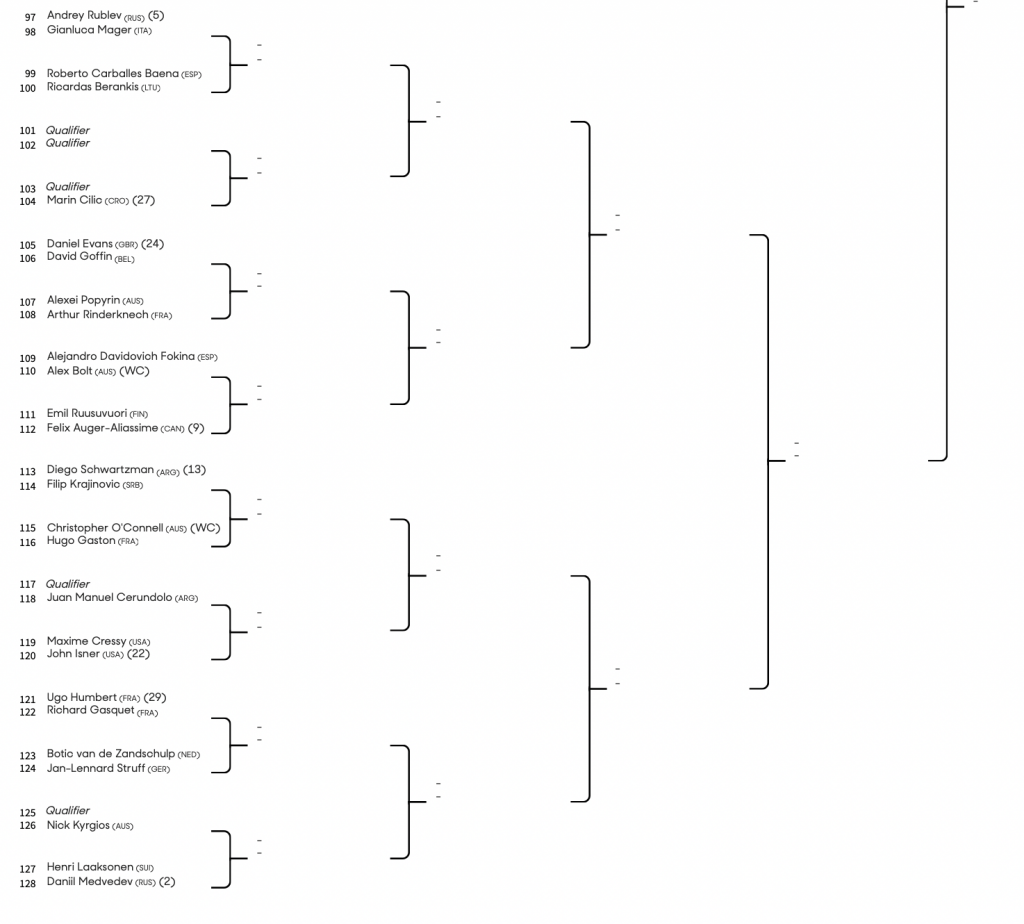 Rublev has recently recovered from Covid, but hopefully, he will not be affected by it and defeat Gianluca Mager.
Carballes Baena vs Berankis is not a primetime TV match. But I will pick Berankis based on nothing more than a hunch.
I don't know much about Skatov vs Gombos. I've seen Gombos around, so I will pick him.
Cilic usually plays well in Grand Slams and should be winning against a Gomez.
Dan Evans had a great warm-up tournament in Sydney, while Goffin had to retire. Evans all the way.
Popyrin has a huge forehand and a good game, but will have a tough opponent against rising Rinderknecht. It's a tough match to predict and I'm sure it will be a hard-fought one. Maybe Popyrin due to the crowd?
Davidovich Fokina is a lot more solid as a player than Bolt, so I would pick him here.
Ruusuvuori vs Auger-Aliassime is an interesting first-round match. The young is dangerous, but it should not be enough to trouble Aliassime, who is fresh from an ATP Cup win.
Schwartzman vs Krajinovic will have plenty of long rallies and I think the Argentinian called Peque will win most of them and the match.
Hugo Gaston is also relatively short but has a big game. I think he will beat O'Connell.
Juan Manuel Cerundolo is another fighting Argentinian and I think he will go through against Machac.
Maxime Cressy had two great warm-up tournaments and reached his first final in Melbourne Summer Set where he lost to Nadal. There will be plenty of aces against Isner and I think he will come out victorious.
The French battle between Humbert and Gasquet should be heavily tilted to the younger generation. Humbert has a big game and it was a while since we saw Gasquet make a fuzz in a slam.
Botic van de Zandschulp can play some amazing tennis when he is on, but so can Struff. Their power ratings and rankings are about the same, so I expect a five-setter. I think Zandschulp is stronger mentally and will win in the end.
I assume Kyrgios can take care of Liam Broady in the first round unless he played way too much Call of Duty the night before. Kudos to Broady who got through qualifiers with a nice win over Saifullin in the last round.
Henri Laaksonen shouldn't be an issue for Medvedev.
The Women's Australian Open 2022
Check out the Women's Australian Open 2022 Draw here
I am not closely following women's tennis to comment on each match (but I do follow women's tennis as much as time allows). But the draw is much more open here than in the men's tournament.
Barty is my favorite, Osaka number 2. We should also keep our eyes on Swiatek, Muguruza, Halep, Anisimova, Badosa and Rybakina, who has all played well ahead of the tournament.
There are a few tough and exciting first-round matches in Badosa vs Tomljanovic, Kerber vs Kanepi, and Kenin vs Keys. Sounds more like quarter-finals than first round.
US Open winner Emma Raducanu has a tough first round draw against Sloane Stephens, and after her rough results in the preparation, I have difficulty seeing her win that one.
It will be interesting to see how other youngsters like Cori Gauff and Clara Tauson will perform on the big stage. Gauff looks like she is improving steadily and although she might not fight for the title this year – maybe next?
Best name award (both men's and women's tournaments) goes to Katie Volynets.
That's all for my Australian Open 2022 Draw Predictions. Excited for the event to start!
What are your predictions? Who wins? Any big upsets or unexpected success stories?