The first round of the Australian Open 2017 didn't have the upsets that perhaps the punters or journalists were looking for, but was still full of spectacular tennis. What about Dr Ivo Karlovic breaking the ace record (75!) in his five hour match against Zeballos! Or juniors Alexander Bublik or Frances Tiafoe showing their talent with impressive wins.
But this is now old news – now we prepare for round 2 and look at what the bookies at Bet365 think about the draw.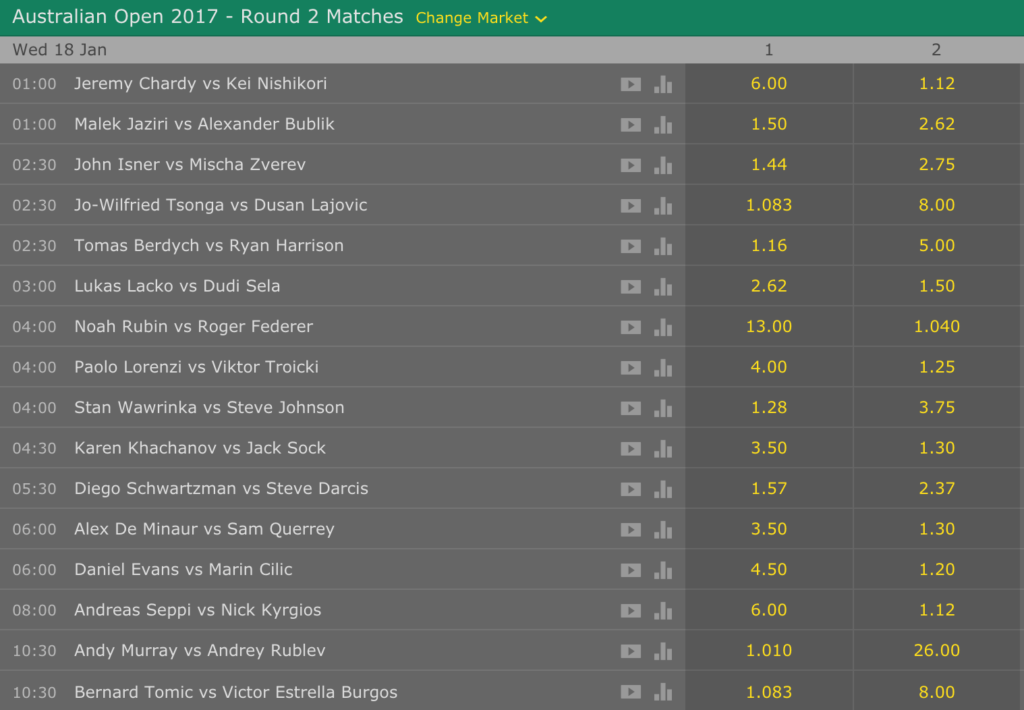 The first match on tomorrow is Chardy vs Nishikori. Nishikori got through a tough five-setter against Kuznetsov and is often plagued by some kind of injury (took an injury timeout in his previous tournament and the previous tournament, and the previous tournament. well joking a little bit, but only a little bit) and if Chardy, who has big strokes but also issues with quality control, doesn't self-destruct I think he has a chance to get the upset at 6 times your money. Nishikori is by right the favourite, but still good value on a Chardy bet.
Can 19-year-old Alexander Bublik take his Wilson Pro Staff 97
 and cause another upset after his win against Lucas Pouille in the first round? Malek Jaziri is a good draw for the youngster.
I have a feeling Isner will serve through Zverev and that Tsonga will overpower Lajovic. Berdych might have more issues with Harrisson who played a great first round match, but I think the maximum casualty for the Berdman is a set.
Lacko vs Sela? Is it a yawn? Sela is the bigger fighter and a good ball striker despite his height. I think he deserves to be the favorite here. Just for being short.
Federer is back and looked pretty good in the final two sets against the older brother Melzer. Young American Rubin hits a pretty big ball, but shouldn't be a threat to the Swiss maestro's majestic violin playing. Troicki is often underestimated as a player, but the guy has an all-round game and good power on both wings. If he can keep his head cool (he seldom can), he will win relatively easily against Lorenzi.
Wawrinka one the other hand was in, which I predicted, BIG trouble against Klizan. Steve Johnson is a great player who can challenge Stan the Man, but I think Stan the Fighter is still the favorite. Sock should beat dangerous youngster Khachanov, but can be a tougher match than people think. Schwartzman vs Darcis is almost impossible to predict. I'd go with Schwartzman for the same reason as Dudi Sela. He is short.
Alex de Minaur is only 17 years old and won his first match in five sets. Impressive! But I think his Australian Open ends against big serving Babolat Pure Aero
swinger Sam Querrey. Daniel Evans is a much improved player, reached the final in the Sydney ATP 250 and can play a nice game. Marin Cilic, on the other hand, came from two sets down in the match before and can look choppy at times. But in the end I think Cilic is too competent for the Brit.
Bad boy Nick Kyrgios was super-focused and devastatingly good in his first match, but Seppi is a tricky player with defensive trickeries up his sleeves (high up his sleeves). Kyrgios is the favorite, but things can go haywire mentally if he gets a rough start. Or really any start at all. A more open match than the odds tell you.
Murray won't have any troubles with youngster Rublev and I think homeboy and grumpboy Tomic will be too tough for baseline grinder Estrella Burgos and his Babolat Pure Drive.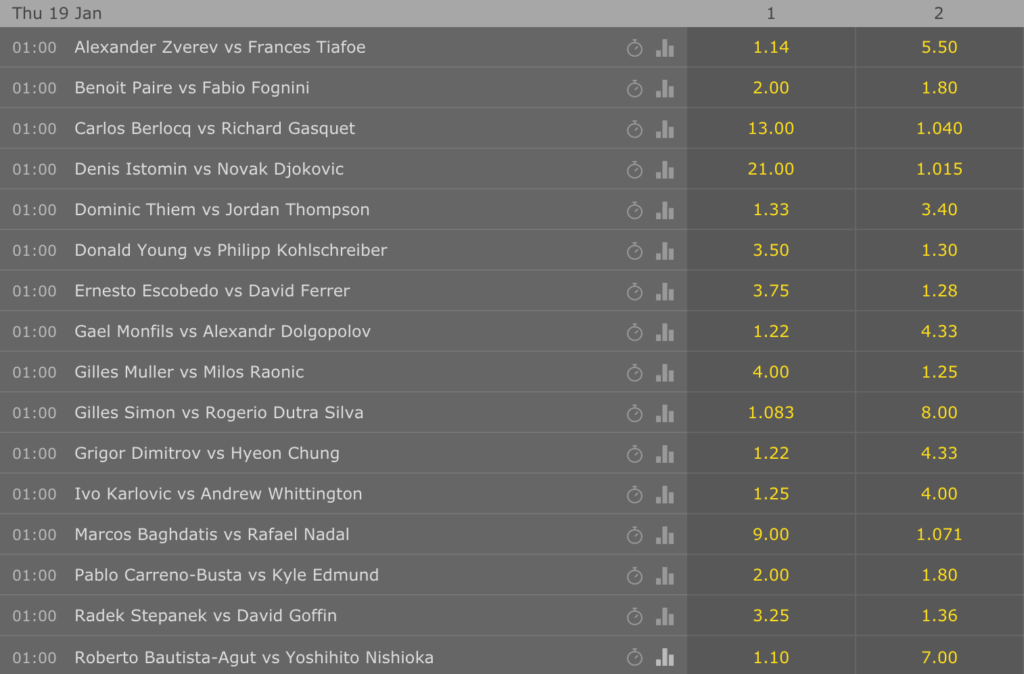 On Thursday we have a few really interesting matches. Zverev and Tiafoe is a great one to watch as these are two of the most promising players for the future. Then we have the brilliant battle of the two childish hot heads: Paire vs Fognini. Fognini looked really solid in the first round while Paire beat an injured Tommy Haas. Fab Foggy is the fave.
Berlocq vs Gasquet? Frenchman has looked good. Too good. Istomin vs Djokovic – no discussion. Thiem vs Thompson: interesting match. Lots of top spin and big shots from both players. Thiem is a more complete player however and should end up on the right end of the scoresheet. Another good one is Kohlschreiber vs Young. Young can play big, but so can Kohlschreiber. I just have a feeling Young will take this one.
Ball-bashing movie star name Ernesto Escobedo (wasn't he in Narcos
?) takes on the never-stopping David Ferrer in a match where Escobedo will feel the true power of the force. The Ferrer force.
Talking about movie stars. Monfils and Dolgopolov both want cameos in movies about witchcraft involving fuzzy yellow balls. We will see some fun rallies in this one for sure. But I can only see Monfils come out as the winner. The Dog often has a hard time to keep it together for five sets.
We won't see as much tennis ball sorcery in the Gilles Muller vs Milos Raonic serving contest. A true ace and potentially snooze… fest.
Simon vs Dutra Silva is not the match that sells a lot of popcorn, but Dimitrov vs young talent Chung can be a thriller. Dimitrov looks inspired again. They say it's all to do with arcade games. Good for him and I think it'll result in a W.
Karlovic's arm should really see a doctor after five hours of serving ace after ace after ace against Zeballos in round one. But Dr Ivo has his own cure. More tennis, more aces and more win.
Seeing Marcos Baghdatis vs Rafael Nadal in the draw sheet takes me back to a time when Federer didn't only rule the list of whose merchandise sells the most. Rafa's biceps look ready to burst and I'm sure he'll be too much for legendary racquet smasher Baghdatis in the end.
Kyle Edmund is another young talent and Carreno Busta Rhymes is more comfortable on clay. It will be a tough one, but probably another win for the English.
Old, nutty but inspirational Stepanek looks ready to break-a-neck on the tennis court. But boy band David Goffin will be too much for the 75-year-old Step (he is really 38, but the newspapers write about him like he came straight from the retirement home). Hey, stop with the age-bashing. We're like fine wine over here!
Bautista vs Nishioka is probably not the match you stay up for. Bautista will be too good.
Am I a nutcase? Do you disagree completely with everything of the above? Please write a comment.
Bet on the Australian Open with Bet365.