The forehand is usually our most reliable wing and where we finish most of our points. This is not always the case of course, but a general rule. For many players the backhand is a huge weakness, how can we overcome this?
Well, the obvious solution is to keep working on the backhand and that's the strategy I'm trying to work on personally. Since my backhand has always been fairly weak and my forehand my main weapon, I've resorted to slicing most backhands in competitive matches. This has always felt a bit like a concession and something that would never work on a higher level of tennis, but is that really accurate?
I started thinking about this when I watched Steve Johnson (swinging a Yonex VCORE SV 98
) beat a rusty Milos Raonic where he used the slice far more than he came over the ball with his double-handed backhand. Just look at the stats in the picture below where you can see that Johnson has sliced 76% of his shots. So if a successful ATP tour player like Steve Johnson can do this, why can't a recreational or lower-ranked player do it?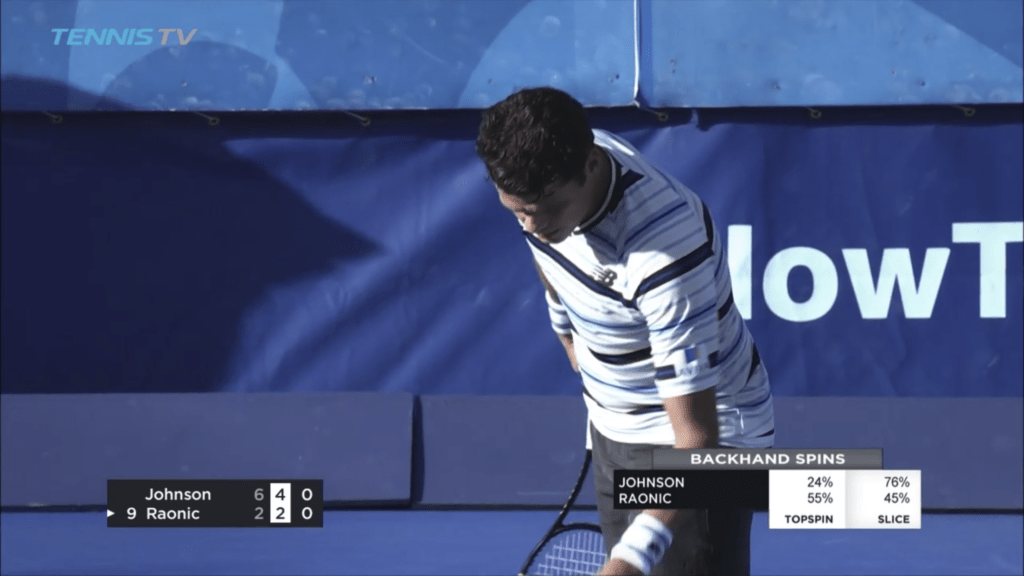 8Steve Johnson isn't the only player in history to use the slice for the majority of his backhand shots. Steffi Graf did it very successfully in the women's game, Feliciano Lopez does it really well on the ATP tour, Victor Estrella Burgos doesn't have much of a one-handed backhand but still wins tournaments! So it's definitely possible to be a good tennis player that mainly slices on the backhand wing.
Handling a player that slices his backhand effectively can also be challenging for your patience. You get heavy, low and low-paced balls that you need to "dig" up with your shot and if this is done consistently you can lose your patience and over-hit. There are players who most often just choose to slice back and there are players, like Rafael Nadal, who love to attack a slice and uses it as an opportunity to build momentum in a rally.
Not sure if you saw the match been Estrella Burgos and Nadal in the Australian Open in January, but it was obvious that Nadal's strategy was simply to keep attacking Burgos backhand, get a weaker slice back and then dominate the point. I was a bit surprised that Burgos didn't even try to come over the ball with a one-handed backhand drive, but it might have been physically difficult to for him since Estrella Burgos is short and Nadal's forehand jumps up to shoulder-height.
Rafa handles the slice well, but far from everyone does, which makes it an important shot to have in your arsenal. And I would argue it's far easier to learn an effective slice shot than to acquire a reliable drive backhand. Having both makes your game more multi-dimensional and the slice can be really effective as it can mask a drop shot and help you battle through defensive situations.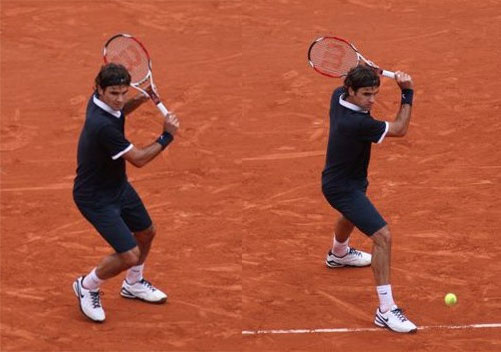 So don't feel bad if you're not confident on the backhand wing and resort a lot to the slice. After all, even professional players do this! Also, regarding the slice, when played correctly, it can be a solid weapon.
What do you think about players that tend to slice the majority of their shots on the backhand wing? Do you do this and why? Please comment below!
***
Do you like Tennisnerd? Don't miss a word or video by stalking us on social media. Every like and follow is appreciated!

YouTube
Instagram
Twitter
Facebook Page
Amazon Influencer
Buy tennis gear
EU
Racquet Depot
Pro Direct Tennis

USA
Tennis Express
Do It Tennis
Amazon.com
Racquet buying guides
Here is a great racquet buying guide to get you started.
What tennis racquet should I buy?
Top tennis racquets to buy right now
The Gear of the Year 2017
The Gear of the Year 2016
Tennis racquets for juniors
Tennis racquets for kids
Popular posts
What the ATP pros play
Questions about pro stock tennis racquets
Is a pro stock racquet better than a retail one?
Do professional players change racquets?
Racquet Commitment Issues