The French Open is in full swing, but many players are already preparing for the grass court season. The surface changes are challenging.
Preparing for the grass court season
The French Open is the pinnacle of the European clay court swing and many players who are out of the tournament quickly turn to preparing for the grass court season with tournaments like Queens, Halle, Stuttgart, Mallorca and culminating in Wimbledon. I asked Chat GPT how different it is to play on grass.
How playing on grass is different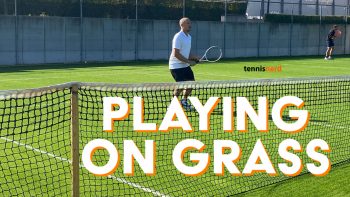 I wrote a post and made a video about the unique experience of playing on grass. Have you tried it? I have tried it several times at the Mercedes Cup (now called Boss Open) and the Mallorca Country Club courts. There are also some tips for playing tennis on grass courts.
The most notable characteristic of grass courts is their fast and low-bouncing nature. Grass provides the least amount of friction compared to other surfaces, which results in a faster pace of play. The ball skids and stays lower after bouncing, making it difficult for opponents to adjust their positioning and timing. As a result, grass courts tend to favor aggressive and attacking players who can take advantage of the speed and low bounce to finish points quickly. This style of play often results in shorter rallies and more serve-and-volley tactics, where players rush to the net after a serve to pressure their opponents.
The unpredictable nature of grass courts adds another layer of excitement to the game. Due to the unevenness and occasional divots on the surface, the ball can bounce erratically, making it challenging to predict its trajectory accurately. This factor can disrupt a player's rhythm and force them to make quick adjustments on the fly. It requires players to have exceptional footwork and reflexes to handle the variations in ball bounce effectively.
Furthermore, grass courts demand a specific skill set from players. The surface rewards players with a well-developed serve, as the faster courts amplify the power of a strong serve. Players with big serves often find it easier to hold their service games, putting additional pressure on their opponents. Additionally, volleying skills become crucial on grass as players have less time to react to shots and must be comfortable at the net to finish points efficiently.
Maintaining a grass court is no piece of cake!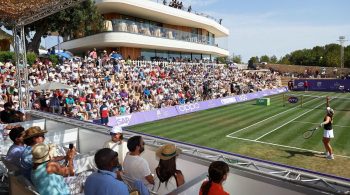 Maintaining the grass court surface is a meticulous task. Unlike clay or hard courts, grass courts need constant care and attention. The grass needs to be cut short to maintain its fast nature, and regular watering and rolling are required to keep the surface intact. During tournaments, the courts are meticulously manicured and mowed daily to ensure a consistent playing surface.
Another significant aspect of grass court tennis is the tradition and history associated with it. Wimbledon, the oldest tennis tournament in the world, is played on grass courts, and the surface has become synonymous with the event itself. The prestige and allure of Wimbledon have elevated grass court tennis to a unique status, and winning on this surface holds a special place in a player's career.
Grass court tournaments 2023
These are some of the recurring grass court tournaments:
Wimbledon – London, United Kingdom: The most prestigious grass court tournament and one of the four Grand Slam events. It is held annually in late June to early July.
Queen's Club Championships – London, United Kingdom: A popular grass court tournament that serves as a warm-up event for Wimbledon. It is usually held in June.
Halle Open – Halle, Germany: An ATP Tour 500 event held in June, known for attracting top players as a preparation for Wimbledon.
Eastbourne International – Eastbourne, United Kingdom: A combined ATP/WTA tournament that takes place in June, offering players a chance to fine-tune their grass court game before Wimbledon.
Birmingham Classic – Birmingham, United Kingdom: A WTA Premier-level tournament held in June, traditionally played on grass courts as a lead-up to Wimbledon.
Nottingham Open – Nottingham, United Kingdom: A combined ATP/WTA tournament held in June, providing players with valuable grass court match practice ahead of Wimbledon.
Rosmalen Grass Court Championships – 's-Hertogenbosch, Netherlands: An ATP Tour 250 event held in June, featuring both men's and women's competitions.
Mallorca Championships – Mallorca, Spain: An ATP Tour 250 event held in June, introduced in 2021 as a grass court tournament.
Hall of Fame Open – Newport, United States: An ATP Tour 250 event held in July, played on grass courts at the International Tennis Hall of Fame in Rhode Island.
And this is how the ATP schedule looks from June to July 2023. This year, I will most likely visit the Boss Open and the Mallorca Championships.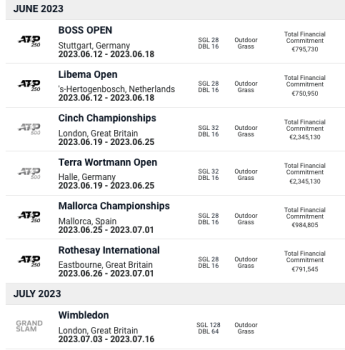 Summary
In conclusion, grass court tennis stands apart from other surfaces due to its fast pace, low bounce, unpredictability, and unique demands on players' skills. It provides a captivating and thrilling style of play that rewards aggressive and attacking tennis. With its rich history and tradition, grass court tennis continues to captivate players and fans, making it a cherished and remarkable aspect of the sport.
Do you like watching grass court tennis or do you find the surface too quick to create exciting rallies? Please comment below.