Some players put a lot of thinking into their choice of tennis bag and some just use "whatever". Here are some of the best tennis bags on the market.
I tend to have an issue with terms like "the best tennis bags", as most of these things (like the best tennis racquets for example) are depending on your personal taste and preferences. Some players want a small, light bag and some (like me), bring lots of stuff to the court and therefore need a so-called monster bag.
Let's first look at the different types of bags you can choose from and some excellent examples.
Types of tennis bags
The most common tennis bag is one that looks something like this:
This is the new Wilson Clash 9-racquet bag that works really well with the new Clash V2 line of racquets. Most tennis bags look something like this, but are available in 3, 6, 9, 12 and 15 racquet sizes. I use different bags for different purposes, but my "daily driver" is the HEAD Tour Team 15 bag, just so I can bring as many racquets as possible to my testing sessions.
Most regular racquet bags are full of logos, kind of like this:
If you use the Pure Drive, this might even be a plus and make you feel like a pro player (at least when you walk out on the court 🙂 ), but for some players the branding can be annoying.
This is perhaps a reason we're seeing more and more blacked-out tennis bags at the moment like this Solinco one (their latest racquet is called Blackout, so there is a reason beyond that).
There are several new blacked-out bags besides Solinco's, such as the Dunlop Team Thermo (I like Dunlop bags and have used their SX bag in the past), the Wilson Super Tour, or the Prince Tour Evo to name a few. You just have to ask yourself how important it is to have the right bag to match the racquets or if you want the most discreet bag possibly. There are so many different options on the market today, so you should be able to find something you like. We will look at some innovative tennis bags, rackpacks, duffle bags and tennis backpacks below.
If you have an issue with large logos and don't want to carry one specific tennis brand, there are a few different options.
Cancha Bags
The Cancha bag (click to check out the bag on their website) is a really versatile bag that stands out from the crowd with its minimal branding and modular approach where you can attach smaller bags using Molle clips. Check out my podcast with the Cancha founder, Jack Oswald, here.
Geau Sport Bags
Geau Sport is another brand that creates a different type of tennis bag. I review their bag here. This bag is standing up and has an shelving system which can organize your bag better. I use their backpack as carry-on luggage when I fly and their racquet bag is pretty cool too, but I simply need a bigger bag for my tennis racquet testing adventures. You can check out their official website here or buy their Axiom racquet bag from Tennis Warehouse here.
ADV Jetpack Pro and Backpack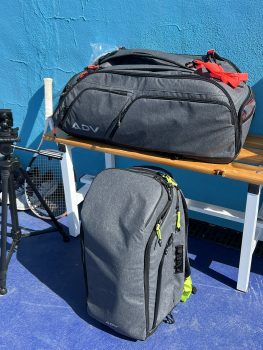 The ADV Jetpack bags are excellent bags with loads of compartments and features. You can check out the ADV Jetpack Pro racquet bag and the ADV Jetpack Backpack reviews to find out more about these excellent bags.
Right now they offer them at a discounted price on Kickstarter.
You can find the bag on their official site and use code: TENNISNERD10 for 10% off.
Rackpack and duffle bags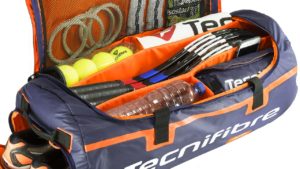 One type of bag for players who want more of a "treasure chest" solution with a good overview of the bag's contents, can check out the so-called rackpack bags.
I think Tecnifibre was first and I actually used to use their excellent RS Endurance Rackpack XL Bag, which has this extra strong water resistant material called Tarpaulin.
HEAD did their take on the rackpack and simply called it a duffle bag. I had the first generation of the Gravity duffle and that was pretty good, but the new Gravity Duffle looks stronger and better.
Tennis backpacks
If you're not going to carry a lot of stuff to the court, a tennis backpack is usually enough for two racquets, balls, shoes and some water.
Tecnifibre has a new solution out with more space called Tecnifibre Team Dry Stand bag. It looks really cool, but I haven't tried that one myself.
My tennis-obsessed stepfather uses the Wilson Super Tour Backpack for his Wilson Blade 98 racquets and he loves that bag. Seems sturdy/solid and with loads of space.
But as I wrote above, my personal favorite of the tennis backpacks on offer is the Geau backpack. It's expensive but ultra durable and I can carry loads of stuff in it when I travel.
Summary
These are some of the best tennis bags at the moment and my personal favorites. Depending on your style, racquets, usage and preference, I'm sure you will find something that suits you. I know plenty of Federer fans like the RF DNA Infrared bag for example and Rafa lovers will surely want to carry the latest Mallorca style Pure Aero bag.
How important is the tennis bag to you? Do you want it to match your racquets, do you care more about style or is durability the most important factor? Let me know in the comments below.