The heavy Origin will be the racquet that gets the most attention. But this Babolat Pure Aero Rafa Review probably has the widest appeal.
Babolat Pure Aero Rafa Review
This 290-gram racquet comes with the same balance as the Origin but with close to 30 grams less in weight. The swing weight is still relatively high, being in the 320s, which makes the stability okay.
However, lack of weight is still felt at times during the swing. The racquet feels a bit too light. This is easily fixed by adding weight to the handle or changing the base grip to a leather grip.
Let's have a look at the specifications
Specifications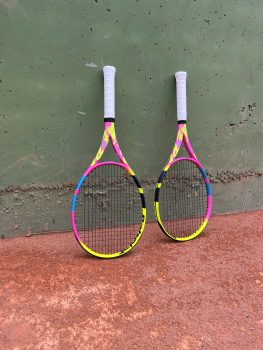 Head Size: 100 in / 645.16 cm
Length: 27in / 68.58cm
Strung Weight: 10.7oz / 303g
Balance: 13.38in / 33.99cm / 1 pts HL
Swingweight: 323
Stiffness: 69
Beam Width: 23mm / 26mm / 23mm
Composition: Graphite
Power Level: Low-Medium
Stroke Style: Medium-Full
Swing Speed: Medium-Fast
Racquet Colors: Pink/Yellow/Black
Grip Type: Babolat Syntec Pro
String Pattern: 16 Mains / 19 Crosses
Mains skip: 7T,9T,7H,9H (Two Pieces, No Shared Holes)
String Tension: 50-59 pounds
There is nothing really that stands out here. The swing weight is higher than you'd expect since the most of the mass is in the head.
There is no dampening tech like Cortex Pure Feel, as far as I understand, in the new Pure Aero Rafas, which makes the feel less dampened but not at all uncomfortable, even with RPM Blast 1.25 at 25 kg or 55 lbs.
Design
The candy floss style design is a deal breaker for some and a winner for others. Keen to hear your thoughts in the comments.
Playability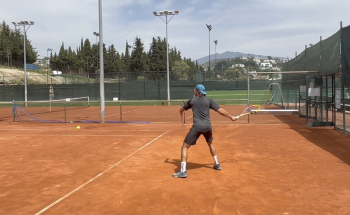 This racquet has the same string pattern and very similar mold to the 2019 Pure Aero. So if you were a fan of that racquet, you would like this one. What this means is a higher launch angle. This is not my personal cup of tee and pretty much all the play-testers preferred the Origin.
On the plus side, it was easy to use and maneuver. On the downside, I struggled to control the ball. If you are a player who naturally hits with a lot of spin, you might not struggle, but if you like to hit a bit flatter, it might be a struggle.
The best part of the racquet was serves. It was easy to swing fast, and you could generate lots of power.
Groundstrokes provided lots of spin, but a bit too much for my taste. I like the string pattern on the Origin and Aero 2023 much more.
Volleys were good. It was easier to maneuver than the Origin and maintained a good stability thanks to the weight in th e head.
Slice was a bit floaty as I would have liked more overall mass and a denser pattern.
The touch shots were good as there is not much dampening going on and you can maneuver the racquet fast.
Summary
Overall, not a bad racquet, but it does not have the wow-factor of the Rafa Origin. There will be some confusion now with all these Pure Aeros. If you like control but in an Aero format, go for the 2023 version or the 98. For more spin potential and ease of use, go for the Pure Aero Rafa. And if you are Rafa Nadal, go for the Origin.
You can check out the Babolat Pure Aero Rafa racquets from my friends at Tennis Warehouse, Tennis Warehouse Europe and Tennis Only.
If you want help with what racquet might work for your game, check out our products in the Tennisnerd store.
That is all for now, have a nice day and don't forget to play some tennis.