Do you want to play with Rafael Nadal's racquet specs? Well, now you can. Here is my Babolat Pure Aero Rafa Origin review.
Babolat Pure Aero Rafa Origin Review
When I saw the specifications of the Rafa Origin racquet, I was taken aback. Did Babolat expect club players to try to swing a 370-swing-weight strung racquet? Was the demand to play with actual pro-player racquet specs that high? I always asked the companies to be honest about what the pro players use, but I didn't expect anyone to want to play with them. Because they are pros and most of us are not.
Wilson started the trend with the Pro Staff RF97 Autograph, which turned out to be a huge bestseller for them, so maybe the Rafa Origin is not a bad idea from a sales point of view. However, I would urge anyone consider to buy and play with this racquet to be a bit cautious. Such a high stiffness and swing weight can lead to arm issues like tennis elbow. The pure heft of the racquet will make it difficult to swing and time the ball for many players. That does not mean it can be a fun hit once in a while or something Rafa fans hang on the wall.
You can watch the video version of my Babolat Pure Aero Rafa Origin review here.
Specifications
Head Size: 100 in / 645.16 cm
Length: 27in / 68.58cm
Strung Weight:11.9oz / 337g
Balance: 13.38in / 33.99cm / 1 pts HL
Swingweight: 371
Stiffness: 70
Beam Width: 23mm / 26mm / 23mm
Composition: Graphite
Power Level: Low-Medium
Stroke Style: Medium-Full
Swing Speed: Medium-Fast
Racquet Colors: Pink/Yellow/Black
Grip Type: Babolat Syntec Pro
String Pattern:
16 Mains / 19 Crosses
Mains skip: 8T,8H
Two Pieces
No Shared Holes
String Tension: 50-59 pounds
The specs are heavy, but the racquet doesn't quite swing as heavily on the court. But it does pack massive power and forced me to go for a Rafa-style string setup.
These specs are from Tennis Warehouse but were pretty much spot on with the ones I got in my test racquet. The potential issue is if one racquet comes in over spec.
So how does this racquet play?
Playability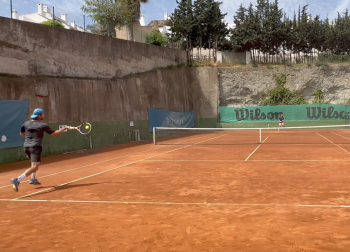 Babolat has taken a page out of the Wilson RF97 Autograph playbook. However, I am not sure this is the exact same mold and layup that Rafa uses. The string pattern is the new Babolat Pure Aero 2023 one, while the lighter one uses the Pure Aero 2019, a more open string pattern.
If you have seen my review of the latest Pure Aero, I think it's great. Well-dampened and more controlled than previous Aeros. This is also the case with the Pure Aero Rafa Origin.
It is a well-dampened, ultra-solid, relatively controlled, simply a tank of a racquet. You can't afford to be late on your footwork and preparation, but when you connect with the ball properly, it is a thing of absolute beauty.
However, and there is always a however…if you are a bit sloppy with the footwork and preparation, you will be punished. Potentially with wrist and arm issues since it is such a heavy racquet to swing.
I found it worked quite well on flatter shots but was more demanding to swing fast for topspin. But I am no Rafa, of course.
Stroke by Stroke
SERVE
As I noticed in my video where Andre Meinertz and I test Babolat racquets, this is tough to serve with.
However, I did play some points and sets, and I wouldn't say it gives me a much worse serve than other racquets. A guy who smacks the ball with a quick motion will find it sluggish. This is also true for overheads.
GROUNDSTROKES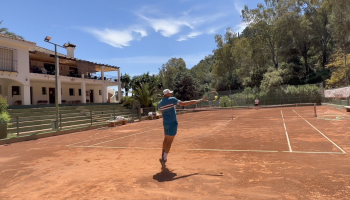 From the back of the court, this racquet delivers heft and plow through as long as you move your feet fast enough.
The ball is noticeably heavy when you receive it, so if you like heavy racquets, I think you will enjoy it.
I think it will be too heavy for players who like to generate lots of racquet head speed, though.
VOLLEYS
Solid, a bit slow, but the dense string pattern does the job. I prefer volleying with the regular Pure Aero, but this is not bad. You can always choke a bit on the handle to make it more maneuverable.
SLICE
This racquet is a hammer and can send slice shots down the other side like a knife through butter. Excellent racquet if you like the carve at the ball.
TOUCH
The feel is good on impact, but it is relatively heavy for quick adjustments Alcaraz-style. Here I think the lighter weight of the regular Pure Aero is better.
Summary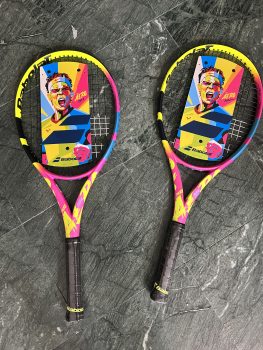 So what to say about this beast of a racquet? As you can tell in my preview video, I was highly skeptical about this stick. But it performed very well when strung up with RPM Blast 1.25 gauge at 57 lbs or 26 kg. Out of all the test racquets I have been carrying around lately, I kept returning to this one. The plow through and weight of shot are quite addictive.
There could, of course be a Rafa effect to the appeal of this racquet, but the racquet performs better than expected. What I don't expect, however, is for players to make the switch to this racquet. That I don't see happening, it is too much of a racquet in the long run.
But whether you are a Rafa fan who want to hang this on the wall, or a racquet nerd who would love to take it out for a hit once in a while, I think this racquet delivers. For players, who want a racquet to use in matches, this is a little out of reach and the regular Babolat Pure Aero is a better choice.
Overall, Babolat surprised me with this one in many ways. This will come along in my bag occasionally for that extra little bit of Vamos.
That's all for now, I hope you enjoyed the review, have a nice day and don't forget to play some tennis.