Do you want to play with Rafa Nadal's actual specifications? Then you should check out the Babolat Pure Aero Rafa Origin.
Babolat Pure Aero Rafa Origin
The Babolat Pure Aero Rafa Origin is the heavier version of the new Aero Rafa line. There will also be a junior version and a 290 gram racquet, which will suit most players better than the 375-strung swing weight (!) of the Pure Aero Rafa Origin. But kudos to Babolat for releasing actual pro-player racquet specs. It's rare in the tennis world, but Wilson kind of started the trend with the Pro Staff RF97 Autograph and I hope that HEAD responds with an autograph version of Novak Djokovic's actual racquet.
If you want to hear my opinions about the specifications of this racquet and more, check out my YouTube video about the Pure Aero Rafa Origin racquet.
The Babolat Pure Aero Rafa Origin has the following unstrung specifications: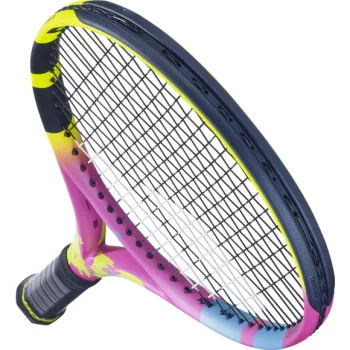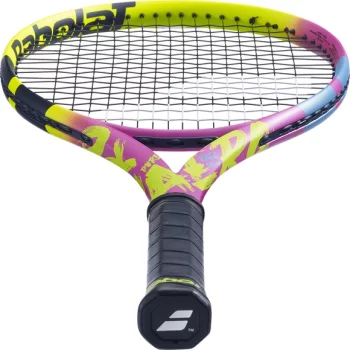 Weight: 317g
Balance: 33 cm (4 pts HL)
Stiffness: 73 RA
String pattern: 16×19
Swing weight: 338
But there is also the regular Babolat Pure Aero Rafa
Weight: 290g
Balance: 33 cm (4 pts HL)
Stiffness: 73 RA
Swing weight: ? (I am guessing 285-290)
Will we see Rafa with this racquet?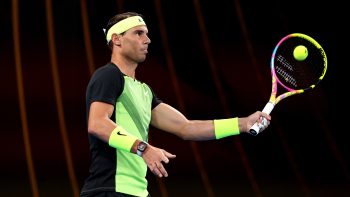 Rafa already used the racquet towards the end of 2022, but for the Australian Open 2023, he returned to the old cosmetic. It's difficult to know exactly why, but I would guess superstition since he did approve the cosmetic of this frame before they went ahead with production.
Sometimes the paint can affect how a racquet plays or at least how it affects a player's vision, which is a difficult bridge to overcome. Novak doesn't enjoy predominantly white racquets and Federer did not play with the Tuxedo version of his Pro Staff for a long time.
But with the campaign work and money going into the new Pure Aero Rafa racquets, I am sure we will see Rafa play his next tournament with the new cosmetic.
What do you think about the vibrant design and the chunky specifications?