Is Alcaraz playing with the Babolat Pure Aero 98 or the Pure Aero VS? Some close-ups seem to reveal that he has switched to the latest model.
Alcaraz Playing with the Babolat Pure Aero 98
Carlos Alcaraz has just won his tenth title, breaking the record for the youngest player ever to achieve this remarkable feat. He did so, defeating Struff in the Madrid Masters final. It's difficult to see a limit to the potential of the young Spaniard, he keeps surprising us over and over again.
Fellow tennis nerd, Robert Yeh, has noticed the following:
I noticed in the pics that Babolat posted on Instagram a few days ago about Alcaraz's racquet that he seems to have switched from PAVS to PA98 – the spin grommets at 12 & 6 of his racquet have gone from the flat-shaped ones at US Open last year to the more traditional-shaped ones. 
I also looked up photos of Rune's racquet out of curiosity from his matches at both Paris Masters last year and Madrid Open last week, and he seems to have switched as well.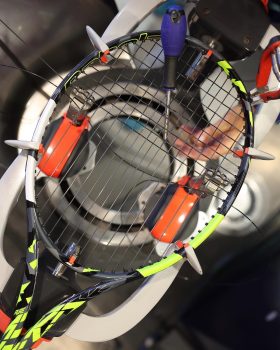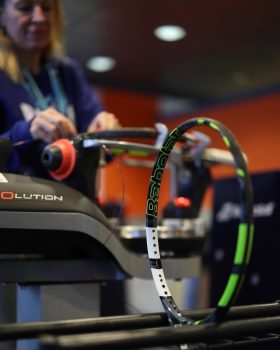 Thanks, Robert for the email. It does seem that the players have changed to the latest model. If you are curious about the racquet, check out my Babolat Pure Aero 98 review.
As I talked about in my post about Alcaraz racquet, he is allegedly playing it close to stock form without adding weight to it. The racquets are all matched, but the swing weight for a player of his level is rather low at 293 unstrung. Add about 30 pts and you have something like 325 SW strung. Compare this to Rafa's swing weight (for example, the new Rafa Origin racquet)  at 370 and you have a stark contrast. But Alcaraz swings the racquet so fast and explosively that a lighter swing weight makes a lot of sense. He wouldn't be able to swing Rafa's racquet like that.
Have you tried the Babolat Pure Aero 98? You can check out the specs and more at Tennis Warehouse, Tennis Warehouse Europe and Tennis Only (Australia).