It took me a while to get used to the extended length, but once I did, they played great. Here is my Angell K7 Cyan XL and Lime XL Review.
I have been thinking about whether I should make the move to an extended racquet for my match play. Why? I am 5'9′ or 175 cm and in tennis it generally helps to be tall. Just look at the height range of the top ten in the last ten years. Federer and Rafa at 185 cm or 6'0′ are pretty much at the shorter end of players in the top. Djokovic is 6'1′ or 188 cm, Thiem is also 185 cm and Medvedev and Zverev are 198 cm or 6'5′. I am not comparing myself or the level us tennis mortals play at to these players, but it's quite obvious that it helps to be tall in tennis. To get some more leverage on serve and a bit more free power, shorter players often use so called XL racquets, either 27.5 or 28 inches. Diego Schwartzman is the famous example, but there are many others. That's why I was curious about this Angell K7 Cyan XL and Lime XL review.
Angell make high-quality racquets across the board and offer great quality control. The feel is generally arm-friendly, but some players can find it a bit muted for their liking. I was a big fan of the K7 Red and K7 Lime when they were released. They were great for the arm, offered good feel and enough power for my game. They are both 98 sq inch racquets, so it seems only logical that Angell now releases a 100 sq inch version in the Angell K7 Cyan.
Spec check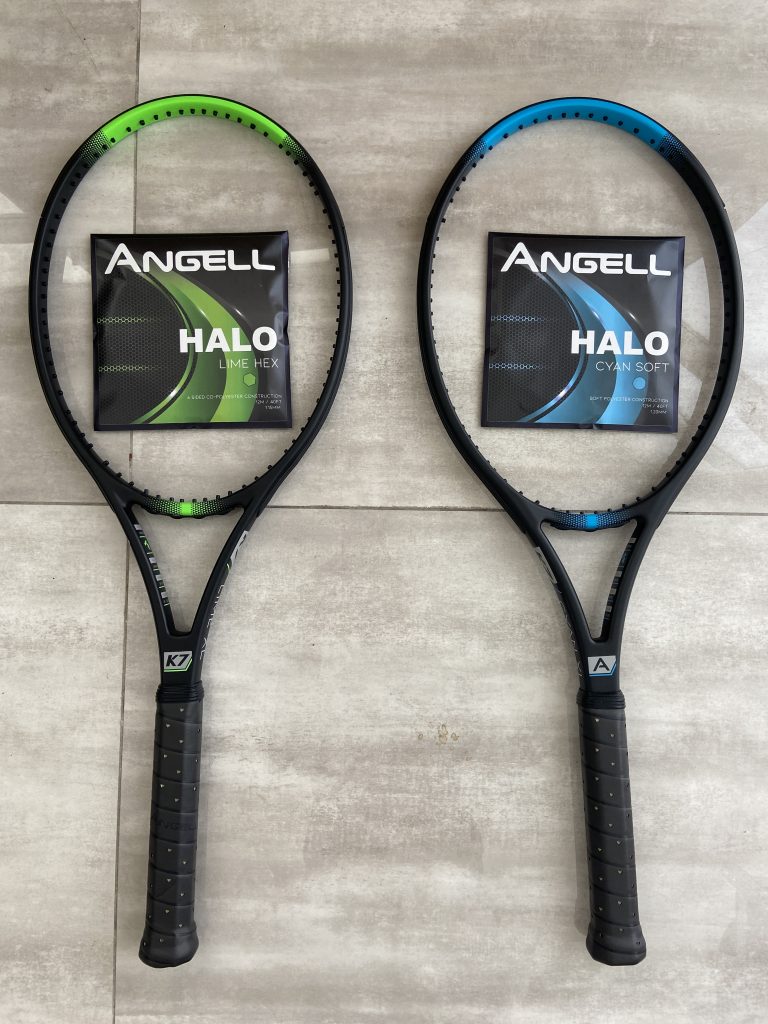 What separates the K7 series from other Angell racquets is the aramid in the layup, giving the racquets a comfortable and slightly dampened feel. If you suffer from any arm issues, I can definitely recommend to give them a try. If you're interested in other racquets from Angell, like for example their custom program, you can find a few links at the bottom of this post.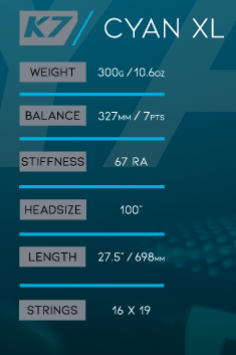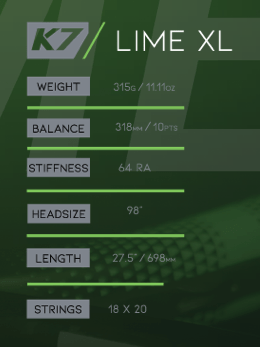 Above are the unstrung listed specs. Angell sent me two pre-production photoshoot samples for the review since he knows I like heavy specs so my unstrung specs were:
Angell K7 Cyan XL: 306g, 32.2 cm and 304 SW
Angell K7 Lime XL: 322.4g, 31.8 cm, 318.5 SW
I strung the K7 Cyan with Toroline Caviar 1.24 gauge at 53 lbs and K7 Lime with Solinco Hyper-G Soft 1.20 at 52 lbs, added an overgrip and got the following strung specs.
Angell K7 Cyan XL: 329.2g, 32.9 cm and 339 SW
Angell K7 Lime XL: 343.1g, 32.5 cm, 352 SW
The swing weights look high, but remember that these are pre-production racquets – usually Angell frames are pretty much spot on spec.
How do they play?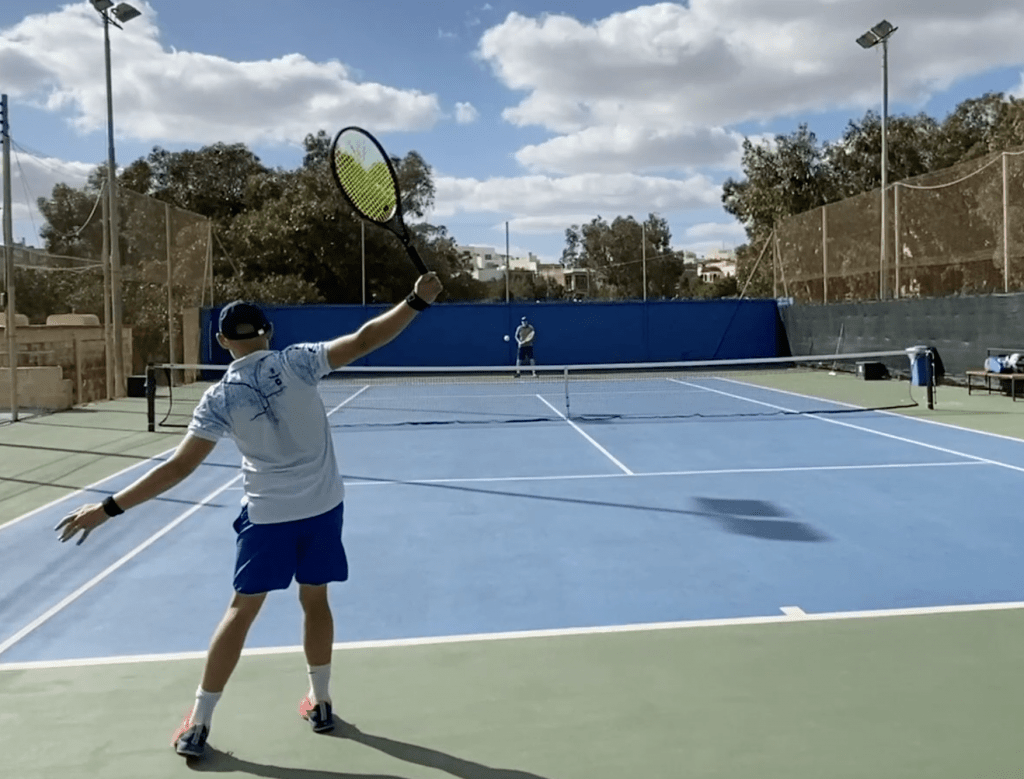 Angell K7 Lime XL
The Angell K7 Lime I know well, it's a racquet I like so much it could easily be my racquet of choice. It competes well with frames like HEAD Prestige MP or the Wilson Blade 98. What it doesn't give you in stock form is a lot of free power, so I did end up adding weight to it when I reviewed it. With the extended length, there is no need for added mass. The racquet plays stable with great plow-through and is surprisingly fast through the air for the massive swing weight. I found this racquet gave me some free power on both serve and groundstrokes and it was a truly enjoyable play-test.
The Angell K7 Lime XL is definitely an interesting choice for players who want a control-oriented racquet with a nice and beefy swing weight (I would guess the normal spec would be around 340 SW strung, which is typical for XL racquets). It's a racquet I could switch to for sure and I have noticed it to help my serve and groundstroke depth in match play. It's also excellent for blocking back a volley into the open corner.
Angell K7 Cyan XL
It took me a while to get used to the Cyan XL. I first tried it with a softer and more powerful string (Halo Cyan), but the power was a bit overwhelming. Then I re-strung with Toroline Caviar 1.24, but it still took a little while before I found the right depth and rhythm. Angell 16×19 pattern racquets are fairly open, so that coupled with the 100 sq inch head and slightly stiffer layup (67 RA unstrung) made it a bit difficult to control for me at first. But after an hour with the new string setup, something clicked and I found great depth and pop on my shots without overhitting.
Suddenly, this racquet became my favorite of the two thanks to the extra spin potential and "free" height over net. The K7 Lime requires excellent footwork at all times, but with the Cyan, I got a bit more help from the frame. And the power also came in handy against bigger hitters.
The K7 Lime XL suits flatter hitters looking for control (and an opportunity to get to the net) better, while the Cyan XL suits players who want to dictate from the baseline with easier depth and spin.
Pros and Cons and Bullet Points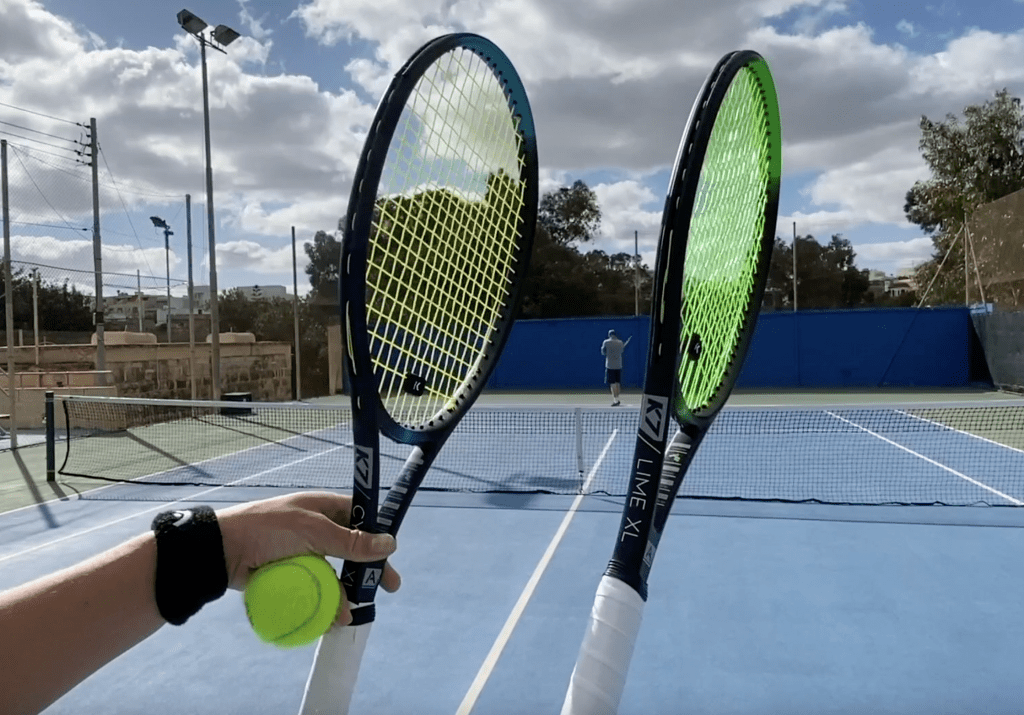 Playing with an extended racquets has some obvious pros and cons.
K7 Lime XL

Excellent control
Swings faster than the swing weight suggests
Low trajectory over the net
Lower-powered than its brother Cyan
Not for players looking for a "whippy" feel
Great if you want to PLOW the ball
K7 Cyan XL
Works best for top spin players
If you want a bit more depth and height over net "for free"
Easier to swing than the K7 Lime
Can be harder to control than the Lime
Higher launch angle
Both racquets play with excellent comfort thanks to the aramid in the layup.
Summary
Playing with extended racquets is not for everyone, but I think everyone should try it at least once. I found the experience with the Angell K7 XL racquets to require some time to adapt, but once you got there, you got a lot of positives. I especially noticed the extra power on serve (which I need and want) without compromising comfort. I also liked the free depth that the higher swing weight of these longer racquets provide. Still, they can be tricky to maneuver and most players will likely feel more at home with the standard length versions.
I was a bit frustrated playing with the Cyan XL at first. I couldn't really control the ball the way I wanted to. But once I got dialled in, it became my favorite racquet of the two and was the frame that I could create the most "havoc" on the court with. It's quite a weapon for aggressive baseliners and thanks to the healthy swing weight you don't need to swing like a maniac to get good depth. It helped me push my opponents back and put me in charge of the points.
In short: two excellent frames if you're into XL racquets. The K7 series continue to be my favorite Angell racquets. Great comfort, feel and control. If you want maximum feedback, it might not be the racquets for you as they are fairly dampened (but not overly so, in my opinion).
If you want to purchase an Angell racquet you can do it through my link and a small commission goes to Tennisnerd.