There is a lot of talk around the new Babolat Pure Strike and the timing is perfect as its ambassador, Dominic Thiem, is playing the quarter-finals at Roland Garros today. As a part of the launch campaign, Forbes wrote an article about Dominic Thiem's Babolat Pure Strike.
Dominic Thiem is close to the perfect ambassador for the Pure Strike line, but he has been using the old Red/Black version in 18×20 string pattern before. At the time of the launch of the new model, the question is…what is really Dominic Thiem's Babolat Pure Strike? Is it the new one or the old one? Spoiler alert: I can't really answer that question right now. What is clear is that he is still using a 98 sq inch racquet with an 18×20 string pattern.
There has been lots of speculation on the tennis forums about whether he is using the new or the old model. Before he used a paint job of the older version, although most people don't know this. Tim Newcomb writes for Forbes: "French-based Babolat, already with Rafael Nadal leading its Pure Aero line and Karolina Pliskova on its Pure Drive franchise, launched Thiem into Pure Strike franchise years ago and he switched to the most updated version in 2017." Is that really true? How do we know? Should we care? After all, no matter what Thiem actually uses, most of us are happier with the updated 2017 version over the Pure Strike Original from 2014. The improvement was arguably quite evident and let us hope that the 2019 version is another step in the right direction.
Dominic Thiem's Babolat Pure Strike – A part of the process  
This is what Dominic Thiem had to say about the new Babolat Pure Strike:
"When I took the Pure Strike in my hands, it was already five years ago now, it was really an amazing feeling from the first moment on," says the Austrian tennis star, now ranked as the world's No. 4. "(The new Pure Strike) feels very stable in my hands, very good control, but still a lot of power, so it's perfect."
The article in Forbes goes on to write: "During testing, Babolat says 71 percent of users reported better feel at impact compared to the previous Strike and 78 percent reported more control." That sounds like good news for Pure Strike lovers. What are the new technologies on offer in the new Pure Strike? It comes with C2 Pure Feel technology which is supposed to filter out vibration and create stability and control throughout the racket. If they succeed to create a more comfortable Pure Strike, I would definitely be positive about it, since my only real issue with the Pure Strike 2017
(Amazon link) was that the stiffness got to my (arguably sensitive) wrist in the end.
Thiem is definitely a Pure Strike fan too:
"I would say it was love at first sight," Thiem says. While first testing a prototype while practicing in Spain, Thiem says he loved it "straight away" on the court. "Everything was working," he says, "that's very important that all the strokes are working and then also I don't lose any feeling on the volleys or the slices."
Dominic Thiem's Babolat Pure Strike – Design and release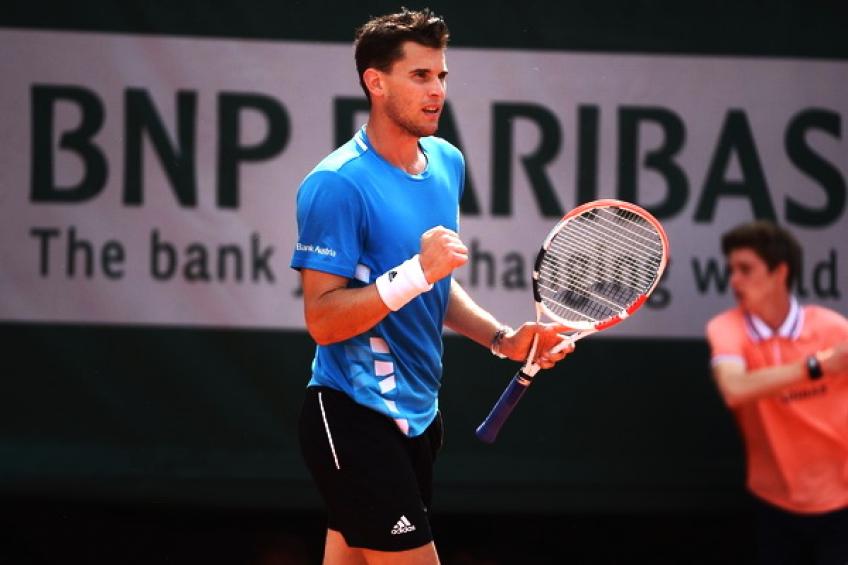 Dominic Thiem not only play-tested the protoypes of the new Pure Strike, but he also gave input on the aesthetics. The design is still white and red, but Babolat has gone for a less clean and more urban design with a red bumper to bump up the "Strike" element. This racquet remains a control racquet for aggressive players. The response among tennis nerds seem to have been a bit mixed so far, but most racquets look better up close and few have held the racquets in their hands at this time.
The new Pure Strike will be released in August. I will be testing the new Pure Strike 100 shortly and hope to be able to give you my impressions about this much-anticipated new racquet in a couple of weeks. From the previous edition of the Strike, I preferred the 98 over the 100 sq inch racquet, but we will see how this one plays and I hope to be able to review both at a later date. I will also update this post if I manage to find out whether this is Dominic Thiem's Babolat Pure Strike or not.
Are you excited about the new Pure Strike? What are your hopes about this new edition and do you prefer the 98 or 100 sq inch versions?
***
Do you like Tennisnerd? Please also follow and share our other channels. Every like, share and follow is deeply appreciated! You can now also become a Tennisnerd patron and receive unique content and reviews before everyone else!

Patreon – Support and get VIP content
YouTube – In-depth video reviews and vlog
Instagram – Racquets, racquets, racquets
Twitter
Facebook Page – New content daily
Facebook Group – Join the discussion with other tennis nerds
Amazon Influencer
About tennis racquets
All racquet reviews
Here is a great racquet buying guide to get you started.
What tennis racquet should I buy?
Top tennis racquets to buy right now
The Gear of the Year 2018
The Gear of the Year 2017
The Gear of the Year 2016
Tennis racquets for juniors
Tennis racquets for kids