The Dunlop SX racquets 2022 are revealed. I hope to get my hands on a couple of these frames for a Dunlop SX 2022 review in a near future.
The Dunlop SX racquets 2022 include the same models as the previous generation of spin racquets from Dunlop, but with a few seemingly significant changes. For example, the Dunlop SX 300 Tour is now 98 sq inches instead of 100 sq inches, aiming to compete with popular racquet models like the Babolat Pure Aero VS and HEAD Extreme Tour.
Let's have a look at the new Dunlop SX line, its tech, models and specs.
Dunlop SX 2022 Tech
Spin Boost+ Grommets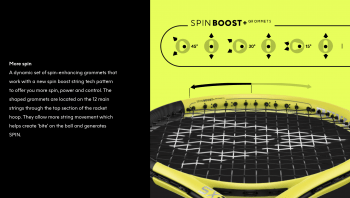 The so-called spin grommets are nothing new and also used by other brands. These are main string grommets designed to improve the movement of the strings and increase spin.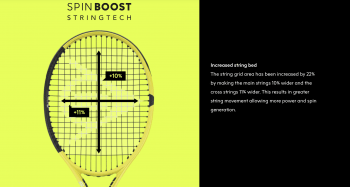 Spin Boost Stringtech
The string grid area is increased by 22% by making the main strings 10% wider and the cross strings 11% wider. This will increase string movement for more spin, but how will it affect the previously controlled launch angle?
V-Energy Shaft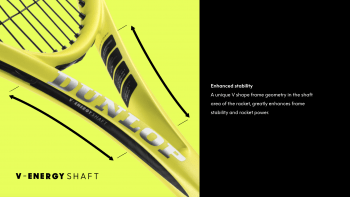 The idea with most spin racquets shaft design is to improve aerodynamic properties. Dunlop claims that their V-shape frame geometry in the shaft area of the racquet "greatly enhances frame stability and racket power".
Sonic Core made with Infinergy by BASF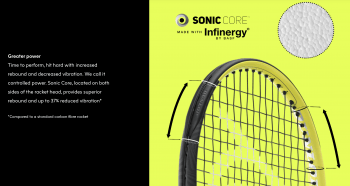 The Sonic Core is supposed to increase rebound and dampen vibrations by 37% compared to standard carbon fibre racquets. Dunlop introduced this tech with their CX line in 2018 and it was a clear improvement over their recent previous generations.
Dunlop SX 300 Tour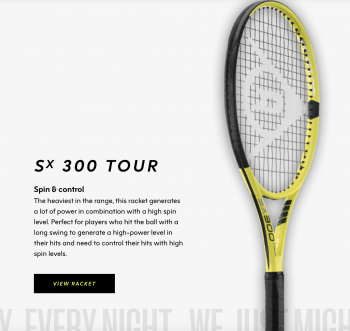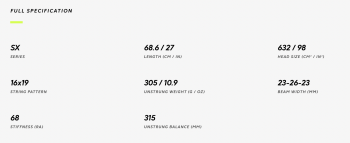 This is the model I'm most interested in personally. Partly due to the change in head size and weight and also because I really enjoy the specs. I also felt like the previous generation was a bit too powerful and had a higher swing weight than necessary.
Dunlop SX 300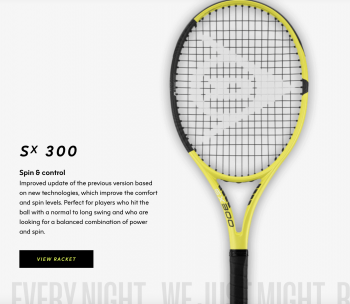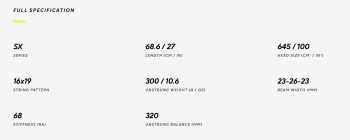 The so called "MP" version, the Dunlop SX 300, seems quite similar in specs to the predecessors. The listed stiffness is higher but that never tells the whole story in how a racquet plays.
Dunlop SX 300 LS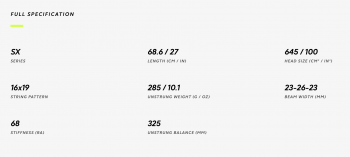 Dunlop SX 300 Lite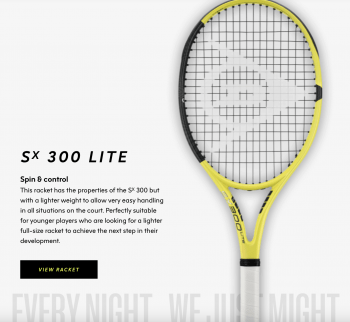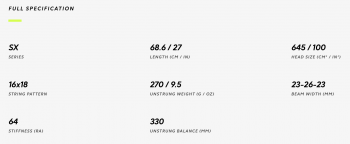 Dunlop SX 600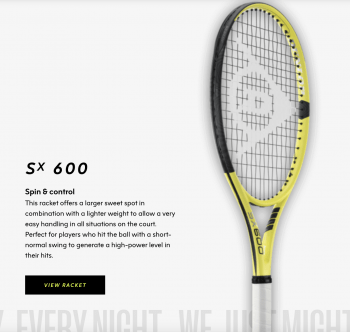 Summary

What can we expect from the Dunlop SX racquets in 2022? More spin and power? Yes, with more open patterns and a higher stiffness that seems likely. Like I said, I'm mostly curious about the updated specs and headsize of the Dunlop SX 300 Tour.
The racquets will be available in January from Tennis Warehouse, Tennis Warehouse Europe and Tennis Only. If you want to know more about Dunlop tennis racquets, check out my post and video.