I had the fortune to test Epok tennis racquets a week back or so. They are trying to bring wooden racquets onto the modern tennis scene…
Epok Tennis Racquets
Like many things in tennis, Epok is a work of passion. Founders Teo and Mikael are tennis enthusiasts and racquet collectors. Some years back they met to trade racquets and the conversation around creating their own tennis racquet brand started. After years of work and many prototypes created, they have made a racquet that has modern racquet specifications but is completely made of wood. When I joined Henrik Wallensten in Båstad for the Nordea Open, we met up with Teo and Mikael as well as two other tennis nerds in Andreas Bergen (previously with Luxilon) and racquet collector Daniel Wendel.
We got two hit with two EPOK racquets for two hours. One was strung with Alu Power Roland Garros 1.28 at 44 lbs / 20 kg and the other one was strung with HEAD Velocity at 1.25 at the same tension. Three of us preferred the poly setup, while Andreas, somewhat surprisingly, preferred the multifilament. I think the best setup for these racquets would be a hybrid with a natural gut.
You can watch the Epok tennis video review here. (Going live on July 29th, at 9 pm CET)
Specifications
Weight (frame only without grip/butt cap) 310 grams. (+-5g)
Weight (with Fairway leather grip and leather butt cap) 335 grams. (+-5g)
Unstrung target balance (with leather grip/butt cap) 320mm.
Beam width 20mm.
Head size 98 square inches.
Fairway leather grip in tanned brown.
Leather Buttcap from Tärnsjö in olive green or natural with embossed DL crest.
Grip size: L2 – L3
Recommended tension:
Polyester string: 40 +/- 4 lbs
Multifilament or natural gut: 50+/-4 lbs.
Laser cut inlay Epok logotype of walnut/maple/ash on the side of the frame
Only FSC-certified Maple, Ash & walnut woods are used in Epok rackets.
Price: €1199
The price is high, but the product is handmade using expensive materials. If they can get some capital through sales of Epok racquets, maybe they can streamline the production and bring the price down. Still, there were people during our few days in Båstad that ended up buying Epok racquets.
How does it play?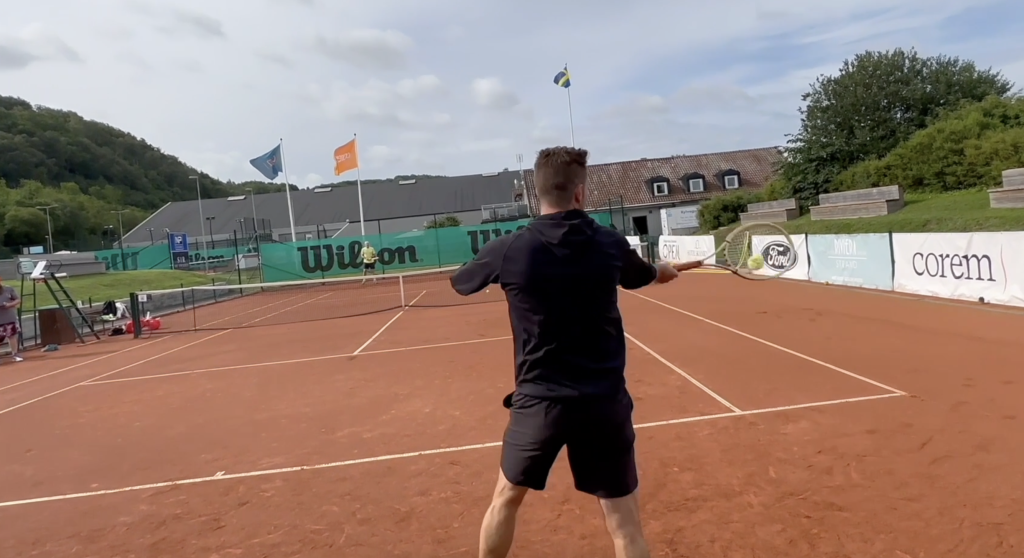 The racquets play with the excellent feel that most quality wooden racquets have. But with a larger head size, more spin potential, and forgiveness. It's of course not quite as stable in the upper part of the hoop as a Pro Staff 97, for example, since wood is such a flexible material. But, the feel of wood is hard to beat.
After two hours with the Epok racquets, it's my feeling that Mikael and Teo are succeeding with what they set out to do in terms of making a more playable wooden racquet. It's still not as easy to use as modern racquets, but the feel is unmatched and you can play serious matches with an EPOK racquet. I would love to own one of these to practice with and use for fun, but the price is a little much at the moment.
But if you do purchase an Epok racquet, let me know what you think about it in the comments below.