A while back I was approached by Jeffrey Yeh, one of the founders of Heysil Racquets. He wanted to send me some racquets for review.
But due to COVID, it took quite a while to get the parcel from Australia, where Heysil is based, to Malta, where I am. A couple of weeks ago the Heysil racquets arrived and I have been play-testing them ever since. Heysil is a young company, a few years old and run by Jeffrey Yeh and David Willis. The name Heysil is a combination of their two names.
David and Jeffrey are both proper tennis nerds, but their day job is within the dentistry, Yeh is a dentist and Willis is an oral surgeon. Although many told them that starting a tennis brand would be financially difficult, they wanted to give their dream a shot.
I talk to Jeffrey in the latest episode of the Tennisnerd podcast, in case you want to know more about Heysil racquets. They actually make more then racquets and have a range of strings (one multi and one poly, overgrips, base grips, bags and accessories). You can check their products out on their official website.
Heysil Racquets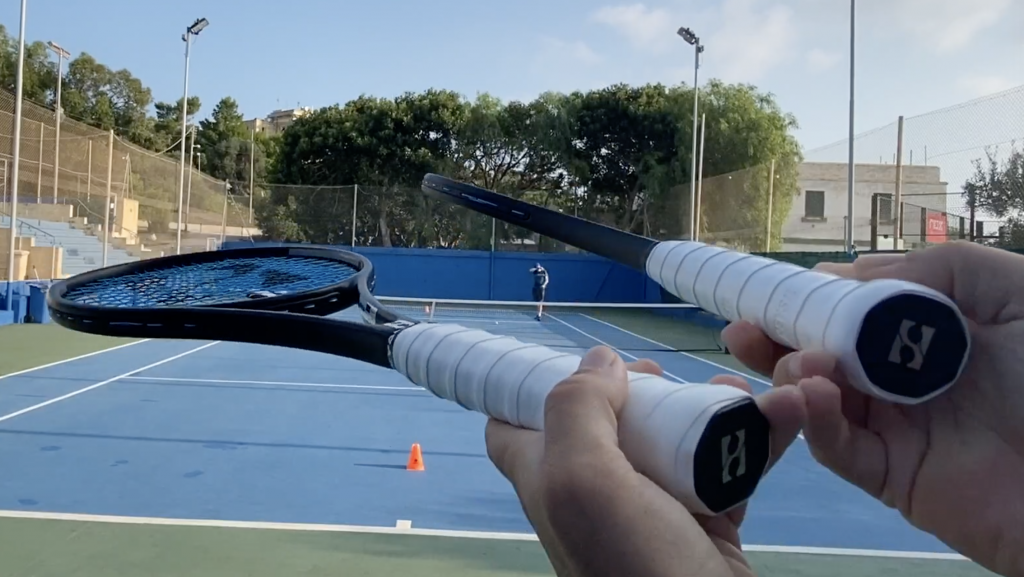 Heysil offers three different racquet models. One oversize, one 98 sq inch and one 100 sq inch racquet. I got a 98 sq inch and a 100 sq inch racquet for my playtest, both strung with Heysil Tour Blue string at 53 lbs for the 98 (24 kg) and 55 lbs for the 100. Both racquets came with a Heysil dampener and a Heysil overgrip. The specs were as follows: 335g, 32.5 cm balance, and 323 SW. Heysil promises a quality control within +-1 gram and +-0.1 cm balance, which is very impressive and a solid sales point. This seems to be the case with all "boutique" tennis brands like Angell, Dahcor and now Heysil. When the large-scale brands can't promise anything better than +-7g and +- 0.7 cm, discerning players are starting to look for an alternative.
Heysil racquets only come in black paint and there is no talk about fancy technology. The guys behind Heysil believe that most of the talk about tennis technology is marketing and they believe their high-modulus graphite frames are all about playability and not marketing or cosmetics. These are the specs of their frames:
Heysil Racquet Specs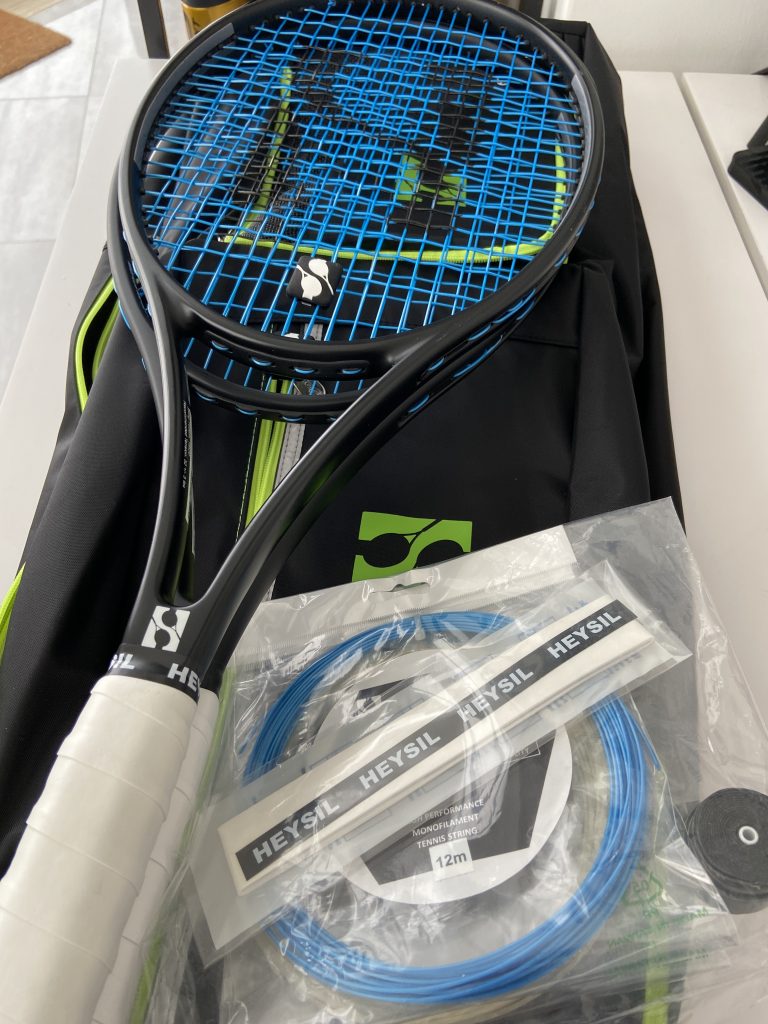 Before I move into listing specs of the different versions, I want to point out that the racquet grip shape is Wilson-style.
Heysil 100 Tour
– Unstrung specs: 300g, 22 mm beam, 64 RA, 16×19 string pattern, 32.3 cm balance, length 27.1 in
– Price 250 AUD (approx 180 USD, 150 EUR)
– Includes custom stringing and a free overgrip + vibration dampener
– High Modulous Graphite
– Distinctive and timeless matte black finish
– Excellent power and spin potential
– Uniformly open 16×19 string pattern
– Slightly longer handle perfect for double handers
– Exceptional maneuverability
– Featured in 2019 and 2020 AO
Heysil 98 Tour
Same info as above.
– Unstrung Weight: 300g, 22 mm beam, 64 RA, 18×20 string pattern, 32 cm balance, 27 in length
Heysil 107 Oversize
– Unstrung Weight: 245g +/- 5g
– Unstrung specs: 107 sq inches, 365 cm balance, 22 mm beam, 27.5 in length, 16×19 string pattern
– Price 210 AUD (approx 150 USD, 130 EUR)
– Lightweight, comfortable, and forgiving
– Large Sweetspot
– Perfect for players with compact swings looking for easy power
– Length: 27.5 Inches for extra reach
– Featured in the Wimbledon Museum
How do they play?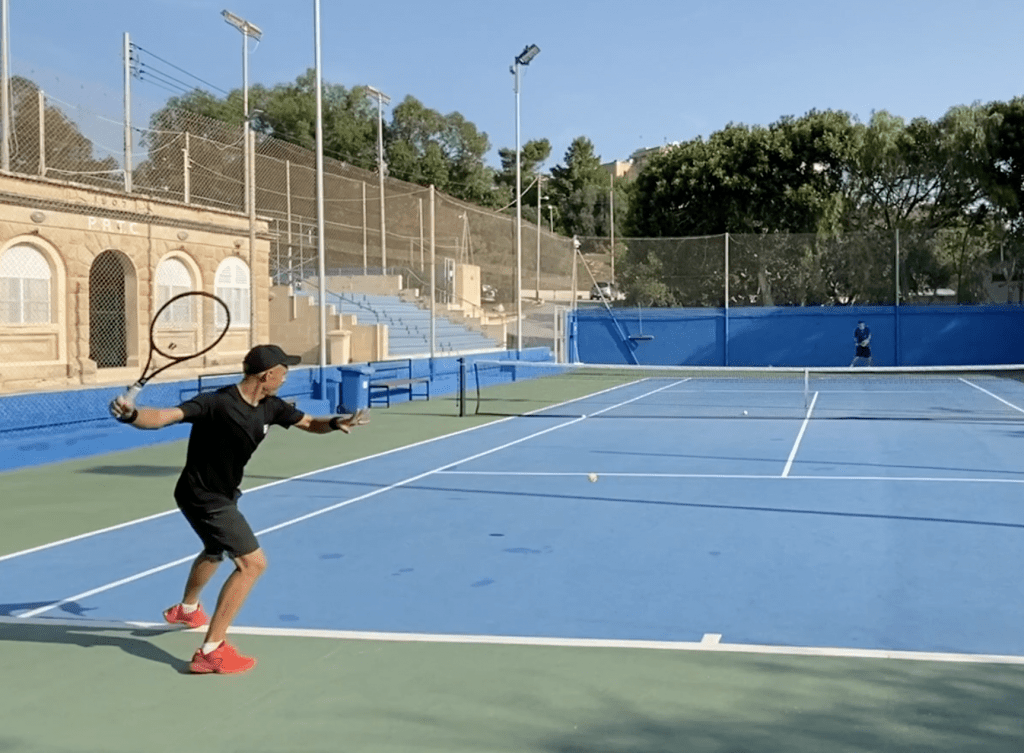 I have now used the Heysil Tour 98 and 100 for a while and my feelings are very positive. First of all, I find it intriguing that this is simply an all-black high-modulus graphite frame with no tech or marketing lingo attached to it. It's made in Taiwan instead of China due to better QC control (according to Jeffrey Yeh). The low-ish RA creates a nice feel on impact and comfort even with a full bed of poly is not an issue.
I felt most connected to the 98 sq inch head size. After play-testing power racquets like the Tecnifibre RS and the Dunlop FX 500 it was nice to be back to a plusher, more controlled feel. The 18×20 string pattern works well for my game and I really enjoyed taking big cuts at the ball.
I like that the racquets arrived on spec, strung with an overgrip and ready to go. For a busy play-tester that saves a lot of time, but I also think your average club player will appreciate it. The price point is much better than most other brands at around 180 USD or 150 EUR per frame, especially since it includes dampener, overgrip and stringing (Yeh is a Master Racquet Technician and has strung at the AUS Open, so he knows what he is doing).
I think fellow tennis nerds will appreciate all of the above and especially the possibility to get matched racquets. Perhaps it would be a good idea to be able to get your name on the frame at an extra cost or something like that to "spice it up"? Just a thought.
Comparing the 100 vs the 98
The Heysil 100 Tour is more suitable for baseline players with a two-handed backhand (the slightly longer grip is a nice touch). It's a more forgiving and powerful frame and gives you better top spin potential. The 98 sq inch version is more to my liking. Attacking players who appreciate control and want to be creative around the court will probably prefer the smaller head size and the tighter pattern. It still packs some power thanks to the 22 mm beam and I found it pretty potent when I went for my shots.
So if you want free power, spin, and more forgiveness, you check out the Heysil Tour 100 (with a head shape that reminds me of the Gravity). And if you want more control and a lower trajectory of shot, you try the Heysil Tour 98.
I tried these racquets strung with Heysil Tour Blue 1.25 mm gauge. I will try it in a few more racquets, but it's definitely a solid string, somewhere in the middle of the soft vs firm spectrum. It's definitely more control-oriented than lively though, which is the type of poly I prefer. I will also be testing the Heysil Multifilament string at some points, perhaps in a hybrid because it is supposed to have gut-like qualities.
Summary of Heysil Racquets
I am positively surprised by Heysil racquets. Nice feel and pocketing, comes ready to play straight out of the box and a good price point. Yes, they don't have the most imaginative paint job and no fancy tech. Do tennis racquets need a lot of tech though? That is a question that is interesting to think about. Yes, perhaps you do if you want a lot of free power, but also want to exit the court with an intact elbow. But racquets I enjoy are generally quite raw and connected and that's the case here as well. Since the stiffness rating is low, there is no need for foam-filling or other dampening technologies.
If you want a lot of power from your racquet, the two frames I tried are not for you (perhaps the 107 though), but for players looking for a connected feel, good quality control and a no-frills frame that performs, I can really suggest you check out Heysil racquets.
Video review and podcast with Heysil founder Jeffrey Yeh to come shortly!