The Beast is back! But now in the shape of Prince Chrome racquets. Chrome is the cosmetic update of the Beast series.
The Beast series was Prince most popular line and the Prince Chrome racquets are pretty much the same thing. The Prince Chrome is another collaboration with Italian fashion brand Hydrogen (they previously launched the Tattoo racquets). At Tennis Warehouse Europe they offer three versions of the Prince Chrome racquets: 300, 290 and 280g (seems like a tight spectrum to have 10g increments to me), but on Tennis Warehouse they offer the Chrome 100 and the Warrior 100.
I have only tried the Beast 98, which I am sad not to see back in the line because that was a very good racquet. But from what I've heard it wasn't selling the way I thought the racquet performed. On the other hand, you can still buy the old Beast line from Tennis Warehouse Europe at discounted prices, so this is definitely more of a cosmetic push.
The Beast 100 is an update to the Warrior 100, which was the Pure Drive of Prince racquets. The specs are pretty typical for a racquet focused on power and spin.
Prince Chrome 100 specs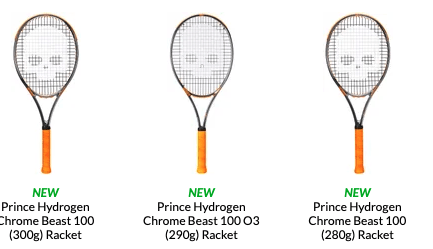 There is nothing out of the ordinary with the Prince Chrome 100 specs. A little more head-light than most power racquets and not quite as stiff, but should pack plenty of power. Enough power for most players.
Head Size:100 in / 645.16 cm
Length:27in / 68.58cm
Strung Weight:11.2oz / 318g
Balance:12.79in / 32.49cm / 6 pts HL
Swingweight:322
Stiffness:67
Beam Width:24mm / 25.5mm / 22mm
Composition:Textreme/Twaron/Graphite
Power Level:Low-Medium
Stroke Style:Medium-Full
Swing Speed:Medium-Fast
Racquet Colors:Chrome!
Grip Type:Prince Synthetic
String Pattern:
16 Mains / 19 Crosses
Mains skip: 7T,9T,8H
Two Pieces
No Shared Holes
String Tension:50-60 pounds
If you like the Prince Chrome racquet cosmetic, you'll probably want a matching racquet bag.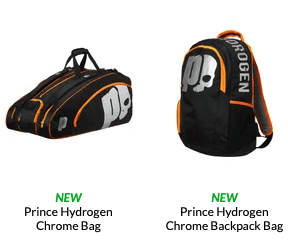 Final thoughts
I am in two minds about this trend to release new paint jobs of older racquets. In one way, I know there are plenty of players who base their decision on the cosmetics of a racquet, and in that case, good racquets can get a second chance with new consumers. On the other hand, it feels a bit like a marketing ploy. But these types of collaborations (check the Wilson Britto racquets are Minions racquets as recent examples) are common in all industries, so it's nothing to think too long about. I personally prefer the Prince Chrome paint job to the Prince Tattoo paint job. What about you?